Companies by Sector
More than 6000 listed
Communication Services
Telecommunication Services
Consumer Cyclical
Advertising & Marketing Services
Furnishings, Fixtures & Appliances
Homebuilding & Construction
Manufacturing - Apparel & Accessories
Manufacturing - Apparel & Furniture
Retail - Apparel & Specialty
Consumer Defensive
Beverages - Non-Alcoholic
Financial Services
Diversified Financial Services
Healthcare
Healthcare Providers & Services
Medical Devices & Instruments
Medical Diagnostics & Research
Medical Instruments & Equipment
Industrials
Farm & Heavy Construction Machinery
Transportation & Logistics
Utilities
Utilities - Independent Power Producers


	
Bill Ackman is Hedging Against Higher Rates and Inflation, Here's Why
Bill Ackman is the most recent fund manager to weigh in on inflation. Not-unlike when Cathie Wood shared her views last month, Ackman's read on the question of future price moves approaches the question from in an unconventional way. Ackman, the founder, and owner of Pershing Square Capital is worth listening to as he has made some very profitable calls in the past, including his betting against municipal bond insurer MBIA some years ago. Whether his current expectations play out remains to be seen.
Background
In an October 20, 2021 presentation to the Federal Reserve, Ackman laid out a case for them to immediately taper bond purchases and raise interest rates. Part of his case is the belief that the Fed is blind to how ESG investing is contributing to the recent surge in inflation. Ackman says the portfolio managed by his firm is hedged to protect against and therefore benefit from higher interest rates, as his evaluation sees this risk as imminent.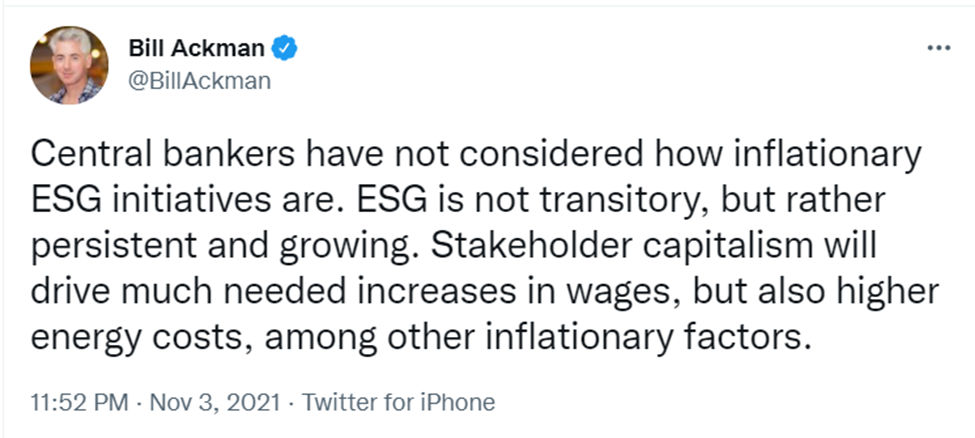 In a Tweet this week (November 3) he said the costs of ESG (Environmental, Social, and Governance) initiatives "is not transitory, but persistent and growing." Later that day, the November FOMC meeting adjourned and Fed Chairman Powell, indicating that inflation isn't expected to be persistent, said that the central bank doesn't expect to raise interest rates until 2023.
Argument for Higher Rates
Ackman's reasoning is corporate America's focus on traditional ESG inputs has shifted investment away from lower-cost fuels and towards higher cost renewables. This argument has been echoed by others on Wall Street that warn energy prices are climbing now because of lagging supplies as the result of underinvestment in natural gas, oil, and coal.
On the flip side of this argument is the founder of Ark Invest, Cathie Wood. Wood has carried the banner for ESG based investing through her investments in "green" companies like Tesla. She has been very outspoken that she expects technological innovation to not only reduce inflationary pressures in the future but perhaps so much so that deflation becomes the real concern.
A third of all assets under management, or $35 trillion are now invested in what has been categorized as sustainable or ESG investments.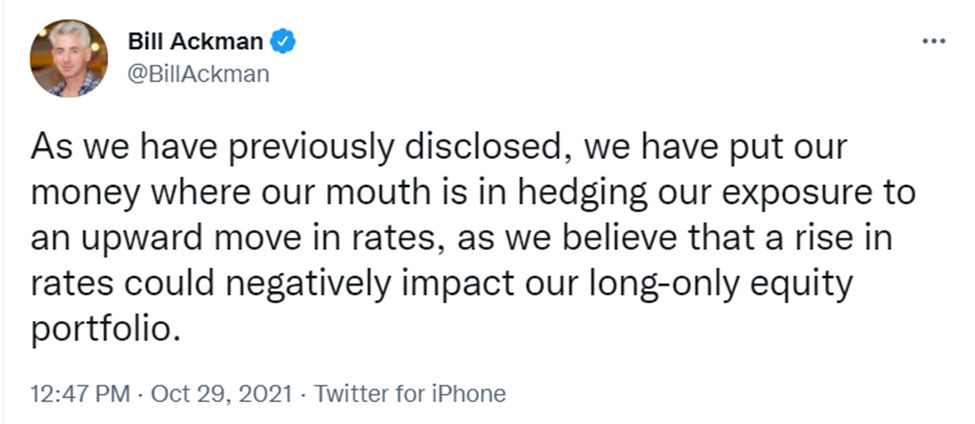 Powell did indicate after the Fed meeting that the Fed stands ready to alter its policy as conditions indicate. While he did say he considers inflation to be transitory, he did leave the door open to change his mind before 2023.
Take-Away
Markets are made by people looking at the same facts and drawing two different conclusions. Ackman's discussion of ESG and inflationary pressures did draw some attacks and some support under his Twitter posts. His past success suggests his expectations and actions are worth watching. Paying attention to the experience-based stance of the founder of Ark Invest is also worth weighing against our own analysis.
Suggested Reading:
Sources:
https://fortune.com/2021/11/04/bill-ackman-stakeholder-capitalism-hight-inflation-elon-musk-cathie-wood
https://www.newyorkfed.org/medialibrary/media/aboutthefed/pdf/IACFM-presentation-Oct-2021
https://markets.businessinsider.com/news/stocks/bill-ackman-pershing-square-federal-reserve-stimulus-taper-interest-rates-2021-11?utm_source=markets&utm_medium=ingest
https://twitter.com/BillAckman/status/1456107116654120967
https://twitter.com/BillAckman/status/145412
https://markets.businessinsider.com/news/stocks/bill-ackman-federal-reserve-ignores-esg-investing-contributing-surging-inflation-2021-11?utm_campaign=browser_notification&utm_source=desktop
https://markets.businessinsider.com/news/stocks/global-sustainable-investment-alliance-report-esg-assets-responsible-investing-2021-7?utm_source=markets&utm_medium=ingest
Stay up to date. Follow us: