Companies by Sector
More than 6000 listed
Communication Services
Telecommunication Services
Consumer Cyclical
Advertising & Marketing Services
Furnishings, Fixtures & Appliances
Homebuilding & Construction
Manufacturing - Apparel & Accessories
Manufacturing - Apparel & Furniture
Retail - Apparel & Specialty
Consumer Defensive
Beverages - Non-Alcoholic
Financial Services
Diversified Financial Services
Healthcare
Healthcare Providers & Services
Medical Devices & Instruments
Medical Diagnostics & Research
Medical Instruments & Equipment
Industrials
Farm & Heavy Construction Machinery
Transportation & Logistics
Utilities
Utilities - Independent Power Producers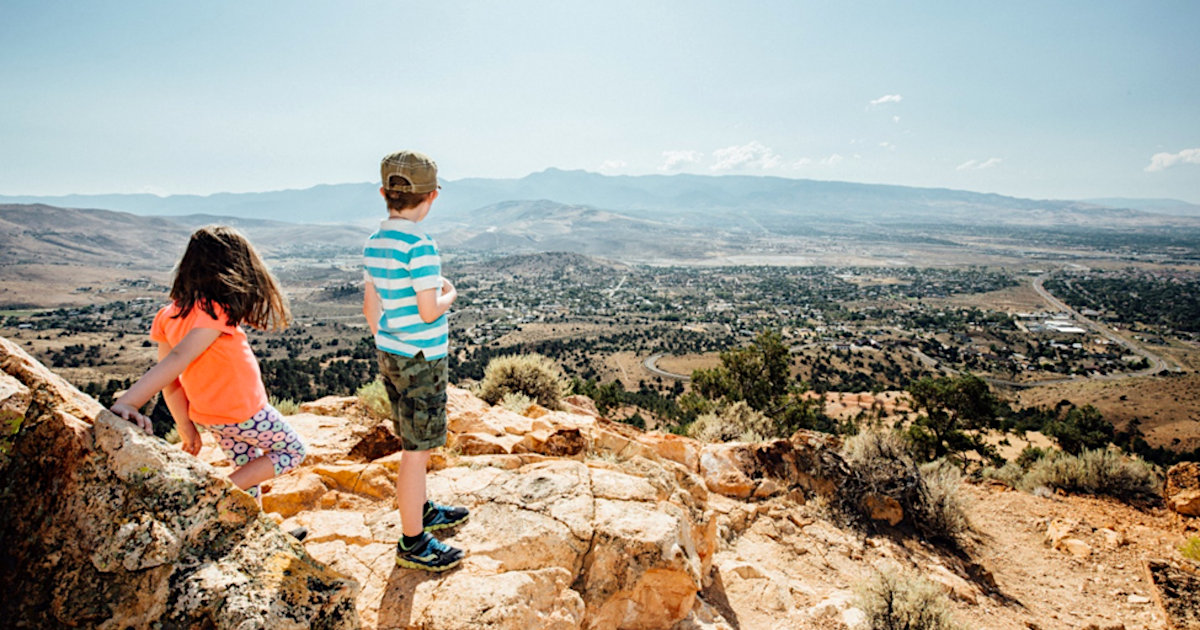 Small-Cap Mining Companies Offer Innovative Environmental Solutions
Are ESG principles being adopted by mining companies? Extractive industries are vital to providing the raw materials that fuel global economies and improve living standards. Compared to past decades, today's industry operates much more cleanly and efficiently in part because of advancements in technology, corporate governance, and operating practices. While the mining industry has not always gotten high marks due to high-profile accidents such as Vale's (NYSE: VALE) 2019 tailings dam collapse in Brazil, ESG principles have generally long been incorporated into corporate policies and practices.
With the move toward a greener and more sustainable future, renewable energy sources, including solar and wind, and the electrification of vehicles will require growing supplies of metals, including cobalt, copper, lithium, nickel, and silver. The mining industry has demonstrated an admirable track record of weathering challenges such as the COVID-19 pandemic to supply growing global demand in a sustainable and environmentally responsible manner. Even so, companies are looking for ways to shrink their environmental footprint, reduce, reuse, and recycle materials, along with renewing the environment through reclamation efforts. Below are just a few examples of innovation and action taking place among companies in Noble Capital Markets' coverage universe to promote a cleaner and more sustainable future while at the same time doing so profitably.
Mercury remediation. Comstock Mining Inc. (NYSE American: LODE) and its partners, including Mercury Clean-Up, LLC (MCU), are deploying proprietary processes and technology to remediate mercury from contaminated sites. MCU's mercury remediation equipment is currently deployed in the Philippines, with processing operations commencing this month. Comstock's joint venture partners are collaborating to begin removing mercury while efficiently extracting gold from contaminated and abandoned mining sites in the United States and abroad.
Figure 1: MCU Plant Undergoing Pilot Testing in the United States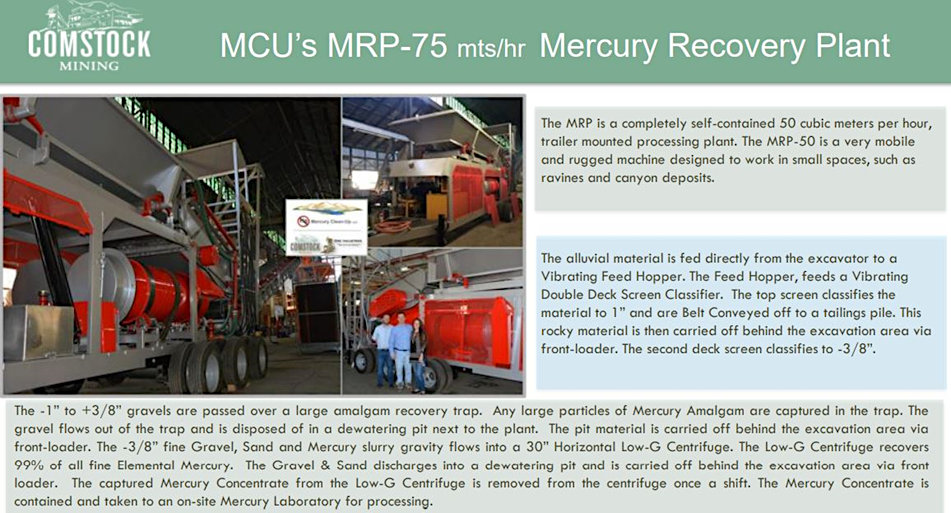 Source: Comstock Mining Inc.
Uranium recycling. Energy Fuels Inc. (NYSE American: UUUU) recycles materials for the recovery of uranium and vanadium. Recycling conserves resources, reduces the need to mine additional resources and helps limit carbon emissions. According to the company's corporate presentation, Energy Fuels' recycling program at its White Mesa Mill has recovered 6 million pounds of uranium. If converted to nuclear fuel, Energy Fuel's recycled uranium would eliminate over 85 million tons of carbon dioxide emissions compared to coal, produce as much electricity as 24,500 wind turbines, and avoid the annual emissions from 18 million passenger cars. According to the company, the White Mesa Mill has recycled enough vanadium for the steel needed to build 4.5 Golden Gate bridges. Additionally, the company is well positioned to help clean up abandoned uranium mines and is participating in a pilot-scale project on Navajo Nation and supporting reclamation efforts of a private mine in Mexico. White Mesa can receive uranium-bearing material from these cleanups and thus recycle the contained uranium while at the same time permanently disposing of the cleanup materials using its licensed tailing management system. Many of the company's efforts to promote environmental and social responsibility may be referenced in its 2020 Sustainability Report found here.
Strategic metals recovery and recycling. Comstock Mining has targeted new development projects that efficiently reprocess and renew silver and other strategic metals. Material may be sourced from tailings, leach pads and other mining waste. The company is also exploring opportunities to utilize existing processing facilities and infrastructure to reprocess material for silver and gold and expand into metals processing and recycling to recover strategic metals, including cobalt, lithium, nickel and/or other battery metals.
Non-invasive mineral extraction. Group 11 Technologies Inc. is a private company that is advancing non-invasive extraction technology and environmentally friendly liquids to recover gold and other metals. Group 11 offers a product for In-Situ Recovery (ISR) and an environmentally safe solution that is water-based and only includes ingredients approved by the FDA for human consumption. ISR is an environmentally friendly process to extract precious metals with minimal disturbance to the surface environment and without the use of harmful chemicals such as cyanide. It utilizes a series of drilled wells to inject and recover water-based solutions that selectively dissolve metals such as copper, uranium, and gold so they can be separated and recovered. Group 11 is owned by: 1) EnviroLeach Technologies Inc. (OTCQB: EVLLF), 2) Encore Energy Corp. (OTCQX: ENCUF), and 3) Golden Predator Mining Corp. (OTCQX: NTGSF).
Figure 2: In-Situ Gold Recovery Process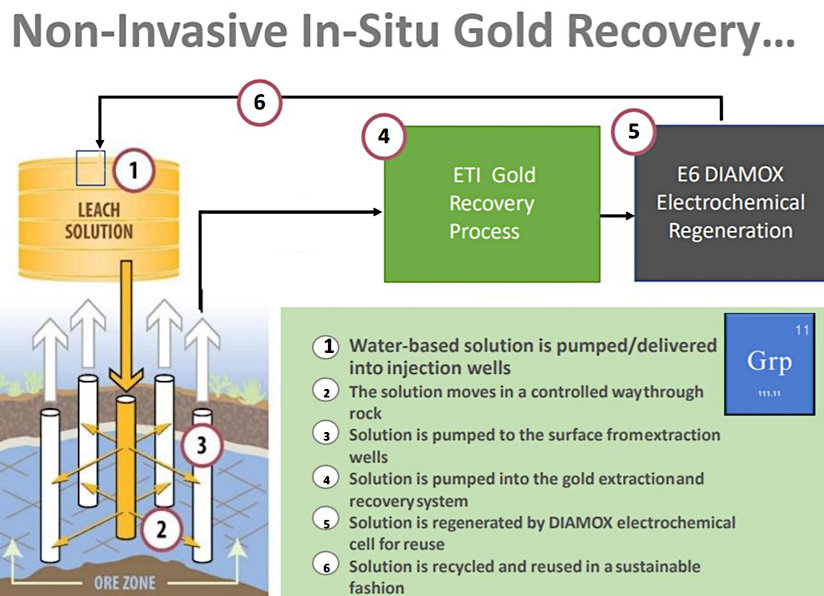 Source: Group 11 Technologies
Take-Away
Investors interested in the innovations in ESG mining and their implementation can find more information from some of the corporate presentations available here from the NobleCon17 investor conference. Innovation is often birthed by micro and small-cap companies nimble enough to identify and capitalize on opportunity, and as a means for developing a competitive advantage or edge. The last hundred years had been rough on the planet. If necessity is the mother of invention, then one can expect more innovation and resources aimed at conserving and renewing the earth's resources. As a result of decades of neglect, a significant market opportunity awaits those with the right solutions.
Suggested Reading:
GEVO Update on FEED Engineering
Can Small Investors Compete With Wall Street?

Sources:
Brazil State Eyes at Least $5.3 Billion Vale Deal After Dam Burst, Official Says, Reuters, Luciano Costa, January 6, 2021.
Comstock Focuses on Climate Smart Mining; Develops Existing and New Precious Metals Projects to Fuel Clean Energy Transition, Press Release, Comstock Mining Inc., February 4, 2021.
Energy Fuels Form 10 Q, United States Securities and Exchange Commission, For the Quarterly Period Ended September 30, 2020.
Corporate Presentation, EnCore Energy Corp., January 2021.
Corporate Presentation, Group 11 Technologies, September 2020.
Corporate Presentation, Energy Fuels Inc., January 2021.
Sustainability Report, Energy Fuels Inc., December 2020.
Photo: Geiger Lookout, Melfoody - Some rights reserved

Stay up to date. Follow us:
Company
Ticker
Price
Previous
Mkt Cap
Volume
52wk Range
Wolfpack Gold Corp
TGRUF (GREY)
0
0
0
0 - 0
Ultra Lithium Inc.
ULI:CA (CDX)
0
0
0
0 - 0
Lithium Energi
LXENF (GREY)
$0.15
$10.53M
0
$0.05 - $0.27
Lithium Corp
LTUM (OTCQB)
$0.48
$47.24M
0
$0.07 - $1.23
Lithium Americas Corp.
LAC (NYSE)
$14.87
$1.78B
0
$2.80 - $28.75
Lithium Americas Corp.
LAC:CA (TSX)
$18.64
$2.23B
0
$3.97 - $36.60
First Cobalt
FTSSF (OTCQX)
$0.30
$140.74M
0
$0.07 - $0.38
EnviroLeach Technologies Inc
EVLLF (OTCQB)
$0.40
$29.70M
0
$0.25 - $0.76
eCobalt Solutions
ECSIF (OTCQX)
$0.21
$34.92M
0
$0.16 - $0.74
Cobalt Blockchain Inc. - Ordinary Shares
COBCF (OTO)
$0.09
$19.31M
0
$0.03 - $0.14
Advanced Market Data
()
Detailed Quote
Charts
Statistics
Financials
Historical Quotes
Insider Activity
Key Ratios