Companies by Sector
More than 6000 listed
Communication Services
Telecommunication Services
Consumer Cyclical
Advertising & Marketing Services
Furnishings, Fixtures & Appliances
Homebuilding & Construction
Manufacturing - Apparel & Accessories
Manufacturing - Apparel & Furniture
Retail - Apparel & Specialty
Consumer Defensive
Beverages - Non-Alcoholic
Financial Services
Diversified Financial Services
Healthcare
Healthcare Providers & Services
Medical Devices & Instruments
Medical Diagnostics & Research
Medical Instruments & Equipment
Industrials
Farm & Heavy Construction Machinery
Transportation & Logistics
Utilities
Utilities - Independent Power Producers


	
How Coinbase's NFT Platform Will be Different than the Others
A new NFT exchange that takes this online market a step further than competitors was announced yesterday (October 12). Coinbase NFT, a service of Coinbase, the crypto marketplace that went public this past Spring, will compete with existing NFT outlets. There is now a user waitlist for the online product that Coinbase expects to launch by year-end.
Coinbase Since the IPO
Although Coinbase is the leading crypto trading platform, according to an analyst at Raymond James, it is prone to the same struggles as traditional brokerage firms. In September, Raymond James assigned the equivalent of a "Sell" rating to the company's stock. The additional service will provide revenue and a new layer of users and traffic to the overall business.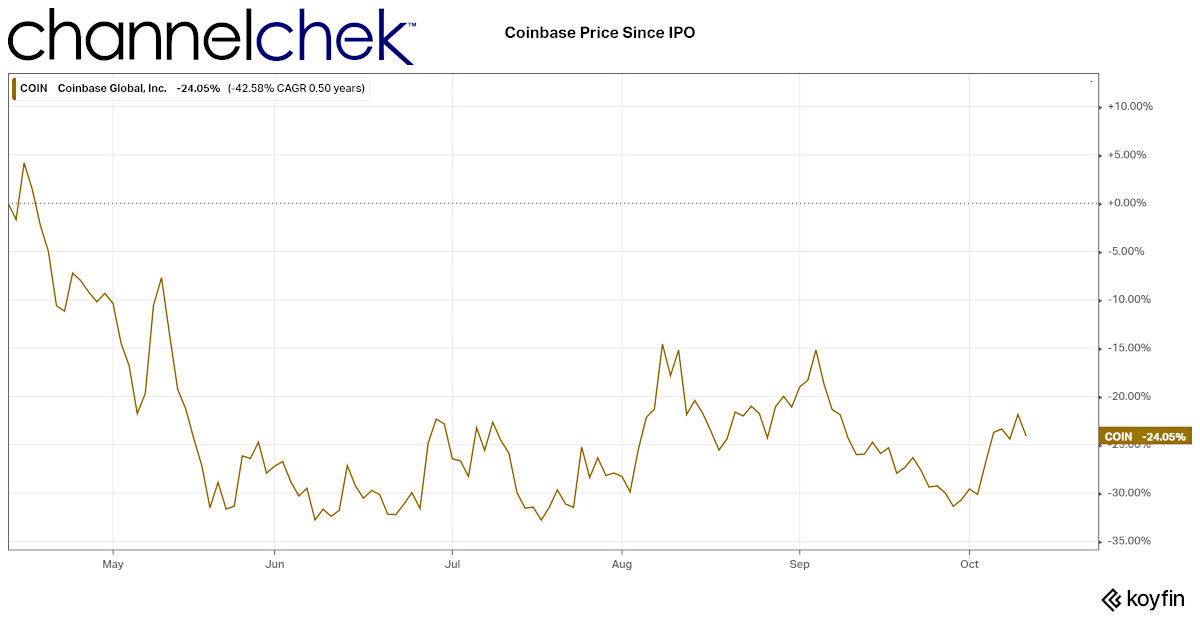 The new NFT marketplace will be peer-to-peer, and according to the company, "will make minting, purchasing, and discovering NFTs easier than ever." Coinbase says they are striving to make the interface more user-friendly than the current competitors, the largest of which is OpenSea. One way they intend to differentiate is by serving as a social platform where creators and buyers can interact and discuss NFTs. The company said it wants creating an NFT to be as simple as tapping a few buttons and "…anything more complicated is a barrier to creativity."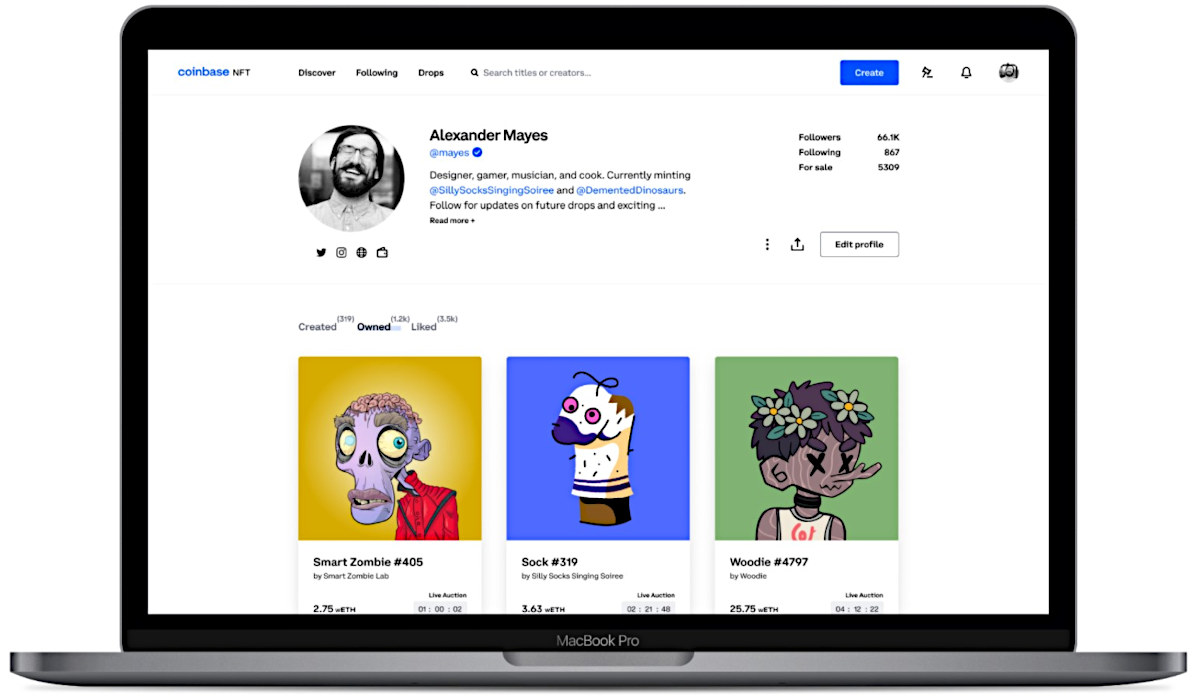 In their announcement, Coinbase expressed its belief that people are inherently creative, "We create art, express our individuality, build community, and seek meaning. But there's never been a universal way for creators to own, control, and benefit from their creations, particularly in the digital world," they wrote. Coinbase NFT allows an opportunity for everyone to benefit from their creative spark; to contribute to a future where the "creator economy" isn't a small subset of the "real" economy, but a central driver.
Take-Away
A Coinbase NFT exchange could become a major revenue source to the now-public company. Blockchain companies involved in NFT creation should benefit from the additional mainstreaming of this art medium and increased transactions and demand. It's unclear at this point what currencies will be accepted or if this is left to the seller's discretion.
While Coinbase is running afoul of regulators in its categorizing interest payments on cryptocurrencies, an easy-to-use NFT marketplace should be a trouble-free addition to the business.
Suggested Reading:
Sources:
https://insider-voice.com/raymond-james-gives-coinbase-its-first-sell-rating-on-wall-street-citing-concern-about-competition/
https://techcrunch.com/2021/10/12/coinbase-is-launching-its-own-nft-platform-to-take-on-opensea/
https://blog.coinbase.com/coinbase-nft-is-coming-soon-join-the-waitlist-today-for-early-access-cc7bac29fd72
Stay up to date. Follow us: