Companies by Sector
More than 6000 listed
Communication Services
Telecommunication Services
Consumer Cyclical
Advertising & Marketing Services
Furnishings, Fixtures & Appliances
Homebuilding & Construction
Manufacturing - Apparel & Accessories
Manufacturing - Apparel & Furniture
Retail - Apparel & Specialty
Consumer Defensive
Beverages - Non-Alcoholic
Financial Services
Diversified Financial Services
Healthcare
Healthcare Providers & Services
Medical Devices & Instruments
Medical Diagnostics & Research
Medical Instruments & Equipment
Industrials
Farm & Heavy Construction Machinery
Transportation & Logistics
Utilities
Utilities - Independent Power Producers


	Image Credit: Marco Verch (Flickr)
The Wells Notice to Coinbase May be the Tip of the Regulatory Iceberg
Shares of Coinbase Global fell sharply on Wednesday after the SEC filed a Wells notice naming the company. A Wells notice is a letter from the regulator to firms when it's planning on bringing an enforcement action against them. The letter is issued after an investigation to notify the firm that they have concluded they should be charged.
The message from the SEC is they would sue the cryptocurrency exchange if it moved forward with a plan to provide users interest on crypto assets. Coinbase has been advertising and was weeks away from launching an interest-bearing product. The SEC's move, which questions whether popular, fast-growing practices offered by crypto platforms are legal, places the value of Coinbase and others in question. Coinbase went public in mid-April with a valuation of $86 billion and a closing price of $328 per share. By midday on the day of the announcement (Sept. 8), shares were trading at $260.8 and a valuation of $68.3 billion.
The concern by the SEC is not new. Paying interest on asset lending is traditionally the place of the highly regulated banking industry. Today's Wells notice represents a more diligent intent to reel in activities in the crypto space. Part of the confusion is A number of different agencies oversee cryptocurrency. The Commodity Futures Trading Commission (CFTC) has in the past regulated digital currencies as commodities. The Securities and Exchange Commission (SEC) requires registration of any digital currency traded in the U.S. if it is classified as a security and of any trading platform that meets the Commission's definition of an exchange. The Internal Revenue Service (IRS) also involves itself in tax matters. Regulatory oversight could also include the Financial Crimes Enforcement Network (FINCEN).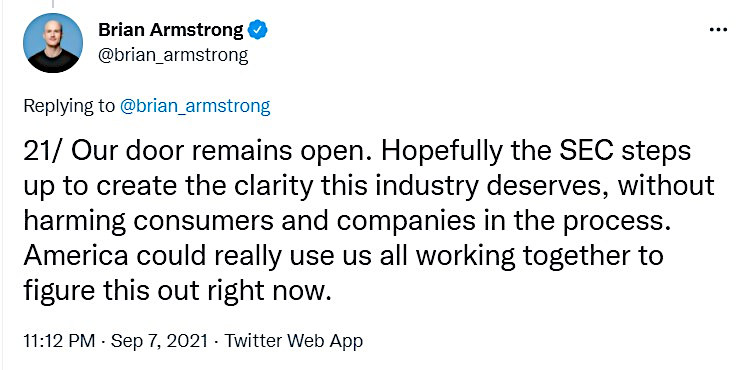 Tweet by Brian Armstrong co-Founder & CEO Coinbase
SEC Chairman Gary Gensler, has followed his predecessor's logic in thinking that cryptocurrencies are securities. In an interview with Barron's last week, Gensler noted that the SEC has already taken action against 75 or 80 crypto coins. When asked why the rules aren't solidified across the board, the SEC head said, "Every case has facts and circumstances, every case has to be very carefully put together, and so forth," Gensler said. "Our laws are clear. And yet, it still takes the time, month after month to put them together." This lack of overall guidance adds to the risk of launching a crypto coin with good intent. Gensler also urged the trading platforms to speak with the SEC about products.

Tweet by Brian Armstrong co-Founder & CEO Coinbase
Coinbase CEO Brian Armstrong wrote on Twitter that he tried to meet with the SEC in May but was rebuffed. When the company did tell the SEC about its plan to offer interest-bearing accounts, the agency said the product was a security and then "refuse[d] to tell us why they think it's a security," Armstrong wrote, calling the episode "sketchy behavior."
Because of the Wells notice from the SEC, Coinbase is now expected to delay the launch of its interest-bearing product "until at least October," wrote the company's chief legal officer, Paul Grewal, in a blog post.
Cryptocurrencies are still new, and regulators are engaged in a tug-of-war of sorts with companies as well as other officiating entities. As matters like this resolve, it will open the door for others that at least know what the ground rules are. The greater risks/reward belongs to the pioneers.
Suggested Reading:
Sources:
https://medium.com/global-id/gid-report-170-a-bombshell-in-the-battle-for-the-future-of-crypto-2eb78259300b
https://www.cnn.com/2021/04/14/investing/coinbase-stock-direct-listing/index.html
https://www.sec.gov/news/public-statement/peirce-roisman-coinschedule
https://twitter.com/brian_armstrong/status/1435439291715358721
https://www.barrons.com/articles/coinbase-stock-price-sec-wells-notice-51631106089?mod=hp_LEAD_1
Stay up to date. Follow us:
Company
Ticker
Price
Previous
Mkt Cap
Volume
52wk Range
Hive Blockchain Technologies Ltd.
HIVE:CA (CDX)
$5.10
$1.96B
0
$0.78 - $7.25
DMG Blockchain Solutions Inc - Ordinary Shares
DMGGF (OTCQB)
$0.94
$155.08M
0
$0.13 - $4.51
Advanced Market Data
()
Detailed Quote
Charts
Statistics
Financials
Historical Quotes
Insider Activity
Key Ratios