Companies by Sector
More than 6000 listed
Communication Services
Telecommunication Services
Consumer Cyclical
Advertising & Marketing Services
Furnishings, Fixtures & Appliances
Homebuilding & Construction
Manufacturing - Apparel & Accessories
Manufacturing - Apparel & Furniture
Retail - Apparel & Specialty
Consumer Defensive
Beverages - Non-Alcoholic
Financial Services
Diversified Financial Services
Healthcare
Healthcare Providers & Services
Medical Devices & Instruments
Medical Diagnostics & Research
Medical Instruments & Equipment
Industrials
Farm & Heavy Construction Machinery
Transportation & Logistics
Utilities
Utilities - Independent Power Producers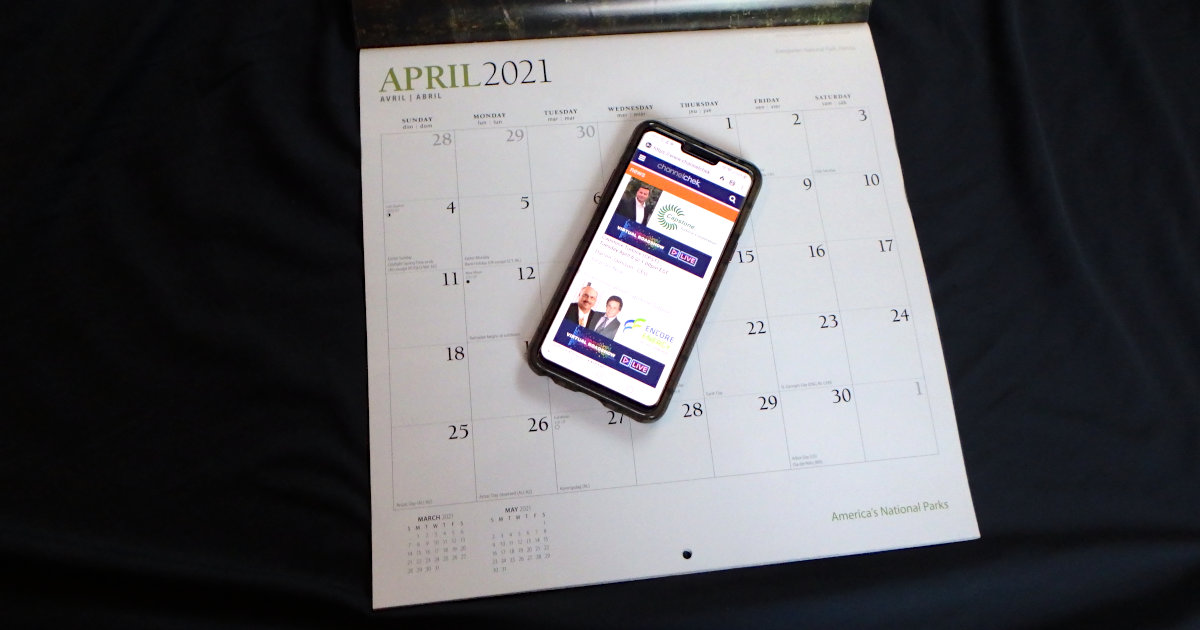 Takeaways from the Ups and Downs of March
March came to an end, and many wounds from a rough year that followed a big fall of the various stock indices March 2020 have healed beyond the expectations held by most at this time last year. Focusing on last month (March 2021), the Nasdaq and the Russell 2000 (Small Caps) were up modestly, while the S&P 500 and the Dow Jones achieved outsized gains. One big takeaway from March 2020 is optimism among investors who feel they're beginning to see the light at the end of the tunnel toward normalcy.
Reasons for the optimism are abundant, vaccinations are ramping up globally, travel is escalating toward more normal levels, and the latest release from the U.S. Department of Labor indicates that jobless claims have decreased to a 12-month low. It doesn't require rose-colored-glasses to see where the overall economy has been headed with this cocktail of good news nor why the markets have been a leading positive indicator for the past year. Big money managers, as well as small investors, have been rotating out of the high-flyer tech stocks of last year and rebalancing their portfolios in anticipation of a roaring recovery.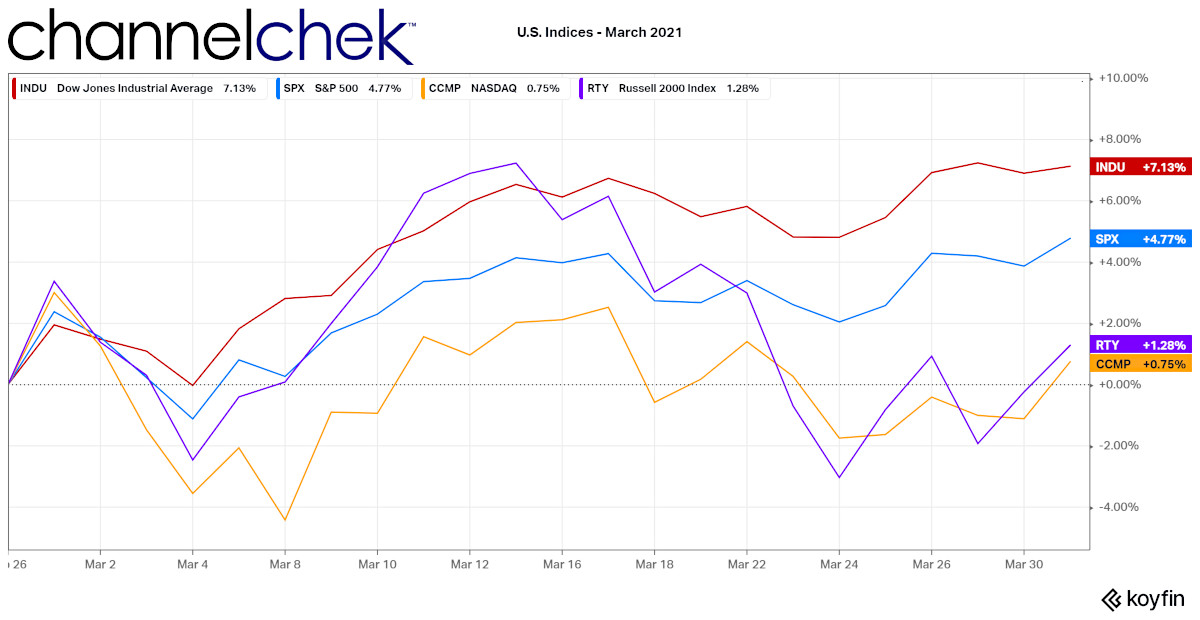 Data as of March 31, 2021, 2 pm EDT
The back-to-normal expectations echoed among key opinion leaders, experts, and analysts within the finance community seem to be understood by those that actually put money to work in the stock market. Rebalancing of portfolios can be surmised from the graph above as industrial stocks lead (INDU) and the tech-heavy Nasdaq 100 (CCMP) has come to a crawl. The numbers don't lie, and, in this case, it is clear where the money managers are allocating. Value stocks have a reputation of supporting a strong and consistent portfolio, while growth is a riskier and more volatile option, but can reward owners willing to hold higher volatility.
During the past year, investors had been pouring their resources into growth portfolios as part of a global chain of events that aroused the need for technology, software, and various disruptive innovations. However, with the worldwide vaccine rollout and improvements in the economic outlook, portfolios are retreating some (mostly) to value. Let's look at a brief breakdown of the Value, vs. Growth, vs. Large Cap during the first quarter of 2021.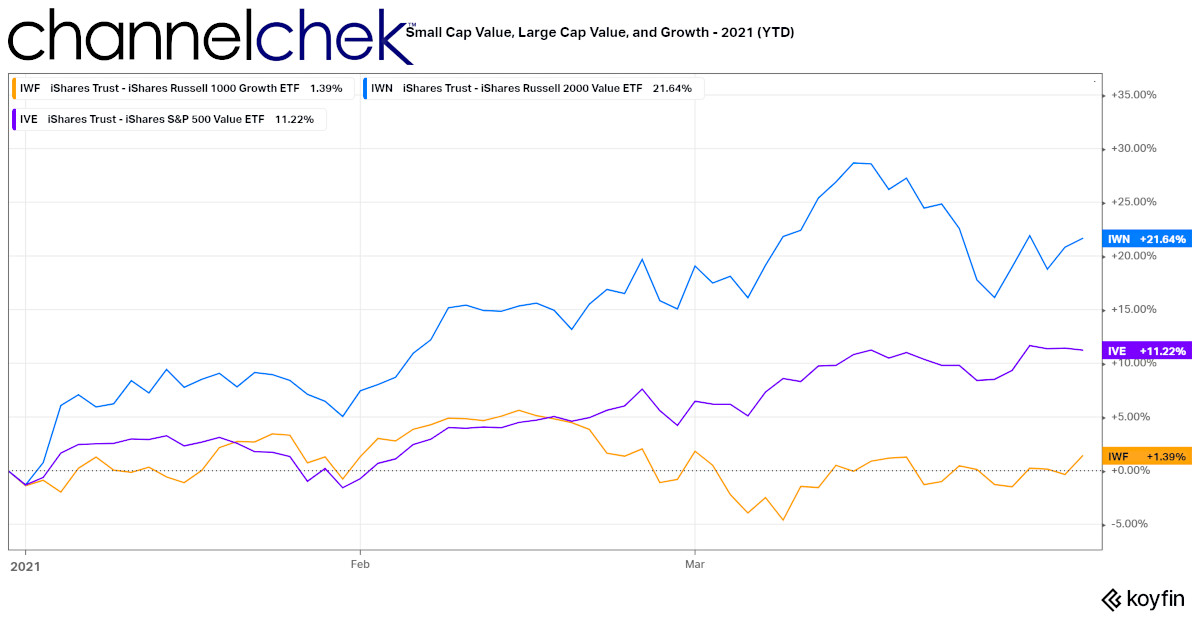 Data as of March 31, 2021, 2 pm EDT
The rebalancing from growth to value started to reach a peak early in March as seen in the graph above. One thing that stands out from the current perception is that the small cap value stocks have outperformed large cap growth and large cap value. Both large and small cap value baskets have been enjoying solid performance above overall growth stocks since January 1.
Associate Writer - Channelchek
More To Discover:
Sources:
U.S. Department of Labor
Koyfin.com
U.S. Transportation Security Administration

Stay up to date. Follow us: