Companies by Sector
More than 6000 listed
Communication Services
Telecommunication Services
Consumer Cyclical
Advertising & Marketing Services
Furnishings, Fixtures & Appliances
Homebuilding & Construction
Manufacturing - Apparel & Accessories
Manufacturing - Apparel & Furniture
Retail - Apparel & Specialty
Consumer Defensive
Beverages - Non-Alcoholic
Financial Services
Diversified Financial Services
Healthcare
Healthcare Providers & Services
Medical Devices & Instruments
Medical Diagnostics & Research
Medical Instruments & Equipment
Industrials
Farm & Heavy Construction Machinery
Transportation & Logistics
Utilities
Utilities - Independent Power Producers

Expect Today's Nuclear Technologies to Provide an Important Role in the Future of Energy
The International Thermal Experimental Reactor (ITER) Project is the first large-scale nuclear fusion project and is being financed by the European Union, United Kingdom, China, India, Russia, Japan, South Korea, and the United States. The $25 billion project entered its five-year assembly phase in July and aims to produce sustainable fusion energy on a commercial scale. Unlike nuclear fission, a technology used for conventional nuclear reactors, nuclear fusion produces four times as much energy without the risk of meltdowns and little waste.
Nuclear Fusion Versus Fission
Fusion plants can be fueled by hydrogen and do not rely on radioactive materials. The illustration below, sourced from an infographic sourced from the Office of Nuclear Energy, summarizes some key differences.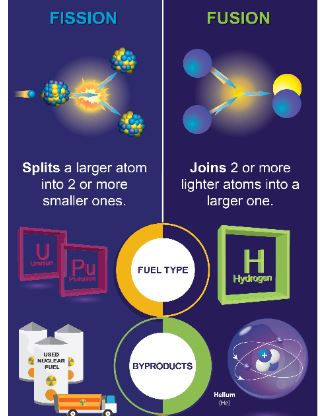 Source: U.S. Department of Energy
Despite many years of research, making nuclear fusion commercially viable has been a technical challenge given the difficulty in reliably generating enough energy from the reactions.
Shrinking the Carbon-Free Footprint
The ITER project has inspired private enterprises, both large and small, to explore fusion generation technology on a smaller scale. Last week, Chevron Corp. announced an investment in Zap Energy Inc., joining Italy's ENI and Norway's Equinor who have also announced investments in nuclear fusion startups to reduce their carbon footprint. Meanwhile, conventional nuclear technology is advancing to overcome its chief objections, namely, preventing the risk of a meltdown and solutions to reduce or dispose of the radioactive spent fuel. Policymakers are reviewing the feasibility of microreactors and small modular reactors that can generate 20 megawatts to 300 megawatts of electricity. Large scale nuclear reactors can generate 300 megawatts to 1,000 megawatts of power. Nuclear is a carbon free source of electricity and, in terms of power density as measured by watts per square meter, has a smaller footprint than some renewables, including wind farms. According to the Nuclear Energy Institute, wind farms require up to 360 times as much land area to produce the same amount of electricity as a nuclear facility, while solar photovoltaic facilities require up to 75 times the land area.
The Take-Away
The nuclear power industry offers significant potential for innovation and could be a critical part of the solution to curb carbon dioxide emissions and global warming. Big ideas, like the International Thermal Experimental Reactor, may help in advancing nuclear technology as private enterprise grasps for pragmatic solutions for both nuclear fission and fusion. Public policy is also crucial to leveling the playing field. For example, coal-fired and natural gas-fired generation facilities that emit greenhouse gases are not penalized, while nuclear power facilities are not rewarded for producing carbon-free electricity. A carbon tax, that puts a price on emissions, or a cap-and-trade program are ideas that may help level the playing field among alternative sources of power generation. Rather than going all in on renewables, the public interest may be better served by exploring alternatives and promoting innovation among all sources of energy.
Suggested Reading:
Carbon-Free Nuclear Energy Expectations Through 2050
Is M&A Picking up in Energy Sector
Exploration and Production Second Quarter Review and Outlook

Each event in our popular Virtual Road Shows Series has maximum capacity of 100 investors online. To take part, listen to and perhaps get your questions answered, see which virtual investor meeting intrigues you here.
Sources:
ITER, The World's Largest Nuclear Fusion Project: A Big Step Forward, Forbes, Ariel Cohen, August 7, 2020.
World's Largest Nuclear Fusion Project Begins Assembly in France, The Guardian, Damian Carrington, July 28, 2020.
A Giant Fusion Reactor Hotter than the Sun to Provide Unlimited Clean Energy Without Waste Marks Milestone, Good News Network, Andy Corbley, August 10, 2020.
ITER: World's Largest Nuclear Fusion Project Begins Assembly, BBC, Paul Rincon, July 28, 2020.
Fission and Fusion: What is the Difference, Infographic, Office of Nuclear Energy, U.S. Department of Energy, May 7, 2018.
INFOGRAPHIC: The Flexibility of Nuclear, Office of Nuclear Energy, U.S. Department of Energy.
Land Needs for Wind, Solar Dwarf Nuclear Plant's Footprint, Nuclear Energy Institute, July 9, 2015.
2019 Advanced Nuclear Map: Getting to Zero Emissions by 2050, Third Way, John Milko, Jackie Kempfner and Todd Allen, October 17, 2019.
Oil Major Chevron Invests in Nuclear Fusion Startup Zap Energy, Reuters, August 12, 2020.
Picture: ITER Site, tokamak building