Companies by Sector
More than 6000 listed
Communication Services
Telecommunication Services
Consumer Cyclical
Advertising & Marketing Services
Furnishings, Fixtures & Appliances
Homebuilding & Construction
Manufacturing - Apparel & Accessories
Manufacturing - Apparel & Furniture
Retail - Apparel & Specialty
Consumer Defensive
Beverages - Non-Alcoholic
Financial Services
Diversified Financial Services
Healthcare
Healthcare Providers & Services
Medical Devices & Instruments
Medical Diagnostics & Research
Medical Instruments & Equipment
Industrials
Farm & Heavy Construction Machinery
Transportation & Logistics
Utilities
Utilities - Independent Power Producers


	Image Credit: The KarenD (Flickr)
Why the Most Conservative Investors Could Help Small Stock Performance
Elon Musk is selling 10% of his Tesla stocks," Amazon just missed earnings expectations, Facebook and other big tech are under an antitrust microscope, should large-cap index investors be concerned? Approximately 25% of the holdings in the S&P 500 are six large stocks (three that I have already mentioned). Perhaps, but there is a one-week-old, greater reason to believe large caps may underperform. And there is a logical reason why it hasn't been spoken about anywhere else.
Background
Over the past 20 years, (Nov. 5, 2000 -Nov. 2021) the S&P has averaged 8.57% per year. The most recent 12 months has been the best period during these 20-years, with a 33.77% return. The worst 12-month period ended in 2008 after the S&P 500 fell 35.89%. Much of the growth has been in the largest companies, by market cap. The top five of these companies are valued at over a trillion dollars each, and the sixth, which is Facebook, is close. Together, these stocks make up one-quarter of the worth of the full index of 500 stocks. Famed hedge fund manager Michael Burry has been arguing for a couple of years that this growth has caused investors to buy S&P 500 and Nasdaq 100 funds with the idea that they are diversified, but in reality, the diversification may not be as strong as it should or could be. Burry, is famous for his "big short" against the mortgage markets that paid off in 2008. He has recently reiterated his belief that many of the other 75% of stocks in the large-cap indexes are being pulled up by index fund investors. In his mind, many of these stocks are now at undeserved valuations, and this may have created a "bubble" that could unwind quickly and severely.
Conservative investors, especially those putting money away that they will need in retirement have traditionally invested in bank CDs, US. Savings Bonds and other U.S. government guaranteed instruments. Unfortunately, beginning around the time of the 2008 financial crisis, the Federal Reserve began aggressively holding rates down. This created problems for those looking to grow wealth for retirement without risking the occasional 35.89% drop mentioned above. With interest rates hovering around 0%, and indices over the past two years rising most days by far more than 0%, a good part of retirement money that never would have been in stocks moved into the riskier index funds. Over the past 20 years, for those that held, good times and bad, they earned on average 8.57% per year.
Risk-Free 7.12%
The most boring, and arguably safest investment vehicles are U.S. Government Savings Bonds. Maybe your grandparents gave you one when you graduated high school or on some other big occasion. Believe it or not, it was once fashionable to use payroll deductions to buy these bonds as a method to invest toward some future need. When inflation dropped, the savings bond rates that are pegged to inflation also fell. They fell so far that even a low-paying money market account seemed to make better financial sense. This has changed, and some of the more conservative money may begin to find its way out of the perceived more conservative large-cap investments and lent to Uncle Sam.
The bonds (Series I) are 30 years to maturity, but if investors can cash out after five years without penalty, prior to five years there is a charge of the most recent three-month accrual of interest.
On November 1st, the rates on U.S. Savings bonds

Source: U.S. Treasury Direct Nov. 1, 2021 Release
For investors that target earning of 4% or more, without issuer risk, they now have the ability to earn that and probably much more. From a risk-adjusted basis, most would argue that a 7.12% government guarantee, reset to CPI-U every six months, with a floor of 0%, beats the average return over time of 8.57% with the possibility of a negative return on non-speculative savings for retirement.
Impact on Smallcap and Microcap Stocks
Amazon's miss on earnings, Tesla's 332 times P/E ratio, Facebook's legal challenges, and the overall impact on tech of moving to the post-pandemic economy may not ever turn as negative as some might predict. However, the ability for conservative investors to earn a much higher rate than has been available for years exists now. While financial advisors acting as fiduciaries should make people aware of this, there is no financial incentive for them to. There are no commissions or fees to be made. The same for most media outlets that might be more prone to bring attention to their advertisers or discuss subjects more compelling than U.S. Savings Bonds. But the word will get out from sources like Channelchek and advocates for retirees such as AARP, AMAC, and astute bloggers.
If the large-cap index funds begin to see withdrawals, for the reasons mentioned above, risk-tolerant investors will seek two things. Better risk/return characteristics, and the "next FAANG" stock. This could cause them to look at stocks with much higher growth potential than a trillion-dollar company. The large-cap index trade has been easy and reliable over the past two years. But the landscape has definitely changed.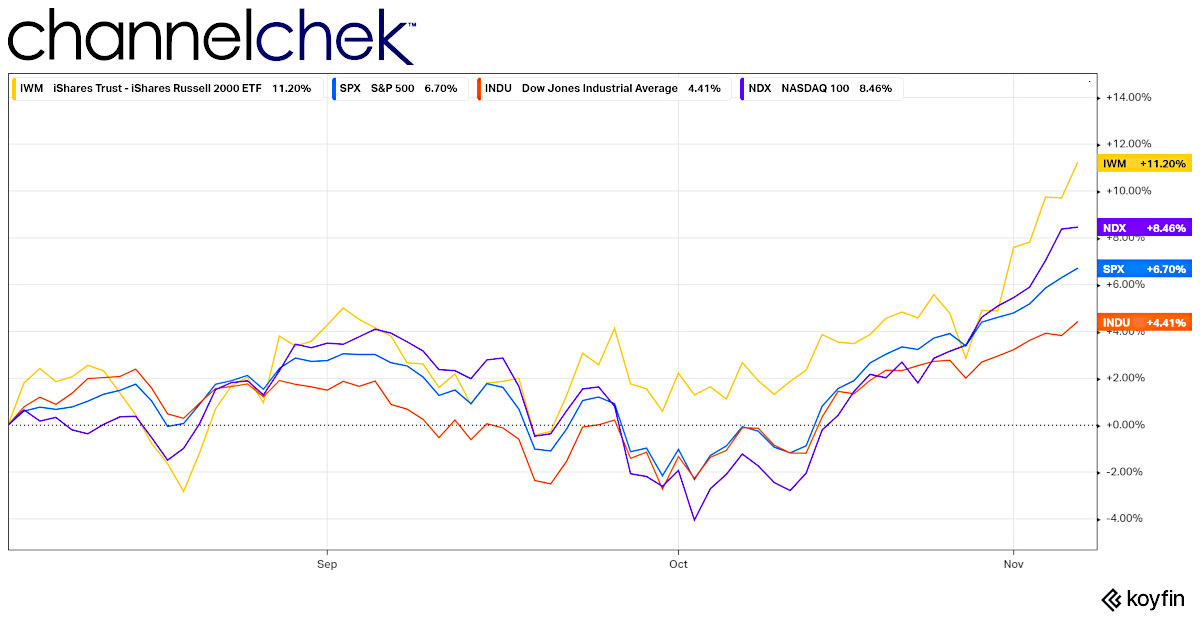 The chart above compares the last three months of performance of the Dow 30 (worst performer) the S&P 500, Nasdaq 100, and the Russell 2000 Small-Cap index (best performer). All have done historically well, but the smaller stocks are on a steeper trajectory upward. Investors looking for growth opportunities may be finding it harder to commit to large-cap stocks. Any money taken out of the markets by those now finding yields they require are invested in larger more established companies. This could set up the situation where smaller stocks outperform these larger ones going forward.
Take-Away
Underlying currents are what sets the long-term direction of financial markets. Over time, directions can become entrenched. Large-cap index funds became the alternative of choice to many highly conservative investors. The growth of the assets in these funds helped the upward direction that at least according to one well-followed hedge fund manager, has set up a possible disaster for these popular index funds.
As conservative investors revert back to their old ways, money could be moving out of S&P 500, Dow, and Nasdaq 100 funds. Those looking for the next FAANG stock, or as we like to say at Channelchek, "the next Apple" will look for growth industries and barely discovered gems. The data and research for registered users is here for those investors that know the current wave in index funds won't last forever.

Managing Editor, Channelchek
Sources:
https://www.treasurydirect.gov/news/pressroom/currentibondratespr.htm
Stay up to date. Follow us: