Companies by Sector
More than 6000 listed
Communication Services
Telecommunication Services
Consumer Cyclical
Advertising & Marketing Services
Furnishings, Fixtures & Appliances
Homebuilding & Construction
Manufacturing - Apparel & Accessories
Manufacturing - Apparel & Furniture
Retail - Apparel & Specialty
Consumer Defensive
Beverages - Non-Alcoholic
Financial Services
Diversified Financial Services
Healthcare
Healthcare Providers & Services
Medical Devices & Instruments
Medical Diagnostics & Research
Medical Instruments & Equipment
Industrials
Farm & Heavy Construction Machinery
Transportation & Logistics
Utilities
Utilities - Independent Power Producers

Image Credit: Imseong Kang (Flickr)
Official U.S. Oil Price and Inventory Forecasts for Second Half 2021 and Beyond
Global consumption of crude oil is likely to increase through 2022, according to a new forecast by the U.S. Energy Information Administration (EIA). Earlier in June, the EIA forecast increasing global production of petroleum and other liquid fuels would be driven by OPEC, Russia, and the U.S. These forecasts, higher consumption and production, point to a cooling of the recent pace of price increases for Bent and West Texas Intermediate Crude. These two most recent reports by the EIA suggest more price stability in the second half of the year than we experienced in the first six months. The report then forecasts another mismatch of supply and demand.
Oil Price Expectations Through 2022
Although the EIA sees global consumption likely increasing through 2022, they also forecast production increasing more rapidly. This would end the drawdowns in oil inventories we've been experiencing in 2021. As indicated in the forecast in the graph below, inventories are expected to remain relatively flat through the next two quarters and then increase in 2022.
The EIA forecast estimates that swelling worldwide petroleum inventory should limit rising oil prices in the coming months, then put downward pressure on crude oil prices later this year and into 2022.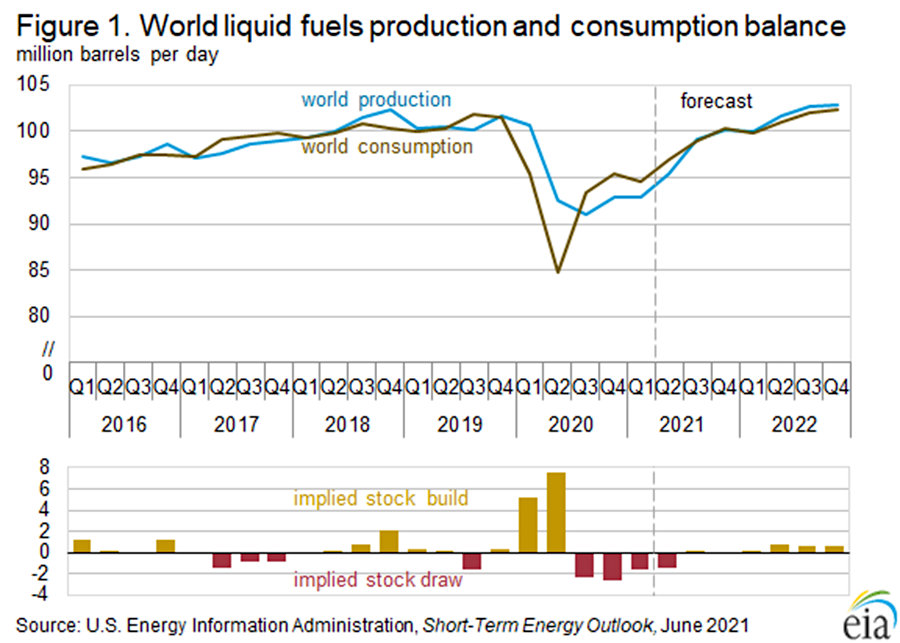 Risks Associated with the EIA Forecast
The EIA points out several risks to the accuracy of their forecast:
First- Higher sustained crude oil prices over the next several months could cause some OPEC+ members to increase their production more than provided for in the active OPEC+ agreement.
Second- The forecast assumes that Iran's crude oil production will continue to increase in 2021. There continue to be sanctions that target Iran's crude oil exports; however, crude oil exports from Iran have risen since the end of 2020. The risk here is crude oil production may increase faster than the EIA forecast.
Third- There is the possibility that U.S. operators will add fewer drilling rigs than expected. This would lower U.S. crude oil production in 2022, which would provide less downward pressure on oil prices.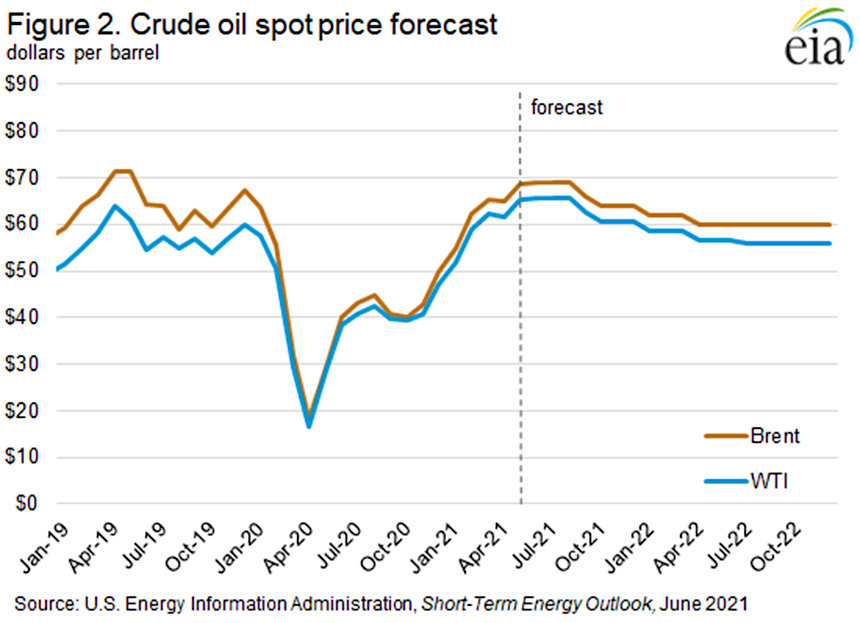 Take-Away
Current higher crude oil prices and planned OPEC+ production increases allow for an EIA forecast that worldwide petroleum supply will increase over the next several months. They expect that this will provide an essentially balanced market through much of the second half of 2021. Then, inventories are projected to build through 2022, pushing prices down modestly.
Managing Editor, Channelchek
Suggested Reading:
Sources:
https://www.eia.gov/petroleum/weekly/
https://www.eia.gov/outlooks/steo/archives/jun21.pdf
Stay up to date. Follow us:
Company
Ticker
Price
Previous
Mkt Cap
Volume
52wk Range
Yuma Energy Inc.
YUMA (AMERA)
0
0
0
0 - 0
Black Ridge Oil & Gas Inc
ANFC (OTCQB)
$4.85
$13.31M
0
$1.05 - $6.55
Bellatrix Exploration Ltd (Canada)
BXE (NYSE)
0
0
0
0 - 0
Basic Energy Servs
BAS (NYSE)
0
0
0
0 - 0
Advanced Market Data
()
Detailed Quote
Charts
Statistics
Financials
Historical Quotes
Insider Activity
Key Ratios