Companies by Sector
More than 6000 listed
Communication Services
Telecommunication Services
Consumer Cyclical
Advertising & Marketing Services
Furnishings, Fixtures & Appliances
Homebuilding & Construction
Manufacturing - Apparel & Accessories
Manufacturing - Apparel & Furniture
Retail - Apparel & Specialty
Consumer Defensive
Beverages - Non-Alcoholic
Financial Services
Diversified Financial Services
Healthcare
Healthcare Providers & Services
Medical Devices & Instruments
Medical Diagnostics & Research
Medical Instruments & Equipment
Industrials
Farm & Heavy Construction Machinery
Transportation & Logistics
Utilities
Utilities - Independent Power Producers



  
The importance of Dependable Energy, Even Nuclear, is Heightened in Recent War
Energy is important. After food and air, energy is the next most critical in day-to-day life. Since the beginning of 2022, uranium investments are up about 30%, since Russia's invasion of Ukraine, the performance is even better. Although the yellow metal has not had the performance of crude oil, its large upward price move highlights the importance of energy resources and current fragility, especially as nations seek to lessen their use of traditional energy sources.
The mineral itself is not easily traded on open exchanges using futures contracts to the same extent that other commodities are. The reasons are obvious. But, according to data from UxC, uranium prices climbed to $59.75 a pound on March 10. That is the highest in eleven years. That's when uranium went through a few bad years following a massive earthquake and tsunami in Japan which led to a power outage and meltdown at the Fukushima Daiichi nuclear plant, (March of 2011). This event caused a change in thinking and retrenchment of nations as they rethought their power strategy and decided to phase out nuclear on safety concerns. The price of uranium tumbled shortly after.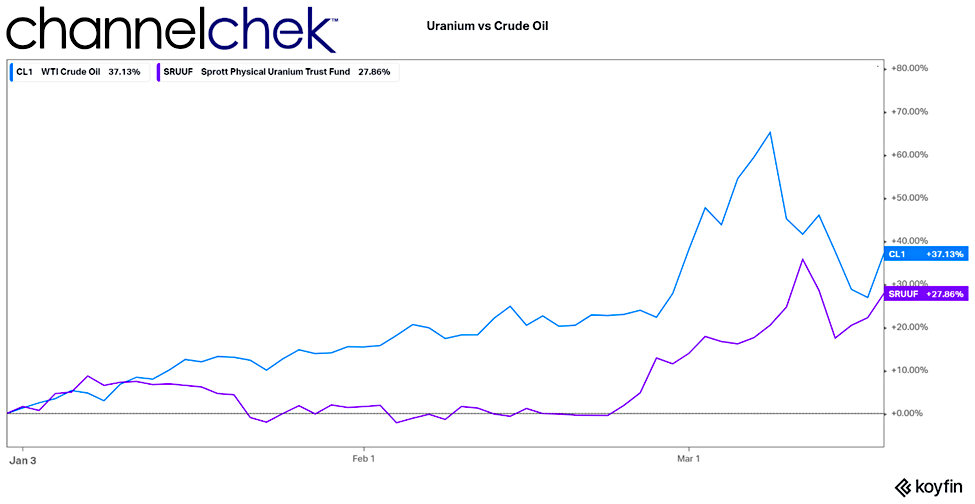 Recent History
Uranium prices had been trading around $43 before Russia invaded Ukraine on Feb. 24th. Uncertainty around any event historically causes risk assets to tumble and consumers' necessities to strengthen. While the invasion hasn't had an immediate impact on demand, or supply, there is speculation that the trend toward nuclear may increase at a faster pace than recent years, countries may even maintain existing plants longer than announced and perhaps build modern generation facilities, especially in Europe as they diversify away from natural gas provided by Russia.
Some countries are changing their positions on non-carbon emitting nuclear that they took, possibly as a knee-jerk reaction, after Fukushima. Belgium has adjusted its position on its 2025 deadline to phase out its seven nuclear power plants. The country's Federal Agency for Nuclear Control announced some reactors may operate beyond 2025 if removing them puts energy supply security at risk.
Current State
Russia's war with Ukraine has raised global risks to energy supplies. Since Russia is among the world's biggest exporters of oil and natural gas, oil prices have climbed to their highest levels since 2008, while gas prices (Dutch TTF), have recently bounced off record highs.
While the US is not dependent on Russian oil or natural gas, it has relied on Russia for 16% of its enriched uranium supply, while Europe relies on Russia for 20%.
Global nuclear-power generation grew by 3.5% in 2021. China had the largest increase of growth measuring 11%. The US actually shrank 1.5%.

Other Uranium Demand
Investors of physical uranium are adding to the demand for U308. A physical investment takes production offline, so those in a physical trust enhance positive price action. The Sprott Physical Uranium Trust (SRUUF), the world's largest physical uranium fund, has seen its stores of the fuel climb to over 51 million pounds from 18.1 million a year ago, and its net asset value grow to over $3 billion from $630 million since its launch. In 2022 lone shares of the trust have climbed more than 20% this year (a/o March 15).
Increased interest in uranium investments comes as much of the world has adopted an anti-carbon position related to climate change commitments. Nuclear power does not emit carbon in the generation process and can produce significant energy without regard to sun or wind conditions. The stigma of being an environmental nightmare has shifted to one of being an environmental savior. As other types of fuels costs rise, so will the alternative uranium.
Managing Editor, Channelchek
Suggested Reading
Sources
https://www.energy.gov/ne/articles/nuclear-power-most-reliable-energy-source-and-its-not-even-close
https://www.world-nuclear-news.org/Articles/Belgian-regulator-says-reactors-could-operate-beyo
https://www.iea.org/fuels-and-technologies/nuclear
Stay up to date. Follow us: