Companies by Sector
More than 6000 listed
Communication Services
Telecommunication Services
Consumer Cyclical
Advertising & Marketing Services
Furnishings, Fixtures & Appliances
Homebuilding & Construction
Manufacturing - Apparel & Accessories
Manufacturing - Apparel & Furniture
Retail - Apparel & Specialty
Consumer Defensive
Beverages - Non-Alcoholic
Financial Services
Diversified Financial Services
Healthcare
Healthcare Providers & Services
Medical Devices & Instruments
Medical Diagnostics & Research
Medical Instruments & Equipment
Industrials
Farm & Heavy Construction Machinery
Transportation & Logistics
Utilities
Utilities - Independent Power Producers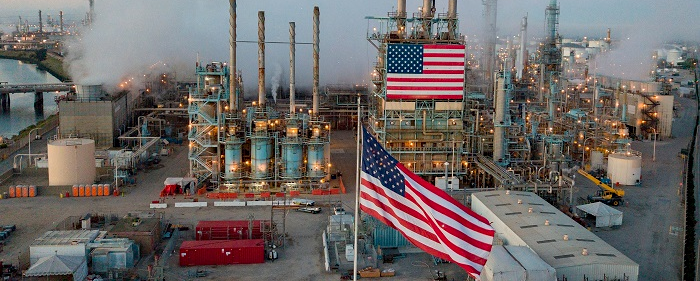 Excess Oil Inventory May Take Even Longer to Work Off
West Texas Intermediate oil prices fell 8% on Tuesday, dropping from $39 per barrel to $36.30/BBL. Tuesday's close was the lowest oil price close in three months. The decline caps off a difficult ten-day period that started with oil prices entering the month of September at $42.76/BBL. There is not a single reason for the decline but a series of announcements that point to oil supply increasing and demand rising at a slower rate than previously thought.
Inventories are rising. The American Petroleum Institute reported on Tuesday that U.S. crude stockpiles unexpectedly rose last week. The country's crude stockpiles rose by 3 million barrels in the week ending September 4, almost twice that expected by analysts. The rise was the first increase in seven weeks. The higher inventories were confirmed on Thursday when the U.S. Energy Information Administration indicated that U.S. commercial crude inventories increased by 2.0 million. Analysts had expected a 1.0 million decrease. The EIA reports that inventories are running 14% above the trailing five-year average for this time of year. The inventory buildup comes at an unfortunate time, with the summer driving season coming to an end.
OPEC is getting tired of production cuts. On September 5, Saudi Arabia lowered its official selling price for October. Remember that OPEC and allies agreed to a 9.7 million barrel per day cut to supply on May 1. The reductions were decreased by almost 1 million bpd in June and another 1 million in August. OPEC and allies meet on September 17 to discuss a continuation of production cuts. Saudi Arabia's willingness to accept lower oil prices in October may be a sign that it is tiring of cutting production. If true, the outcome of the next OPEC meeting may result in increased supply at a time when demand is becoming more uncertain.
The future of oil demand for vehicles may be coming into question. GM announced a 10-year alliance with Nikola Corp to build an electric truck. The alliance puts them in direct competition with Tesla and shows that the major car manufacturers do not plan to sit idle as Tesla attempts to gain market share. GM is not alone among major auto manufacturers in announcing plans to develop electric vehicles. Announcements like these may be a sign that the age of electric vehicles may be coming sooner than previously anticipated.
A global economic recovery coming from a Covid-19 vaccine may be further away. Countries in all parts of the world are reporting increased cases of Covid-19 as they prepare for an expected second wave of cases coming this fall. On September 8, AstraZeneca announced that a vaccine study had been put on hold due to a suspected serious reaction in one of the participants. The halt of a vaccine study is raising new questions about the ability of countries to open their economies.
China may be done restocking its inventories. China has been increasing oil imports through the summer. The increase stopped in August, with China importing 11.23 bpd versus 12.13 bpd in July. Warren Patterson, global head of commodities at ING, indicates that China restocked inventories and that Chinese buying appears to be absent from the market at the moment.
Oil prices turned negative in April after the market was hit by a double shot of OPEC production increases and pandemic-induced demand destruction. Higher oil prices recovered over the summer due to OPEC production cuts and signs that economies were reopening. Recent data seems to indicate that the optimism of the summer was misplaced. With storage levels lower than in the spring, it's unlikely that the market will see the oil price drop witnessed in April. Instead, there could be a prolonged period of low prices as the market works off excess inventory slowly.
Take-Away
Not one, but a series of events, announcements, and seasonal norms caused oil prices to drop. There are a number of trends on the horizon that are also concerning in a world sitting near inventory capacity.
Suggested Reading:
Is American Energy Dominance Relying on Immaculate Areas?
More Frequent Travel Could Be the Actual Aftermath of the Pandemic
Natural Gas Storage Imbalances and Higher Prices
Monday September 14 - 3:30PM EDT

Join Gevo CEO, Patrick Gruber for this exclusive corporate presentation, followed by a Q & A session moderated by Poe Fratt, Noble's Senior Research Analyst, featuring questions taken from the audience. Registration is free, but attendance is limited to 100.
Register Now
Sources:
https://www.cnbc.com/2020/09/08/oil-drops-to-multi-month-low-on-demand-fears.html?__twitter_impression=true&recirc=taboo, Pippa Stevens, CNBC, September 8, 2020
https://www.cnbc.com/2020/09/10/oil-markets-coronavirus-pandemic.html, Reuters, September 9, 2020
https://finance.yahoo.com/news/crude-oil-adjusting-weakening-fundamentals-115438419.html, Oke Hansen, FX Empire, September 10, 2020
https://www.marketwatch.com/story/oil-down-sharply-as-us-driving-season-comes-to-end-2020-09-08, Myra P. Saefong and William Watts, MarketWatch, September 8, 2020
https://www.foxbusiness.com/markets/oil-prices-tank-as-demand-drop-nears, Jonathan Garber, FoxBusiness, September 8, 2020
https://oilprice.com/Energy/Crude-Oil/Surprise-Crude-Build-Forces-Oil-Prices-Lower.html, Irina Slav, OilPrice.com, September 10, 2020