Companies by Sector
More than 6000 listed
Communication Services
Telecommunication Services
Consumer Cyclical
Advertising & Marketing Services
Furnishings, Fixtures & Appliances
Homebuilding & Construction
Manufacturing - Apparel & Accessories
Manufacturing - Apparel & Furniture
Retail - Apparel & Specialty
Consumer Defensive
Beverages - Non-Alcoholic
Financial Services
Diversified Financial Services
Healthcare
Healthcare Providers & Services
Medical Devices & Instruments
Medical Diagnostics & Research
Medical Instruments & Equipment
Industrials
Farm & Heavy Construction Machinery
Transportation & Logistics
Utilities
Utilities - Independent Power Producers

Image Credit: Kim Woodbridge (Flickr)
Are the Markets Underestimating Oil Demand?
Introduction
What COVID-19 did to oil demand, the rollout of the COVID-19 vaccine has been quickly undoing. As employees return to work and travel is increased both near and far, the sudden demand coupled with the reduced output from last year could be a recipe for even higher prices. The U.S. economy has not even reached its expected peak, yet underestimated oil demand is now showing up in prices. This is why Goldman Sachs predicts Brent crude oil will cross above the $80 per barrel mark. The bank prediction is on the high side of forecasts as others expect oil prices to hover around $70 per barrel until Q3 of 2021.
Higher Demand for Gasoline
One place consumers are witnessing the impact of higher crude prices higher is at the gas pump. With more cars coming out of their driveway, pump prices have spiked to $3 and more a gallon. This is almost twice gasoline's lowest level during 2020. This increase is the record-high increase (percentage) in prices since 2014.
The EIA (Energy Information Administration) affirms that it is expecting the average consumption of 9 million barrels a day (BPD) in the summer season alone in the U.S. In comparison, this pace would surpass the threshold of 2020's summer consumption by approximately 15% or 1.2 million barrels per day.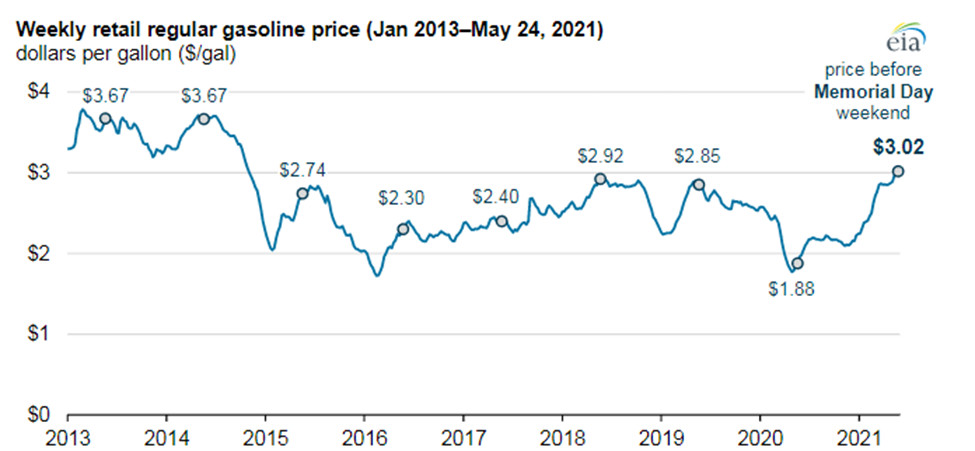 Source: EIA.gov
How Accurate Will Predictions Be?
The all-time-high for a barrel of oil was $147.02 reached on July 11, 2008. Although the expectations, even on the high side, are well below that ($80 range). when you consider that Brent crude prices are already up 66% in less than a year and the dynamics driving the price are still in place, the potential for even greater increases is real. The U.S. is ahead of many other large oil-consuming nations, as they lift restrictions and international travel resumes demand could potentially exceed even the more extreme predictions. Over the past year, Brent Crude oil prices have climbed 85 percent to their current price per barrel. Now, as the reopening, the pent-up demand, and the empowered vaccinated and COVID-19 survivors all come together during the summer travel season its could be like a perfect storm, even the more accurate forecasters are faced with variables they have never had to model before. They may be spot on, but if there is deviation, they may be far too conservative with their expectations.
Who Benefits:
This coming Saturday is the United Nations World Environmental Day. The push to reduce fossil fuel use is high across the globe. Yet, there are some true beneficiaries of increasing crude in the short and long term. In a press release dated May 6, 2021, InPlay Oil (IPOOF, IPO:CA) had this to say about their prospects. "The commodity price recovery in the past year has been remarkable and occurred quicker than InPlay and most in the industry expected. We are pleased to report that InPlay is ahead of schedule on our road to recovery, already reaching our goal of quickly returning to 2019 pre-COVID production levels." InPlay is a small driller which means every additional penny that a barrel taken from the ground is sold for, has a larger impact on their bottom line. Indonesia Energy (INDO) is an oil and gas exploration and production company focused on Indonesia. They began drilling a first well on April 21st. Next Tuesday (June 8) INDO is hosting an investor conference call in order to provide an update (including initial results) on the drilling and completion of IEC's first new producing well. INDO is also a small company where small price changes can have a magnified impact. GEVO Inc. (GEVO) is a small biofuels manufacturer that is a favorite among many ESG investors. They also benefit from an increase in fuel prices while having the global regulatory bodies solidly behind the reduction in high carbon-emitting fuels. Any expected increase in the value of a barrel of oil could also impact the bio-alternatives.
Take Away
In their report on oil, Goldman Sachs wrote, "Investors should be aware of the fact that the world market at the moment is underestimating oil demand as a chance to open up economies for enterprise." If there is the expected increased travel across the globe and economic activity continues its upward spike, it's conceivable that estimates like this may fall short of what occurs through Summer 2021.
Even the slightest rise in oil prices can impact small companies that either compete with oil with alternative fuels or extract oil at a cost to the company that doesn't change much with the price of oil.
Suggested Content:
REFERENCES:
Stay up to date. Follow us:
Company
Ticker
Price
Previous
Mkt Cap
Volume
52wk Range
Advanced Market Data
()
Detailed Quote
Charts
Statistics
Financials
Historical Quotes
Insider Activity
Key Ratios