Companies by Sector
More than 6000 listed
Communication Services
Telecommunication Services
Consumer Cyclical
Advertising & Marketing Services
Furnishings, Fixtures & Appliances
Homebuilding & Construction
Manufacturing - Apparel & Accessories
Manufacturing - Apparel & Furniture
Retail - Apparel & Specialty
Consumer Defensive
Beverages - Non-Alcoholic
Financial Services
Diversified Financial Services
Healthcare
Healthcare Providers & Services
Medical Devices & Instruments
Medical Diagnostics & Research
Medical Instruments & Equipment
Industrials
Farm & Heavy Construction Machinery
Transportation & Logistics
Utilities
Utilities - Independent Power Producers


	Image Credit: DennisM2 (Flickr)
Pure Plays in EV Charging Infrastructure
Which came first, the charging station or the EV?
The infrastructure act just signed into law set aside $7.5 billion in federal grant money to build out a network of electric vehicle charging stations. Earlier goals out of Washington call for all new vehicles sold in the U.S. to be electric by 2030. According to Pew Research, about four-in-ten Americans say the next time they purchase a vehicle, they will consider electric. While this may create investment opportunities in new and existing car companies, the infrastructure needed to support this growth is arguably more important.
Below we highlight three electric car charging station companies that are near 100% focused on this business and may benefit from the grant money, as well as growing natural demand. The companies have uniquely different financial characteristics and, therefore, may appeal to different investors.
Blink Charging Co. (BLNK) is a single segment business that owns and operates charging stations for electric vehicles. The company is building out a network of both residential and commercial charging equipment to provide EV owners access to power at various types of locations.
Blink stock has been trading sideways since the beginning of the year. The signing of the infrastructure bill this week helped drive Blink above its 200 day moving average. Blink is headquartered in the USA and operates out of Miami, FL. The stock is currently trading in the mid-40s and has a market cap of $1.96 billion.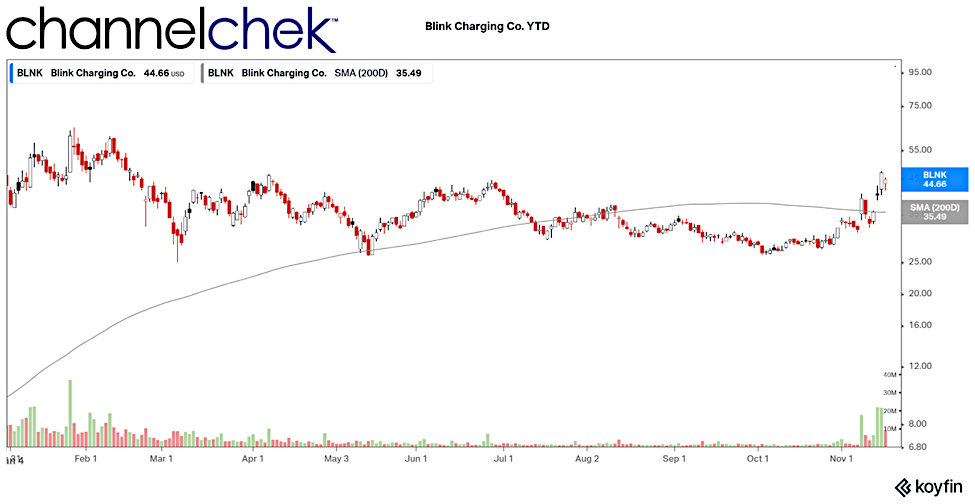 Source: Koyfin
TSG Group ( TPGY) is a SPAC that is moving toward an agreed-upon merger with EVBox. The intention is to list on the New York Stock Exchange through a merger with investment firm TPG Pace Beneficial Finance. Dutch-owned EVBox has a large footprint throughout Europe. The funds from the SPAC merger would be used to expand the global focus to include North America, and to expand their technology. The final SPAC merger has yet to be completed (or scheduled). TSG Group stock is trading closer to its $10 SPAC IPO price than it has since the announced merger late last year. The market cap is currently $465 million.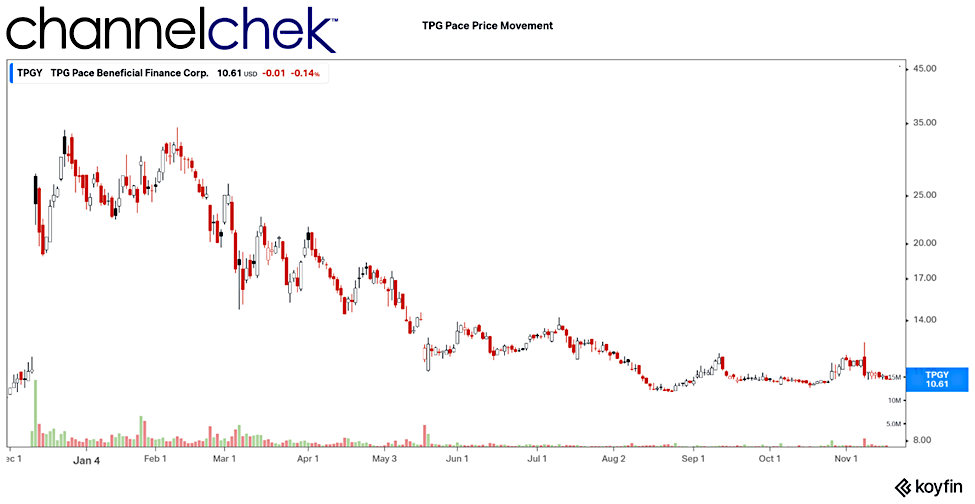 Source: Koyfin
ChargePoint Holdings, Inc. (CHPT) is a U.S.-based company operating exclusively in North America out of Campbell, CA. Founded in 2007, ChargePoint provides charging networks and solutions for residential, commercial and fleet vehicle power. They are the largest charging network in the world with over 20,000 locations.
As the largest of the EV charging stocks on this list, CHPT has a market cap of approximately $9 billion. Since the beginning of 2021, the stock has traded in a wide range with a high of $46.50 (January) and a low of $17.51 (October). The trend has been upward since just before the signed infrastructure act, the stock is currently trading closer to the bottom of the range at $27.50.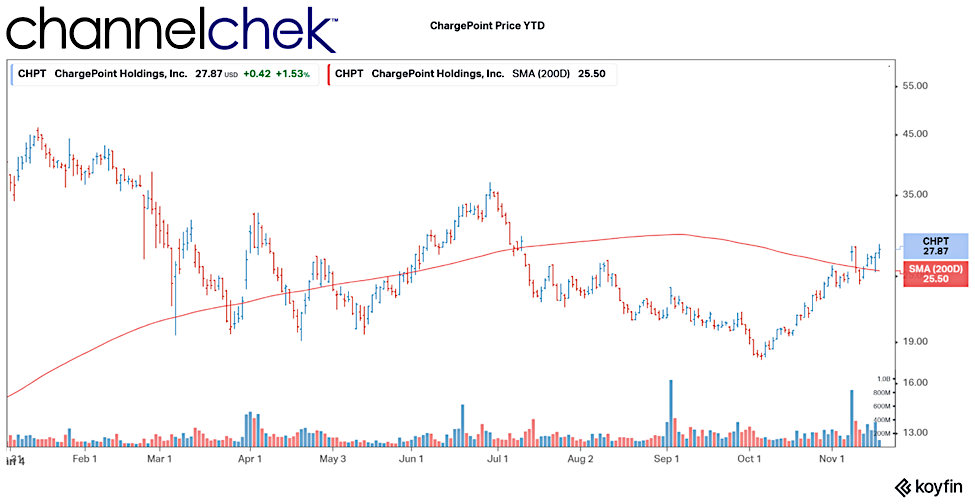 Image Credit: Koyfin
Take-Away
It would be tough for the electric vehicle revolution to continue its momentum without the ability for drivers to be confident they can power up en route. This is why the original infrastructure bill committed twice as much to EV charging stations than the final version.
Large traditional energy companies like Shell and BP, and car companies like Hyundai and Tesla are not pure-plays in charging station infrastructure, although they are also building them. Among those companies that are near 100% focused and could benefit the most from the new spending plans, the company size, country of origin, current footprint, and even M&A situation should be reviewed before an investor takes aim.
Channelchek provides data, news stories, and research on small and microcap stocks. Be sure to insert the ticker you're interested in on our company data section to supplement your due diligence.
Managing Editor, Channelchek
Suggested Reading:
Sources:
https://www.pewresearch.org/fact-tank/2021/06/03/electric-vehicles-get-mixed-reception-from-american-consumers/
https://www.electrive.com/2020/12/13/evbox-aiming-for-ipo-on-nyse-in-spring-2021/
https://energydigital.com/top10/10-largest-electric-charger-companies-world
Stay up to date. Follow us:
Company
Ticker
Price
Previous
Mkt Cap
Volume
52wk Range
TPG Pace Beneficial Finance Corp. Class A
TPGY (NYSE)
$9.91
$433.56M
0
$9.80 - $21.09
Blink Charging Co.
BLNK (Nasdaq)
$27.87
$1.18B
0
$17.93 - $49.00
Advanced Market Data
()
Detailed Quote
Charts
Statistics
Financials
Historical Quotes
Insider Activity
Key Ratios