Companies by Sector
More than 6000 listed
Communication Services
Telecommunication Services
Consumer Cyclical
Advertising & Marketing Services
Furnishings, Fixtures & Appliances
Homebuilding & Construction
Manufacturing - Apparel & Accessories
Manufacturing - Apparel & Furniture
Retail - Apparel & Specialty
Consumer Defensive
Beverages - Non-Alcoholic
Financial Services
Diversified Financial Services
Healthcare
Healthcare Providers & Services
Medical Devices & Instruments
Medical Diagnostics & Research
Medical Instruments & Equipment
Industrials
Farm & Heavy Construction Machinery
Transportation & Logistics
Utilities
Utilities - Independent Power Producers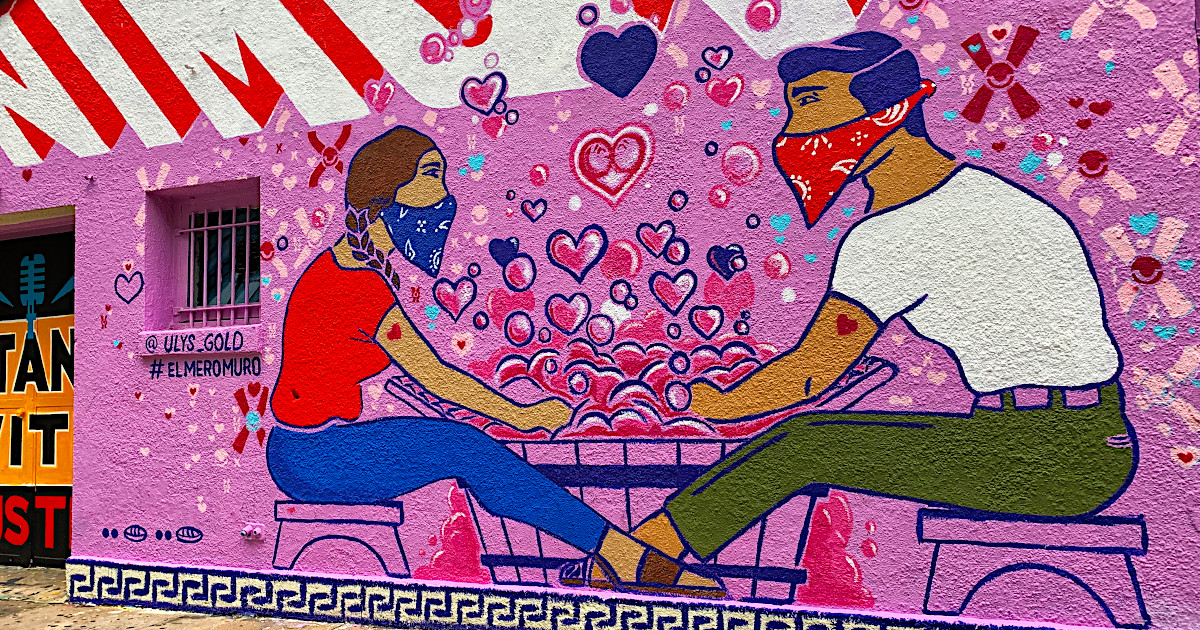 "The Biggest Valentine's Day in its History"
Lifestyle adjustments made because of the pandemic have created winners and losers across many business types. On the whole, Internet retailers have benefitted; meanwhile, in-person retail stores, movies, and restaurants have all suffered. Businesses that typically look forward to St. Valentine's as a high revenue-producing few weeks are experiencing a very different dynamic.
Commerce resulting from Valentine's Day in the past has followed a similar pattern across the various ways that couples express their appreciation for the other. There had been a growing trend toward gifts being sent to the office rather than the home. This year fewer people are going to the office, so delivered gifts are more likely to arrive where people live. The holiday this year falls on a Sunday, in years when the romantic holiday fell on a Saturday or Sunday, gifts and flowers drew less business as couples would make it a date night. This year Valentine's falls on a Sunday, and online retailers selling popular romantic gifts such as chocolate or flowers can expect to do better than they might otherwise as many parts of the country still discourage too many patrons at a public place.
An annual survey released by The National Association of Retailers (NAR) found 52% of U.S. adults plan to celebrate Valentine's Day 2021; it projects the spending to be $21.8 billion, down from $27 billion a year ago. Fewer than a quarter of consumers (24%) plan to spend an evening out, this is the least amount in the survey's history. Many plan instead on having a special dinner at home instead.
The NRF survey shows an increase in sales of less expensive gifts and greeting cards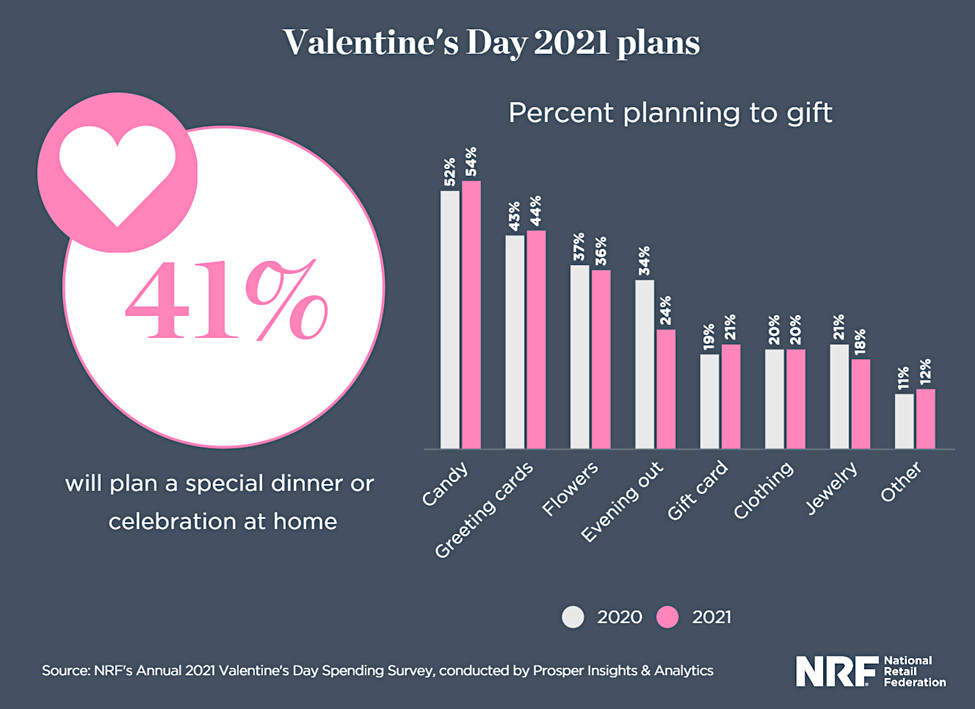 Source: National Retail Federation
Based on the circumstances, Chris McCann, CEO of 1-800-Flowers.com Inc. (FLWS), believes his company will enjoy the biggest Valentine's Day in its history. McCann shared this with Forbes Magazine, "Coming off a record end-of-year holiday season, we see a continuation of the accelerated momentum that began for us back in 2018, but picked up even more during the pandemic."
1-800-Flowers.com maintains their own data on Valentine's Day, Channelchek shares this information each year for the benefit of our readers:
Most popular flowers ordered for Valentine's Day.

Roses, lilies, tulips, Gerbera daisies, orchids
Most popular flower colors ordered.

Red, pink, hot pink, purple
Estimated percentage of flowers (by color) that will be ordered in 2021.

Red: 55%

Pink (Shades of Pink): 35%

Purple: 10% (limited availability in season)
What do the colors of roses mean?

Red: I love you

Pale Pink: I appreciate you

Purple: I always knew you were the one

Hot Pink: I'm grateful you're in my life
What do the other popular flowers mean?

Lilies: Purity and refined beauty

Tulips: Perfect love, charity and royalty

Daisies: Innocence and joy

Orchids: Love, fertility, thoughtfulness and charm
How many different types of roses does 1-800-Flowers.com offer?

90
Total number of stems expected to sell in 2021?

22 million
Number of roses expected to sell in 2021?

14 million
Most popular greeting card messages used at 1-800-Flowers.com

Every year with you is sweeter than the last

Happy Valentine's Day

I send a kiss inside the petals of each rose…

You take my breath away…today and every day

All my love

Love and kisses

I love you

How sweet it is to be loved by you

Love you
Take-Away
Although the economy has not fully recovered, most online retailers have been in a position to benefit from the changed needs of shoppers across the country. The competition for celebrant's dollars on Valentine's Day along with Mother's Day has always included going out versus a heartfelt gift. Although less money will be spent this year, online retail may have its best year as fewer people feel it wise to surround themselves with others in public places. A large percentage of those are choosing to show they care with a gift or a home cooked meal instead.
Suggested Reading:
College Scholarships for Esports Gamers
Investment of Excess Corporate Cash
Source:
1-(800)-FLOWERS
Valentine's Day Kicks Off A Booming Year For Gifts, Predicts 1-800-Flowers CEO

Stay up to date. Follow us:
Company
Ticker
Price
Previous
Mkt Cap
Volume
52wk Range
Advanced Market Data
()
Detailed Quote
Charts
Statistics
Financials
Historical Quotes
Insider Activity
Key Ratios