Companies by Sector
More than 6000 listed
Communication Services
Telecommunication Services
Consumer Cyclical
Advertising & Marketing Services
Furnishings, Fixtures & Appliances
Homebuilding & Construction
Manufacturing - Apparel & Accessories
Manufacturing - Apparel & Furniture
Retail - Apparel & Specialty
Consumer Defensive
Beverages - Non-Alcoholic
Financial Services
Diversified Financial Services
Healthcare
Healthcare Providers & Services
Medical Devices & Instruments
Medical Diagnostics & Research
Medical Instruments & Equipment
Industrials
Farm & Heavy Construction Machinery
Transportation & Logistics
Utilities
Utilities - Independent Power Producers


	Image Credit: SHVETS (Pexels)
ESG Investors May Have Missed What's Happening with Green Chemical Companies
Are green chemistry companies being overlooked by ESG investors? While many green-oriented investors are focused on carbon neutrality, there is a growing area that is more slowly being discovered. Many of these companies have not experienced a large run-up in valuations, while demand for their products is steadily increasing.
The Green Energy Commerce Council (GC3) released a report last week documenting the significant growth in green chemistry marketed products. While this area is not receiving as much attention as others, the potential for individual companies to grow or for them to form alliances or partnerships with the world's largest chemical companies is real.
What is the GC3
The Green Energy and Commerce Council is a collaborative housed at the University of Massachusetts, Lowell Center for Sustainable Production. They provide a setting for companies to share information as well as experiences about challenges and opportunities for safer, more sustainable chemical-based products. This includes promoting best practices to drive adoption through supply chains; fostering collaboration between government, businesses, and researchers; and identifying and engaging with those adopting green chemistry.
Green Chemistry Demand Growth
The GC3 report was developed in partnership with NYU Stern Center for Sustainable Business, N. Carolina State University, and Duke University. It documented significant growth in green chemistry marketed products in both sales and increased consumer demand.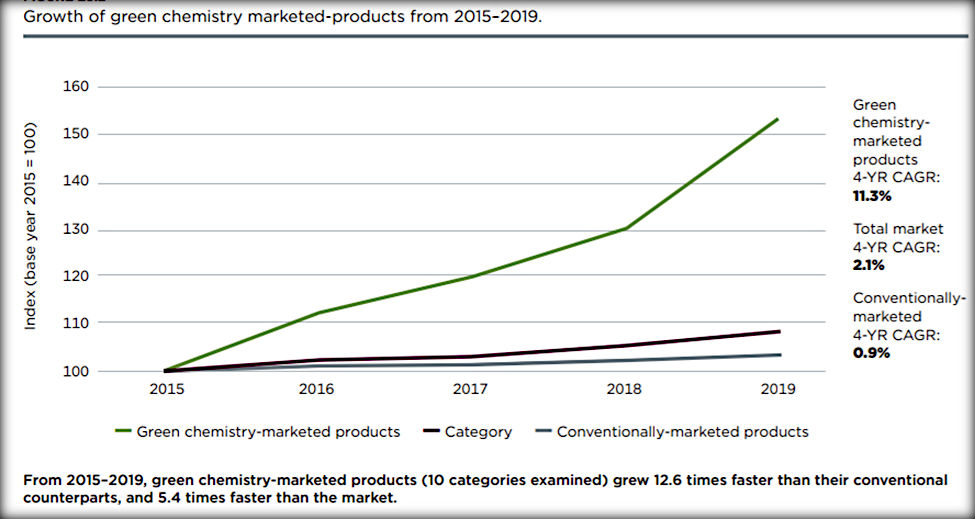 Source: GC3 November Report
Their analysis shows an unprecedented rise in sales and consumer demand, with green chemistry products' market share rising from 10.1% to 14.3% between 2015 and 2019 compared to traditional products. Sales even continued their climb through the coronavirus pandemic. This indicates a sustained rise in customer demand for green chemistry products, while the habits of younger consumers promise a sustained rise beyond 2021.
Market Growth
The analysis also found green chemistry products delivered 62% of market growth, 12.6 times faster than their conventional counterparts. In 8 out of 10 categories, growth in green chemistry product sales outpaced the growth of their respective categories. And, not only are consumers driving growth, but government policies like the European Commission's Chemicals Strategy for Sustainability and investor expectations are also pushing green chemistry forward. Some 84% of business leaders surveyed for the report say they've increased their investment in green chemistry research and development, with 98% anticipating a further rise in investment over the next five years.
Categories and Companies
Chemical-based products can be found throughout our homes and industry. In addition to the categories listed below, Morgan Stanley includes bio solvents, inks and dies, fertilizers, lubricants, plastics, and surfactants.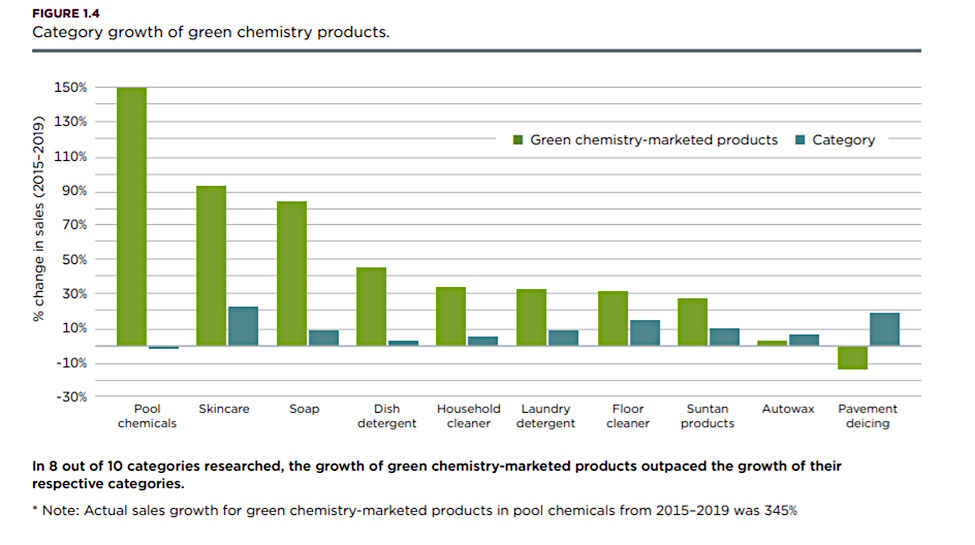 Source: GC3 November Report
One growing company that has innovative green solutions in many of these categories is Flotek (FTK). Flotek develops, manufactures, and markets high-quality cleaning, disinfecting, and sanitizing products for commercial, governmental, and personal consumer use. As important, Flotek empowers the energy industry to maximize the value of its hydrocarbon streams through its real-time data platforms and green chemistry technologies. Flotek serves downstream, midstream, and upstream customers, both domestic and international.
Current research on this company is available here on Channelchek. There is an exclusive live online interview with Flotek's CEO John W. Gibson, Jr. at 1 pm ET today (December 1). If you are interested in discovering more about the growth of the green chemical sector and learning more about Flotek directly from the top, be sure to register, watch at 1 pm and have your questions answered.
Take-Away
While green fuels have held the spotlight, green chemical companies are taking on a much greater role in our future. Consumers, including retail, government, and businesses, are increasingly turning to these products.
Investors looking to learn more about this sector can enhance their knowledge base by reading the GC3 report summary and attending today's free online discussion with Flotek's CEO.
Sources:
https://greenchemistryandcommerce.org/documents/member-guidelines-and-policies-march-2020.pdf
https://greenchemistryandcommerce.org/resources/newsletters/gc3-member-updater-november-2021
https://www.morganstanley.com/ideas/going-green-chemical-industry
Stay up to date. Follow us:
Company
Ticker
Price
Previous
Mkt Cap
Volume
52wk Range
Flotek Industries Inc.
FTK (NYSE)
$1.15
$94.92M
0
$0.53 - $2.24
Fundamental Analysis
Advanced Market Data
()
Detailed Quote
Charts
Statistics
Financials
Historical Quotes
Insider Activity
Key Ratios