Companies by Sector
More than 6000 listed
Communication Services
Telecommunication Services
Consumer Cyclical
Advertising & Marketing Services
Furnishings, Fixtures & Appliances
Homebuilding & Construction
Manufacturing - Apparel & Accessories
Manufacturing - Apparel & Furniture
Retail - Apparel & Specialty
Consumer Defensive
Beverages - Non-Alcoholic
Financial Services
Diversified Financial Services
Healthcare
Healthcare Providers & Services
Medical Devices & Instruments
Medical Diagnostics & Research
Medical Instruments & Equipment
Industrials
Farm & Heavy Construction Machinery
Transportation & Logistics
Utilities
Utilities - Independent Power Producers

Image credit: Can Pac Swire (Flickr)
Is the Taishan News Story a Buying Opportunity for Investors?
One week after uranium mining companies saw their stocks negatively respond to a situation with a nuclear plant in Southeast China, investors are deciding if this is now a buying opportunity. A decline in some uranium mining sector stocks, after a week, is similar to one week after Fukushima's seemingly more serious problems. Currently the Taishan Nuclear Power Plant, which is two-thirds owned by the French and one-third owned by the Chinese, is still operating, but there have been operational performance issues reported. The French have asked for help from the U.S. in assessing the complete situation.
About the Nuclear Trend
Nuclear energy has recently become widely embraced by the move to eliminate burning fossil fuels that emit carbon into the atmosphere. There is now a need for electricity production from a source as productive and reliable as fossil fuels to supplement the growing solar and wind output. This need is evident today, with newspaper headlines already showing how states like California are concerned that generation may not keep up with their summer demand.
News from China
The West often views information coming out of The People's Republic of China with suspicion. To date, reports are that the reactor is still running, and there has not been a radioactive leak of any kind. On its website this past Sunday the Taishan Nuclear Power Plant published a statement, maintaining that environmental readings for both the plant and its surrounding area were "normal."
The two nuclear reactors in Taishan are both operational, the statement said, adding that Unit 2 had recently completed an "overhaul" and "successfully connected to the grid on June 10, 2021." The statement did not define why or how the plant was overhauled.
The situation is worth investors paying close attention to. If this is indeed somewhat routine and the market has overreacted, mining stocks could quickly recover and even continue their march upward as the trend toward lower emissions and more energy demand continue.
About the Dip
Below is a one-year chart showing four plots. The uranium mining ETF (as a benchmark), two mining stocks that have been far exceeding, it along with one that tracks it more closely.
The amber line is the ETF ticker symbol URA. Year over year the basket of stocks making up the ETF's performance have increased 92.44%. It had reached its 12-month high in performance earlier this month when on June 8th it had attained a 123.84% increase. The decline from one week earlier, when news of the Taishen plant started circulating, the ETF is down 4.83%.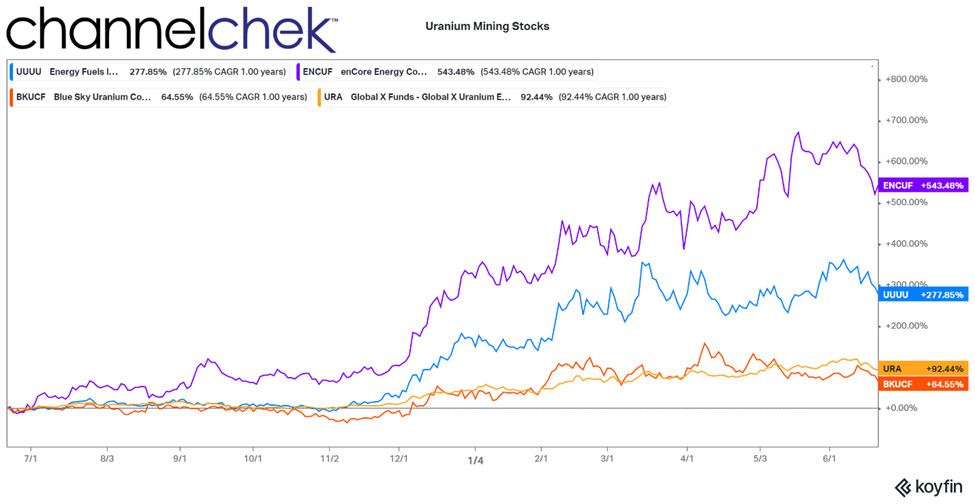 The light blue line is Energy Fuels (UUUU). Energy Fuels, based in Colorado, is the largest uranium producer in the U.S. and holds more production capacity and uranium resources than any other U.S. producer. Their year-over-year performance to date is an increase of 277.35%. The price change from one week earlier when CNN broke the news of the Taishen plant is down 2.2%.
The purple plot is enCore Energy (ENCUF). enCore Energy Corp. is focused on working towards becoming a domestic United States uranium producer. The company has existing resources in the southwest United States and licensed uranium production facilities in Texas. Their year-over-year has been 543.48%, it reached a peak just before the questions surrounding the Chinese plant. ENCUFs price decline over the past week has been 10%.
The orange line is Blue Sky Uranium (BKUCF). Blue Sky Uranium Corp is a junior mineral exploration company based in Canada. The company focuses on uranium exploration projects in southern Argentina. The year-over-year performance is now at 64.55%. Blue Sky had reached its one year high back in April. They are currently down 8.40% from their one-week earlier levels.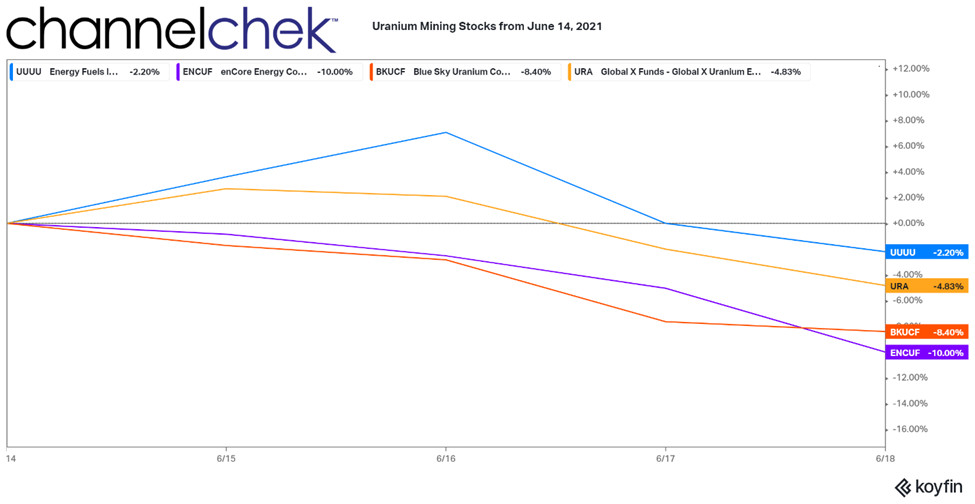 Take-Away
Investing always includes many unknowns. As it relates to uranium mining companies, what is known is the industry is experiencing triple-digit returns and trending higher. The sector has been helped by increasing support from those that are pushing the world toward lower carbon emissions, which is a global movement gaining more power.
What isn't known is whether this is an event that is typical and will receive very little attention after this, or if there is a full-blown problem that will put in question how strongly the world embraces nuclear as the preferred road to meeting growing energy demands.
Suggested Reading:
Sources:
https://www.cnn.com/2021/06/14/politics/china-nuclear-reactor-leak-us-monitoring/index.html
https://www.scmp.com/news/china/science/article/3138214/chinas-nuclear-safety-queried-over-taishan-reactor-it-wants-lead
https://www.thedailybeast.com/us-scrambles-to-investigate-leak-at-chinese-nuclear-plant
Stay up to date. Follow us:
Company
Ticker
Price
Previous
Mkt Cap
Volume
52wk Range
Energy Fuels Inc
UUUU (AMERA)
$8.93
$1.40B
0
$4.32 - $11.39
Fundamental Analysis
enCore Energy Corp
ENCUF (OTCQB)
$1.26
$400.27M
0
$0.75 - $1.80
Fundamental Analysis
Standard Uranium Ltd.
STND:CA (CDX)
$0.22
$26.23M
0
$0.17 - $0.51
Standard Uranium Ltd
STTDF (OTO)
$0.18
$21.30M
0
$0.14 - $0.39
GoviEx Uranium Inc.
GXU:CA (CDX)
$0.44
$239.86M
0
$0.19 - $0.59
GoviEx Uranium Inc
GVXXF (OTCQB)
$0.34
$188.08M
0
$0.15 - $0.47
CanAlaska Uranium Ltd.
CVV:CA (CDX)
$0.64
$64.81M
0
$0.39 - $0.84
Blue Sky Uranium Corp
BKUCF (OTCQB)
$0.24
$43.55M
0
$0.12 - $0.29
Advanced Market Data
()
Detailed Quote
Charts
Statistics
Financials
Historical Quotes
Insider Activity
Key Ratios