Companies by Sector
More than 6000 listed
Communication Services
Telecommunication Services
Consumer Cyclical
Advertising & Marketing Services
Furnishings, Fixtures & Appliances
Homebuilding & Construction
Manufacturing - Apparel & Accessories
Manufacturing - Apparel & Furniture
Retail - Apparel & Specialty
Consumer Defensive
Beverages - Non-Alcoholic
Financial Services
Diversified Financial Services
Healthcare
Healthcare Providers & Services
Medical Devices & Instruments
Medical Diagnostics & Research
Medical Instruments & Equipment
Industrials
Farm & Heavy Construction Machinery
Transportation & Logistics
Utilities
Utilities - Independent Power Producers


	Image Credit: IAEA ImageBank (Flickr)
Why Uranium Mining Stocks Can Continue Climbing Higher
Uranium futures prices have put in an incredible performance since mid-August. With a 22.8% rise in 15 trading days, the commodity has amassed more than 1.5% per day. By contrast, the S&P 500 also had a better than normal run, it grew a total of 1.35% during the same period. Uranium (U308), now priced at $37.20 per 250 lbs. is well above its six-year high, and growing demand seems to want to pull it higher.
More incredible performances than this can be found in the stock market while looking at mining stocks that are working to supply both reactors and more recently investment funds that hold U308 for their shareholders.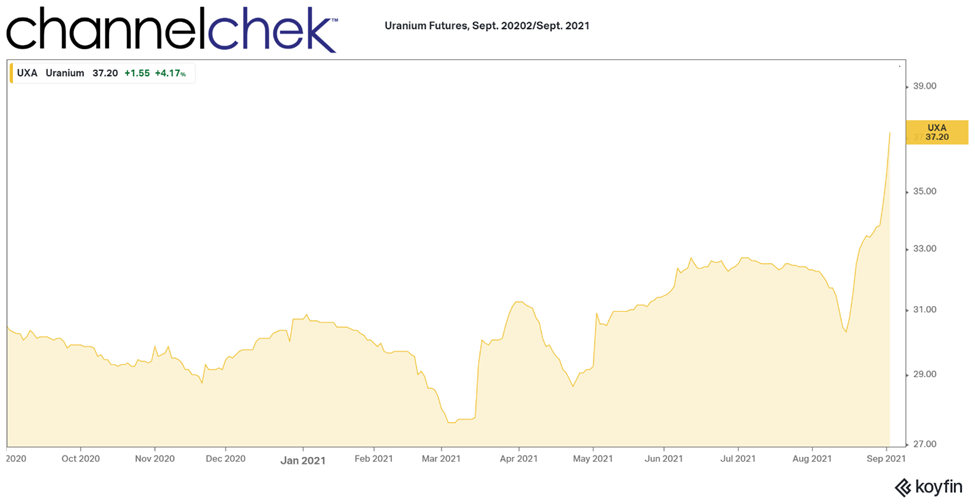 Examples of U308 Mining Company Performance
Two U.S. companies involved in different aspects of mining the yellow metal are Energy Fuels (UUUU) and enCore Energy (ENCUF).
Energy Fuels is the leading U.S. producer of uranium and is also a sizeable U.S. producer of vanadium and an emerging player in the rare earth segment. It stands to continue to benefit from the tight supply and increasing demand by utilities and investors. The other, enCore Energy, is currently a uranium developer focused on becoming a leading in-situ recovery (ISR) uranium producer. The ISR process removes the uranium from the ground while leaving the host rock in place.
Energy Fuels (UUUU) has far outperformed the spot price of uranium during the period beginning August 16. In fact, having moved from $4.77 to $6.30, shareholders have experienced a 32% gain in value.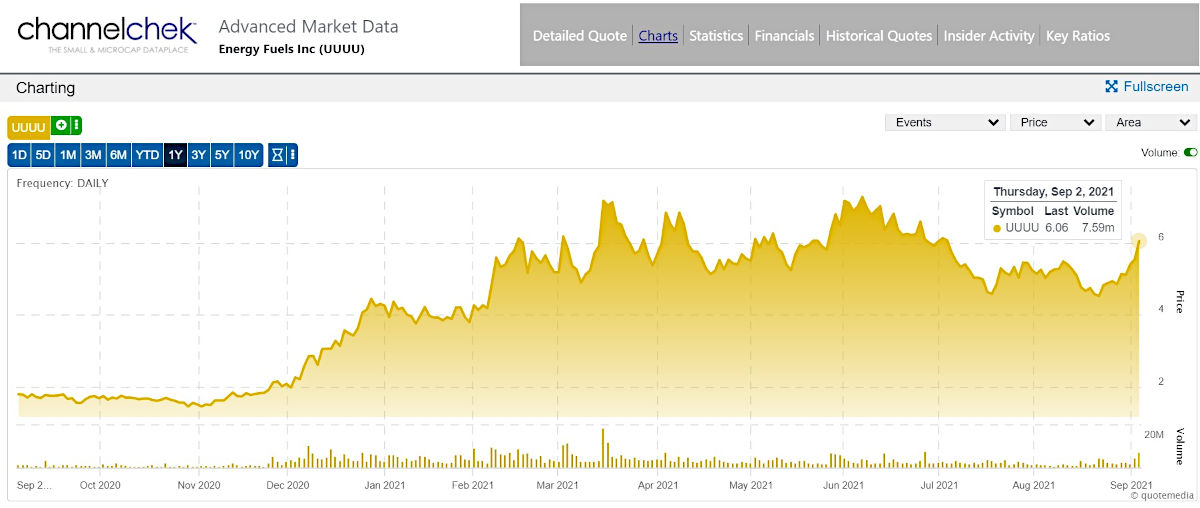 enCore Energy has also outperformed the massive commodity price performance. The developer saw its shares rise from $0.95 at the open on August 16, to 1.54% after the open today. This equates to a 62% increase. That average is over 4% per trading day.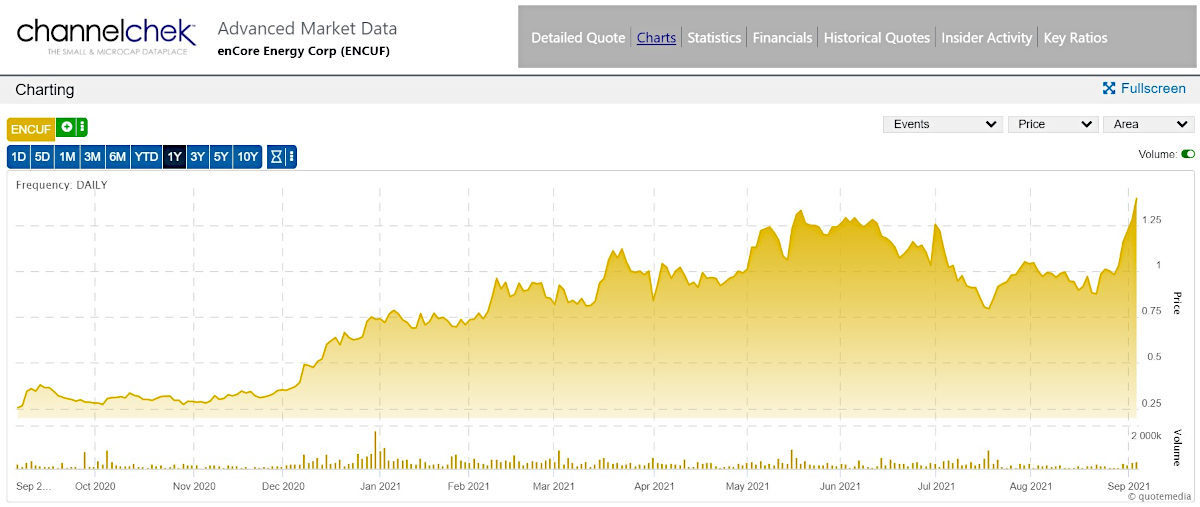 Certainly, the pace of growth can not continue straight up for U308 or uranium-related companies, but the supply coming onto the market is not expected to keep pace with demand. This economic basic of price discovery should continue to help boost the companies that are bringing more of the energy source to market.
Take-Away
Some uranium mining companies have experienced a meteoric rise that has been outperforming almost every other sector. Understanding the differences between an exploration company, a developer, and a producer can help you navigate and sort opportunities. Earlier this week Channelchek held a Uranium Investor Forum featuring seven different companies including the two mentioned in this article. To dig deeper into the investment potential of uranium, and the specifics of these companies, the banner below will bring you to the video replay of this invaluable forum.
Noble Capital Markets Uranium Power Players Investor Forum

Watch all the replays from the Noble Uranium Power Players Investor Forum, a virtual conference bringing together leading companies involved in the exploration and production of uranium. Noble Capital Markets senior uranium analyst Michael Heim guides the companies through a question and answer session following each presentation.
Watch The Replays
Sources:
Company
Ticker
Price
Previous
Mkt Cap
Volume
52wk Range
Standard Uranium Ltd
STTDF (OTO)
$0.21
$23.61M
0
$0.12 - $0.39
Peninsula Energy Ltd.
PENMF (GREY)
$0.18
$179.53M
0
$0.04 - $7.50
GoviEx Uranium Inc
GVXXF (OTCQB)
$0.32
$172.24M
0
$0.10 - $0.47
Canalaska Uranium Ltd
CVVUF (OTCQB)
$0.41
$40.58M
0
$0.15 - $0.68
Blue Sky Uranium Corp
BKUCF (OTCQB)
$0.18
$33.64M
0
$0.08 - $0.29
Advanced Market Data
()
Detailed Quote
Charts
Statistics
Financials
Historical Quotes
Insider Activity
Key Ratios