Companies by Sector
More than 6000 listed
Communication Services
Telecommunication Services
Consumer Cyclical
Advertising & Marketing Services
Furnishings, Fixtures & Appliances
Homebuilding & Construction
Manufacturing - Apparel & Accessories
Manufacturing - Apparel & Furniture
Retail - Apparel & Specialty
Consumer Defensive
Beverages - Non-Alcoholic
Financial Services
Diversified Financial Services
Healthcare
Healthcare Providers & Services
Medical Devices & Instruments
Medical Diagnostics & Research
Medical Instruments & Equipment
Industrials
Farm & Heavy Construction Machinery
Transportation & Logistics
Utilities
Utilities - Independent Power Producers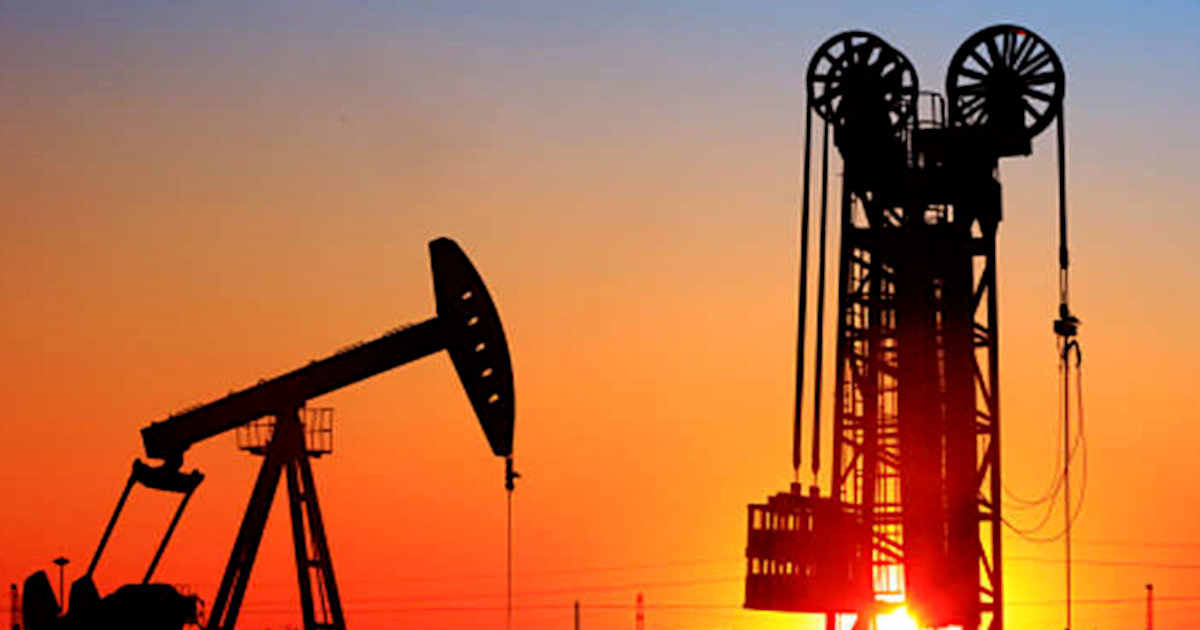 Private Energy Companies' Role in the Energy Cycle
The energy industry is a cyclical business. Energy prices rise, causing drilling activity to increase, creating excess supply that causes energy prices to fall. When energy prices fall, companies reduce drilling, which lowers supply and causes energy prices to rise. One never knows exactly which part of the cycle we may be experiencing or when the peaks and troughs will form, only that the cycle exists. But, a closer look at the active players within each cycle component can provide insight as to the length and magnitude of the cycle.
During the down periods of an energy cycle, cash flow is low. Smaller companies with weaker balance sheets are pressured. Some go bankrupt or are forced to sell off property at low prices. Most will be forced to sharply cut back drilling to operate within their expected cash flow. Larger, less leveraged companies are in a better position to take a longer-term perspective and continue drilling under the belief that energy prices will eventually rise.
The Role of Private Companies
During the boom periods of an energy cycle, the reverse is true. Large companies flush with cash will increase drilling. But, they will focus on their most profitable projects, leaving many good projects on the planning board. This is when smaller, sometimes private companies step in. Many successful companies have been formed by mid-level managers of large companies who form new companies that buy underutilized assets of their former employers.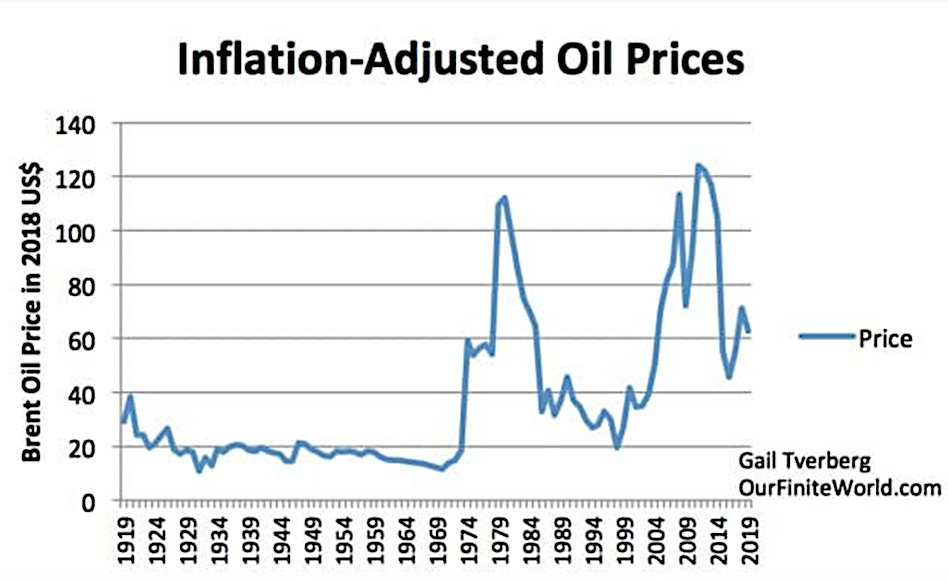 Energy Today
So, what part of the energy cycle are we in currently? Is the recent rise in oil (and natural gas) prices a sign that we have reached an inflection point in the cycle? Or is it merely a head fake temporarily offsetting a longer trend. Bloomberg reports that there is a resurgence of private energy operators drilling in the Permian Basin. It points out that companies like DoublePoint Energy and Mewbourne Oil Co. are operating as many rigs in the basin as larger companies such as Chevron Corp. and Exxon Mobil Corp. While such a shift toward increased drilling by private companies is normal, it is usually seen in conjunction with increased drilling by established energy companies.
The fact of the matter is that large energy companies are not responding to higher oil prices in a manner similar to past cycles. Drilling has started to rise in response to the rise in oil prices that began last November. However, the number of active rigs in the United States (402 as of 2/19/21) is only half that of a year ago (790) despite higher energy prices.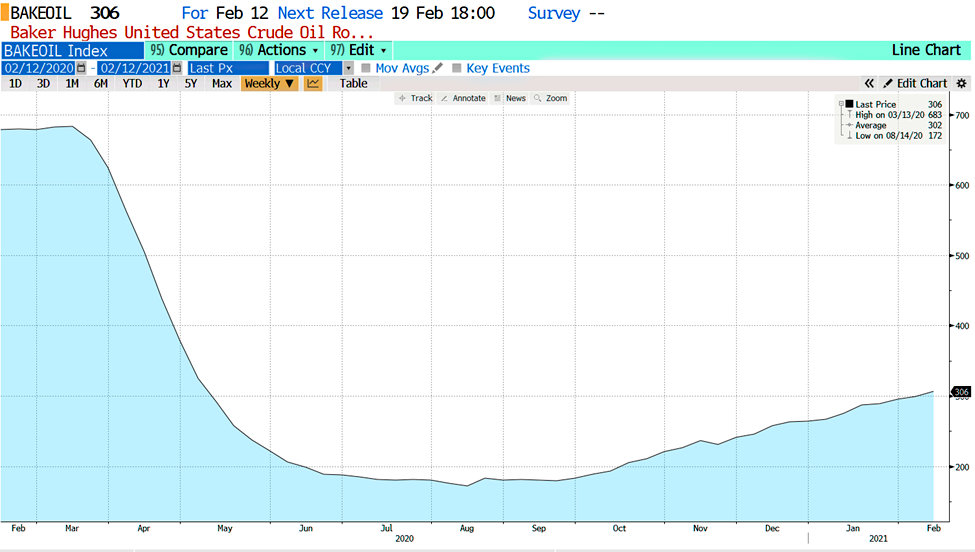 The shift towards smaller and private energy investing has created unexpected delays in the supply response to higher prices. Large, well-funded energy companies can expand the drilling of known projects quickly. Drilling by small, underfunded companies takes more time. Assets must be acquired and analyzed. Funding must be secured. The shift towards private investors is perhaps one explanation as to why the rig count has been slow to respond.
Wrap-Up
Of course, there may be other reasons. COVID has thrown a wrench in the ability of companies to find and relocate employees to drilling sites. Large energy companies are also rethinking their commitment to fossil fuels. Companies like BP Amoco and Total SE are emphasizing investments in renewable energy over fossil fuels. A study by Deloitte shows that almost all companies setting emission targets have been companies with market caps above $10 billion. Time will tell whether new investors fill the investment gap being left by the majors. The pace and size of private energy investing could go a long way towards determining the length and magnitude of the current energy price cycle.
Suggested Reading:
Sources
https://finance.yahoo.com/news/shale-private-army-ramping-means-090003295.html, David Wethe, Kevin Crowley and Sheela Tobben, Bloomberg, March 1, 2021
https://www.forbes.com/sites/deborahbyers/2020/06/16/the-last-cycle-lessons-from-the-past-to-build-oil-and-gass-future/?sh=1cc3d1972cac, Deborah Byers, Forbes, June 16, 2020
https://www2.deloitte.com/us/en/insights/industry/oil-and-gas/oil-gas-energy-sector-disruption.html, Stanley Porter, Duane Dickson, Kate Hardin, Thomas Shattuck, Deloitte, August 13, 2020
Stay up to date. Follow us:
Company
Ticker
Price
Previous
Mkt Cap
Volume
52wk Range
Advanced Market Data
()
Detailed Quote
Charts
Statistics
Financials
Historical Quotes
Insider Activity
Key Ratios