Companies by Sector
More than 6000 listed
Communication Services
Telecommunication Services
Consumer Cyclical
Advertising & Marketing Services
Furnishings, Fixtures & Appliances
Homebuilding & Construction
Manufacturing - Apparel & Accessories
Manufacturing - Apparel & Furniture
Retail - Apparel & Specialty
Consumer Defensive
Beverages - Non-Alcoholic
Financial Services
Diversified Financial Services
Healthcare
Healthcare Providers & Services
Medical Devices & Instruments
Medical Diagnostics & Research
Medical Instruments & Equipment
Industrials
Farm & Heavy Construction Machinery
Transportation & Logistics
Utilities
Utilities - Independent Power Producers


	Image credit: Jonathan Cutrer (Flickr)
If Oil and Other Commodity Prices Feed Inflation, Where Might Investors Look?
The decision Monday by OPEC to stick with its plan to gradually release more barrels per month into the world market impacts much more than oil prices. The sustained rise in crude costs (now at a seven-year high), as well as natural gas and other commodities, feeds into an inflationary domino effect. In an already shaky economic environment, the risk of stagflation (stalled growth, high inflation) poses a challenge for investors to identify the winners and losers should it take root.
The Mechanisms of Stagflation
Calls from the U.S. President as recently as last week for OPEC+ to raise output targets so as to not have oil-related energy costs weigh on the U.S. economy demonstrates how important lower commodity prices are to the recovery. It caused many in the markets to pay attention. Coming from a president who leans heavily away from carbon-producing energy sources, this is very telling.
If you ask a Keynesian economist, what causes stagflation, they may tell you it is from increases in the costs of output (cost-push). This could include paying higher wages to attract employees, increases in energy costs, higher costs to service debt, and other business cost increases. The higher costs increase consumer prices and, at the same time, serve as an unwanted economic anchor.
If the same question was answered by a supply-side economist they might say it's the result of higher tax rates, leading to reduced, worker enthusiasm, reduced savings and reduced take-home pay. The less productive worker increases production costs, and the lower take-home throws cold water on GDP growth.
It would seem as though regardless of the economic stripe of the economist you ask, the answer is that we have the ingredients that could cause a low growth, high inflation environment. Biden's call to OPEC+ may have been under advisement from someone from his cabinet that wants to keep all the ingredients from joining together.
What Might a Stagflation Portfolio Look Like?
Bloomberg's commodities gauge (BCOM) is at an all-time high, wages are on the rise as there is worker reluctance to work, and productivity has not fully recovered from late 2020. As mentioned above, oil and other commodities are input costs to manufacturing that often work their way into products. If they don't work their way into final consumer products, then they are a hit to corporate earnings. Higher wages (and benefit costs) are also input costs that have the same impact as materials. Lower production from each employee means fewer goods or services for the same cost. This is like your grocer charging you the same price for a smaller quantity.

Wages stepped up in June of 2020 are steepening as of the most recent monthly data.
Investors during a low growth rising inflation period may want to invest in companies with such demand that increased costs do not reduce usage. On the consumer side, this includes healthcare, food, other consumer staples, and household products.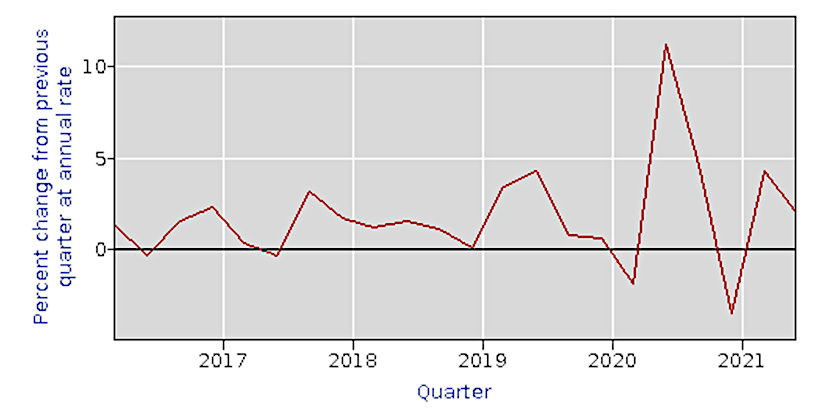 Non-farm productivity costs over the previous quarter (Source: DOL)
On the wholesale side, there may be more opportunities. Manufacturers need raw materials to produce, or they're out of business. If there is no slack demand for their own products, they will pay what is needed to buy the needed commodities. For investors, the opportunity could be investing in the commodity itself, (oil, metals, minerals) or investing in those companies that produce the commodity, (oil producers, mining companies).
A third option is ignoring wholesale and consumer retail and look at where the government is spending. The largest consumers are taxing authorities and those that seemingly can borrow or print money to satiate their needs. Currently, the U.S. is spending money on military products, goods related to carbon-reduction efforts, and anything related to Covid-19 abatement.
If stagflation does occur, placing the probabilities of success on your side is key. What worked during low inflation and high growth should be reconsidered. Although the above categories are by no means complete, investors may want to make sure their "watch-list" includes more from these categories.
Take-Away
OPEC's decision not to work with the U.S. and the world to lower oil-related energy costs may be the final economic ingredient needed toward stubborn inflation in a low economic growth environment. Stagflation puts monetary policy in the difficult position of deciding to extinguish inflation by raising rates and squashing demand or lowering rates to stimulate the economy while at the same time driving up costs.
For every economy, there are places to invest; we just experienced the longest bull market in history. The law of averages suggests the future might be trickier and more dependent on stock picking rather than broad index investing. Channelchek provides company information for small growth companies in all the categories mentioned above, energy, mining, government contractors, pharm and biotech, as well as many others. Register now for quality research, industry articles, and daily insight.
Suggested Reading:
Sources:
https://www.bloomberg.com/quote/BCOM:IND
https://www.investopedia.com/articles/investing/020816/importance-commodity-pricing-understanding-inflation.asp
Stay up to date. Follow us: