Companies by Sector
More than 6000 listed
Communication Services
Telecommunication Services
Consumer Cyclical
Advertising & Marketing Services
Furnishings, Fixtures & Appliances
Homebuilding & Construction
Manufacturing - Apparel & Accessories
Manufacturing - Apparel & Furniture
Retail - Apparel & Specialty
Consumer Defensive
Beverages - Non-Alcoholic
Financial Services
Diversified Financial Services
Healthcare
Healthcare Providers & Services
Medical Devices & Instruments
Medical Diagnostics & Research
Medical Instruments & Equipment
Industrials
Farm & Heavy Construction Machinery
Transportation & Logistics
Utilities
Utilities - Independent Power Producers
Which Generation Holds the Most Power?
The overall differences in age groups or generations result from each being shaped or encultured by their own shared experiences, memories, and surroundings (technical, political, financial, etc.).
The Visual Capitalist has created what they call the Generational Power Index (GPI) with the aim of accurately breaking down the ingredients of generational power at present. The index measures three categories, Economic Power, Political Power, and Cultural Power. All three categories are then combined to form the overall comparison. Shared below are sections of their GPI Report on Cultural Power.
The Channelchek Content Team are fans of the work created by the Visual Capitalist so, when it is of interest to our followers, we are grateful that they let us share some of it with you.
The visual below shows the age ranges used and their overall economic score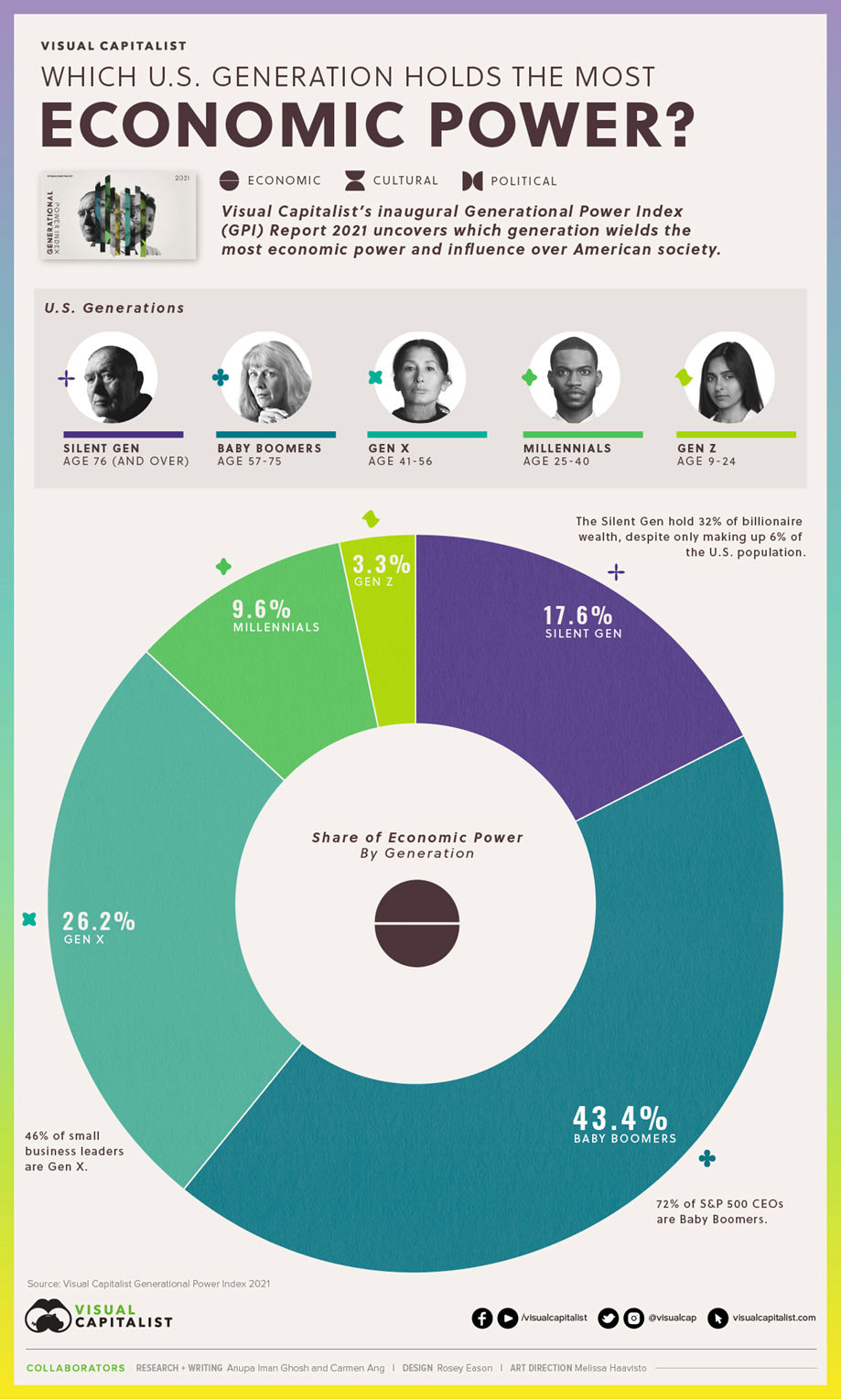 The following graphic breaks down the components and the ranking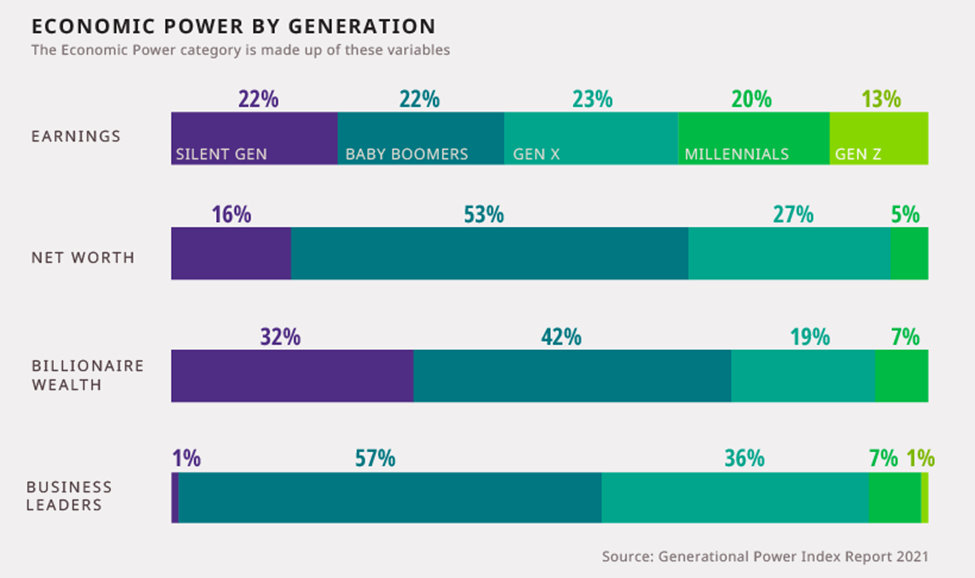 Behind the visuals
Earnings represent the median weekly earnings of full-time workers in the U.S. Among the four, earnings was the most evenly distributed. Gen Z had the lowest median weekly earnings ($614), while Gen X had the highest ($1,103).
Net Worth was led by Boomers. This variable is each generation's share of overall U.S. wealth. As it turns out, Boomers hold 53% of all wealth in the country—more than all other generations combined.
Billionaire Wealth was dominated by Boomers, and the Silent Gen. Visual Capitalist calculated this variable by starting with the top 1,000 billionaires globally, then filtering for Americans only.
Business Leaders is based on two underlying measures, the generational share of both S&P 500 CEOs and small business owners. This allowed capturing data from two sides of the business spectrum to see who holds power there.
In Parting
They say a picture is worth 1000 words. We hope these 350 words, along with two pictures, provides you a better understanding of where power currently resides. This is the first GPI Report, and they promise annual updates. Watching the transfer of wealth and power through the years will be interesting.