Companies by Sector
More than 6000 listed
Communication Services
Telecommunication Services
Consumer Cyclical
Advertising & Marketing Services
Furnishings, Fixtures & Appliances
Homebuilding & Construction
Manufacturing - Apparel & Accessories
Manufacturing - Apparel & Furniture
Retail - Apparel & Specialty
Consumer Defensive
Beverages - Non-Alcoholic
Financial Services
Diversified Financial Services
Healthcare
Healthcare Providers & Services
Medical Devices & Instruments
Medical Diagnostics & Research
Medical Instruments & Equipment
Industrials
Farm & Heavy Construction Machinery
Transportation & Logistics
Utilities
Utilities - Independent Power Producers


	Image Credit: NASA Kennedy (Flickr)
Will the Market Soon Reach New Heights?
Stock indices have gotten off to a rocky start this year, which has created a lot of concern among investors. The landscape of low rates and easy money is quickly changing with high inflation and spending plans out of Washington less likely to pass. Investors are debating whether the selloff in January is the beginning of a prolonged market dive or if the reaction is overdone and provides an opportunity to bargain hunt among stocks with some indices down double digits.
Last week had some particularly volatile days that shook many people out of their positions, only to later see the broader market rally back with a vengeance, even during the same session. This activity has also created frustration and worry. One highly regarded investment bank, Goldman Sachs has issued this advice - Buy the dip.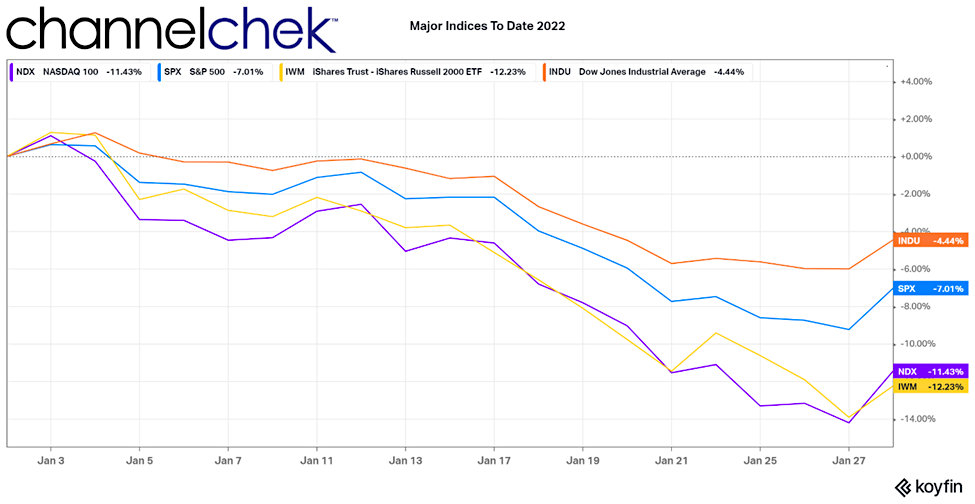 One real concern among equity investors is the Federal Reserve (Fed) is openly looking to raise rates in 2022 in order to fight inflation that's running close to its 40-year high. Goldman Sachs' strategists believe when the Fed acts, it will likely still leave nominal and real rates at historically low levels. "Any further significant weakness at the index level should be seen as a buying opportunity, in our view, albeit with moderate upside through the year as a whole," strategists led by Peter Oppenheimer, Chief Global Equity Strategist, said in a note released Wednesday (January 26).
Market Cyclone
There was a lot feeding the market storm that may have finally brought its worst conditions last week. This includes the Fed announcing they will be less accommodative sooner than previously stated, jitters over Ukraine/Russia tensions, covid related illnesses at high levels, and even Congress less willing to spend money. It all converged to create perfect conditions for a large disturbance in the markets.
The market atmosphere is most unsettled from fear that if the Fed is determined to unwind inflationary conditions, it may have to get aggressively hawkish. That would surely include quantitative tightening by shrinking its massive, almost $9 trillion, balance sheet.
In addition to quantitative tightening, the Fed is set to begin raising overnight bank lending rates. As recently as last summer, the consensus among Wall Street economists was that there would be no interest rate rises in 2022 and only one in late 2023. Four increases are now expected in 2022.
The market storm that came from these disturbances is likely running out of strength with the steep correction. Despite the hazardous market conditions we just experienced, it is the bad market "weather" that helped allow strategists at Goldman to forecast a continuation of the economic growth, and the bull market cycle to remain in place.
Goldman Sachs does not think the recent correction will continue and turn into a bear market. However, the growth of the economy is key. Higher rates typically aren't negative for stocks as long as economic activity is still expanding, according to Goldman strategists. Rate hikes even during times of decelerating growth still experience positive, although weaker, stock index returns. "Historically, a Fed tightening cycle that is accompanied by accelerating growth tends to be associated with strong returns and relatively low volatility," Goldman said. "Meanwhile, a tightening cycle into slowing growth is associated with very low, but positive, equity returns alongside high volatility. It is this second combination that the markets seem to be pricing."
Take-Away
The selloff we experienced through January and the market storm causing U.S. markets to swing violently last week are all part of a bull market correction according to the chief global equity strategist's team at Goldman Sachs. The new report forecasts weaker yet still positive markets under the new and expected economic conditions.
Suggested Reading
Sources
https://moneywise.com/investing/stocks/goldman-sachs-buying-opportunity
https://markets.businessinsider.com/news/stocks/stock-market-outlook-buy-the-dip-goldman-sachs-correction-fed-2022-1
Stay up to date. Follow us: