Companies by Sector
More than 6000 listed
Communication Services
Telecommunication Services
Consumer Cyclical
Advertising & Marketing Services
Furnishings, Fixtures & Appliances
Homebuilding & Construction
Manufacturing - Apparel & Accessories
Manufacturing - Apparel & Furniture
Retail - Apparel & Specialty
Consumer Defensive
Beverages - Non-Alcoholic
Financial Services
Diversified Financial Services
Healthcare
Healthcare Providers & Services
Medical Devices & Instruments
Medical Diagnostics & Research
Medical Instruments & Equipment
Industrials
Farm & Heavy Construction Machinery
Transportation & Logistics
Utilities
Utilities - Independent Power Producers


	Image Credit: Steve Jurvetson (Flickr)
Elon Musk's Critical Tweets and Comments of White House Actions are Escalating
Elon Musk's frustration with White House actions has continued into the Fall as recent tweets by Musk, and a Twitter account named Tesla Facts show dissatisfaction with perceived slights against Musk, Tesla, and SpaceX. He questions what he views as financial favoritism toward his company's competitors. Tesla Stock rose 40% during October, which can be seen as resilience against what Musk has called "odd" behavior toward the world's number-one electric vehicle (EV) manufacturer.
Background:
The most recent name-calling tweet occurred this weekend as Musk responded to the President's proposal to give an extra tax credit to EV purchasers if their car was manufactured using unionized labor. Elon Musk's tweet was short and direct, he wrote: "Biden is a UAW puppet" referring to the United Autoworkers Union and the 46th President.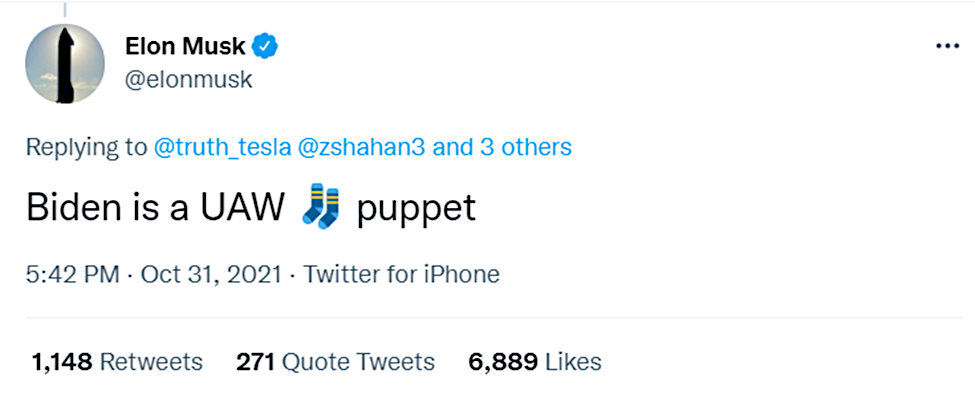 Tesla's U.S. plant in California doesn't have union labor, so the proposal could give EVs from other U.S. automakers a pricing advantage depending on where their vehicles are assembled.
The first public signs of confrontation between Tesla and the current administration were evident when the President didn't invite Tesla, the largest U.S. and global EV producer, to the White House in August when an important EV goals announcement was made. The ceremony included representatives of the UAW, Ford, GM, and Chrysler's parent company. Their goals were announced to have 50% of the cars sold in the U.S. all-electric by 2030. It was because of this event that Musk spoke of being excluded, calling it odd in a tweet. In late September Musk tweeted that the President was "still sleeping" after the founder of SpaceX didn't get a congratulatory call from the White House after its civilian astronaut mission ended successfully while also raising $210 million for children's cancer research at St. Jude's Children's Research Hospital.
In September, at The Code Conference (digital technology) in California, Musk suggested that the administration was biased against Tesla, adding the administration "seems to be controlled by unions."
More recently, Musk tweeted accusations of favoritism, mentioning actions by the National Highway Transport Safety Administration. A newly appointed safety advisor to the NHTSA, Missy Cummings, a Duke University professor, has questioned Tesla's autonomous driving software on more than one occasion. Professor Cummings is concerned that Drivers could misuse Tesla's self-driving features. Musk called Cummings "extremely biased" in his tweet.

From an Investment Standpoint
Investors in EV's future that are looking toward the expected ramped up demand for minerals and metals to meet the aggressive goals, not just in the U.S., but also around the globe, should find that the miners, recyclers, and other producers of these materials should still experience an increase in their demand if another car manufacturer receives more orders than it may have otherwise. In fact, if the tax credit is passed, it can be considered more bullish for these stocks.
Tesla investors have to ask whether it changes their projections for the company's bottom line. It could, Tesla plants are known for their advanced robotics which helps produce lighter cars more efficiently, but a $4,500 tax credit could incentivize buyers toward the big three that qualify as they are unionized.
The proposal hasn't seemed to hurt Tesla stock yet. Tesla shares rose more than 40% in October, while the S&P 500 rose 7%. Growing deliveries and earnings and expanded fleet business helped push Tesla's market capitalization above $1 trillion for the first time.
There is one last "problem" in the proposal that could be viewed as aimed at Tesla. Most new Tesla employees receive between $20,000 and $40,000 worth of stock warrants when hired; the White House's tax credit proposal would exclude companies, even if they are fully unionized when over 50% of the employees can be considered owners. If enacted, a company change from one with high employee ownership to a union shop with less than 50% of employees with a stake in the company would significantly alter the culture of the automaker that has succeeded in attaining the world's highest market capitalization for a car company. A policy change like that is unlikely, Tesla management will just need to compete with any uneven playing field they're asked to compete on.
Managing Editor, Channelchek
Suggested Reading:
Sources:
https://twitter.com/truth_tesla
https://www.chicagotribune.com/opinion/commentary/ct-perspec-ford-sexual-harassment-uaw-union-0111-20180109-story.html
https://www.foxbusiness.com/lifestyle/elon-musk-donates-50m-inspiration4-st-judes-fundraiser https://www.congress.gov/bill/117th-congress/house-bill/5376/text
Stay up to date. Follow us: