Companies by Sector
More than 6000 listed
Communication Services
Telecommunication Services
Consumer Cyclical
Advertising & Marketing Services
Furnishings, Fixtures & Appliances
Homebuilding & Construction
Manufacturing - Apparel & Accessories
Manufacturing - Apparel & Furniture
Retail - Apparel & Specialty
Consumer Defensive
Beverages - Non-Alcoholic
Financial Services
Diversified Financial Services
Healthcare
Healthcare Providers & Services
Medical Devices & Instruments
Medical Diagnostics & Research
Medical Instruments & Equipment
Industrials
Farm & Heavy Construction Machinery
Transportation & Logistics
Utilities
Utilities - Independent Power Producers


	
Tickets and Concessions Using Your Cryptocurrency Wallet at AMC Theaters
AMC Movies is being cheered and booed by cryptocurrency patrons as it allows three more digital currencies to be used to purchase tickets and popcorn. Interestingly one of the more popular currencies is still not among the four accepted at the movie chain. Bitcoin had already been accepted by the theater chain, taking three others is a nod to the credibility and usability of alternate currencies. However, as of August 2021, there are 5840 cryptocurrencies; choosing four, leaves out many large and small coins.
What Occurred
Movie-theater chain AMC Entertainment Holdings ($AMC) has been accepting Bitcoin (BTC.X) for purchases at its theaters. They've announced a move to accept three other types of digital currencies for patrons making online ticket and concession purchases during 2021.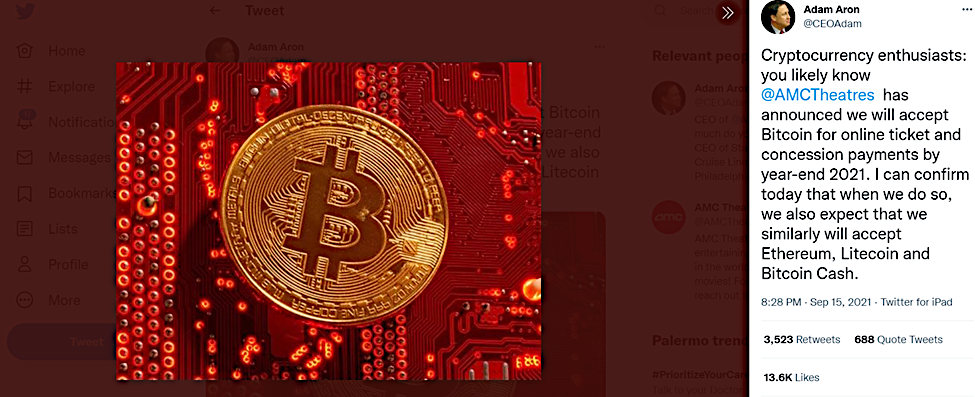 Source: Twitter
The company's CEO, Adam Aron announced this in a Twitter post addressed to "cryptocurrency enthusiasts" late Wednesday (September 15). He tweeted that Ethereum (ETH.X), Litecoin (LTC.X), and Bitcoin Cash (a derivative of the digital currency they already accept) would be acceptable in addition to Bitcoin. However, Dogecoin (DOGE.X), the most exchanged coin on Robinhood, is not part of the four coins accepted. There has been no public word as to why AMC has a no Doge's allowed rule.
Aron had previously announced that AMC would accept Bitcoin for payments back in August during the company's most recent quarterly earnings call.
What it Means for Crypto
It is the latest company to join the wider acceptance of digital currencies. Fintech firms PayPal (PYPL) and Square (SQ) allowed users to exchange and even store Bitcoin as well as transact with it. PayPal users can also do the same with Ethereum, Litecoin, and Bitcoin Cash (BCH.X). Twitter followers of Elon Musk know Tesla (TSLA) began accepting Bitcoin for payments earlier this year. Elon Musk later tempered his talk with concerns around crypto mining's environmental impact (not value).
AMC's move does represent another step by a recognized brand toward wider acceptance of the larger cryptocurrencies. This can be thought of as bullish for the entire industry.
Take-Away
Bitcoin and other cryptocurrencies were mocked just a few years ago as not a serious idea. AMC and those that were buying the stock were ridiculed last year during the coronavirus lockdown that prevented theaters from operating. This week, AMC is providing a nod to cryptocurrencies and the entire industry. Although highly popular Dogecoin was not also part of AMC's initial four, cryptocurrency believers can still feel confident that this is a big vote in favor of their convictions.
Suggested Reading:
Sources:
https://www.barrons.com/articles/amc-cryptos-bitcoin-51631794500?mod=hp_LEADSUPP_1
https://twitter.com/CEOAdam/status/1438298684266098688/photo/1
https://investor.amctheatres.com/corporate-overview/?_ga=2.36302503.608719830.1631809592-667952136.1631809592
Stay up to date. Follow us:
Company
Ticker
Price
Previous
Mkt Cap
Volume
52wk Range
Advanced Market Data
()
Detailed Quote
Charts
Statistics
Financials
Historical Quotes
Insider Activity
Key Ratios