Companies by Sector
More than 6000 listed
Communication Services
Telecommunication Services
Consumer Cyclical
Advertising & Marketing Services
Furnishings, Fixtures & Appliances
Homebuilding & Construction
Manufacturing - Apparel & Accessories
Manufacturing - Apparel & Furniture
Retail - Apparel & Specialty
Consumer Defensive
Beverages - Non-Alcoholic
Financial Services
Diversified Financial Services
Healthcare
Healthcare Providers & Services
Medical Devices & Instruments
Medical Diagnostics & Research
Medical Instruments & Equipment
Industrials
Farm & Heavy Construction Machinery
Transportation & Logistics
Utilities
Utilities - Independent Power Producers


	
Canadian Bitcoin ETFs May Be Cathie Wood's Solution
For every problem, there is a solution, and it looks like Cathie Wood may have finally found her answer. Here's the problem. Wood, who is the founder of ARK Invest and the high-profile Chief Investment Officer of the company that has as its tagline: We Invest Solely In Disruptive Innovation would like to more readily be able to gain exposure to Bitcoin through ETFs. The problem is, the U.S. Securities and Exchange Commission has not approved Cryptocurrency ETFs, so there are none in existence among the investment companies overseen by the SEC.
ARK BTC.X History
Over the past eight years, the SEC has rejected or delayed more than a dozen Bitcoin Exchange Traded Fund applications. The reasons given are concerns over sharp volatilities and potential risks of market manipulation. Back in June of this year, along with the company Swiss-based 21Shares, ARK Invest filed to create a Bitcoin ETF of their own to be called ARK 21Shares Bitcoin ETF. The joint filing is one of the delayed decisions.
The SEC has been dragging its feet on any Cryptocurrency ETFs and has not approved any. SEC Chair Gary Gensler says they're studying all the ramifications and how the underlying coins or futures contracts may provide higher and lower levels of investor protection. Nothing sounds imminent in terms of a decision by the SEC, and it doesn't even sound certain that there will be an ETF approved that invests directly in Bitcoin or other cryptocurrencies.
One of Wood's funds, The ARK Next Generation Internet ETF, already holds a significant amount of Bitcoin through a closed-end Grayscale Bitcoin Trust (GBTC). This trust owns coins that are held at a third-party custodian. The Grayscale Trust doesn't track Bitcoin's exchange rate tick-for-tick. Initially, the Grayscale Trust, which currently has $30 billion in assets, outperformed actual bitcoin and traded at as much as a 20% premium. This is because it became the preferred alternative as an asset that can be held more easily in many investment accounts, such as the ARK Next Generation Internet ETF.
Wood's ETF currently has 5.5% of its assets——worth about $314 million——in the Grayscale fund, which is its second-largest holding only behind Tesla (TSLA).
Current Solution
Canada and Europe both moved ahead, allowing fund managers to offer Bitcoin and Ethereum in an ETF wrapper. In February, Grayscale began underperforming Bitcoin and underperforming the first Canadian Bitcoin ETF.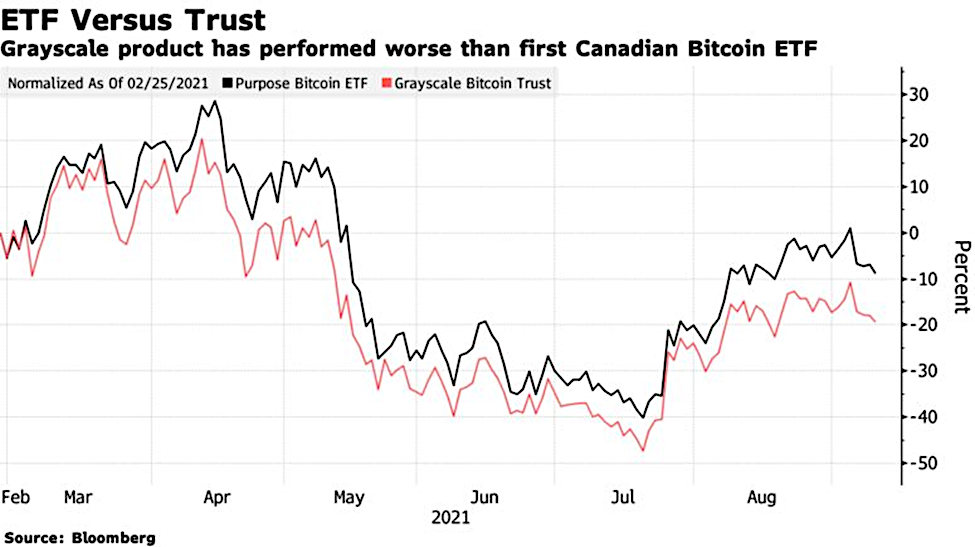 Wood's asset-management company, ARK Invest, revised the prospectus of the $5.7 billion ARK Next Generation Internet ETF so the fund can hold cryptocurrencies via Canadian ETFs. Given all the uncertainties, it might be wise to diversify crypto holdings through the Canadian ETFs. Others have made similar moves. Recently, the $1.3 billion Amplify Transformational Data Sharing ETF (BLOK), which is actively managed and mainly invests in blockchain-related businesses, also bought shares in three Canadian Bitcoin ETFs.
Take-Away
The diversification Bitcoin offers relative to other "disruptive innovations" is high. The volatility also presents a unique opportunity. As U.S. fund managers like those at ARK Invest seek to provide an above-average return for their investors, they will find workarounds to gain the exposure they believe is best. These workarounds are at times more costly than a direct holding or one that is domestic.
In the case of ETFs, the ease with which they can be bought and sold and if ever approved in the U.S., used in fund management or qualified retirement accounts, may cause them to trade at a premium to the assets they hold. We won't know this for sure if the SEC continues to hold off on making a decision.
Suggested Reading:
Sources:
https://www.sec.gov/Archives/edgar/data/0001869699/000119312521201955/d165184ds1.htm
https://www.bloomberg.com/news/articles/2021-09-13/cathie-wood-s-ark-grants-itself-power-to-buy-canada-bitcoin-etfs
https://www.barrons.com/articles/cathie-woods-ark-invest-eyes-canadian-crypto-etfs-51631569128?mod=hp_LEAD_1_B_1
Stay up to date. Follow us: