Companies by Sector
More than 6000 listed
Communication Services
Telecommunication Services
Consumer Cyclical
Advertising & Marketing Services
Furnishings, Fixtures & Appliances
Homebuilding & Construction
Manufacturing - Apparel & Accessories
Manufacturing - Apparel & Furniture
Retail - Apparel & Specialty
Consumer Defensive
Beverages - Non-Alcoholic
Financial Services
Diversified Financial Services
Healthcare
Healthcare Providers & Services
Medical Devices & Instruments
Medical Diagnostics & Research
Medical Instruments & Equipment
Industrials
Farm & Heavy Construction Machinery
Transportation & Logistics
Utilities
Utilities - Independent Power Producers



Image Credit: Kindel Media (Pexels)
Should ARKK Invest Apply a Little More Caution?
Individual fund managers come in as many different risk types as there are types of highway drivers. Some will try to get where they are going as fast as possible, even if this risks everything, and others will always drive cautiously slow. Others change their driving based on perceived conditions at the time. ARK Invest was reportedly founded by Cathie Wood after she regularly disagreed with her former employer over her lack of caution. Her boss at Alliance Bernstein recently told the Financial Times that "her biggest blind spot is managing risk and volatility." In fairness to them both, there are two ways to run managed funds, the first is to always stay fully invested in your advertised style and let those that enter and exit change their exposure based on their own risk tolerence, and the second is to occasionally take your foot off the accelerated if there appears to be the potential to crash. Like the little old lady from pasadena, Cathie Wood can't take her foot off the accelerator.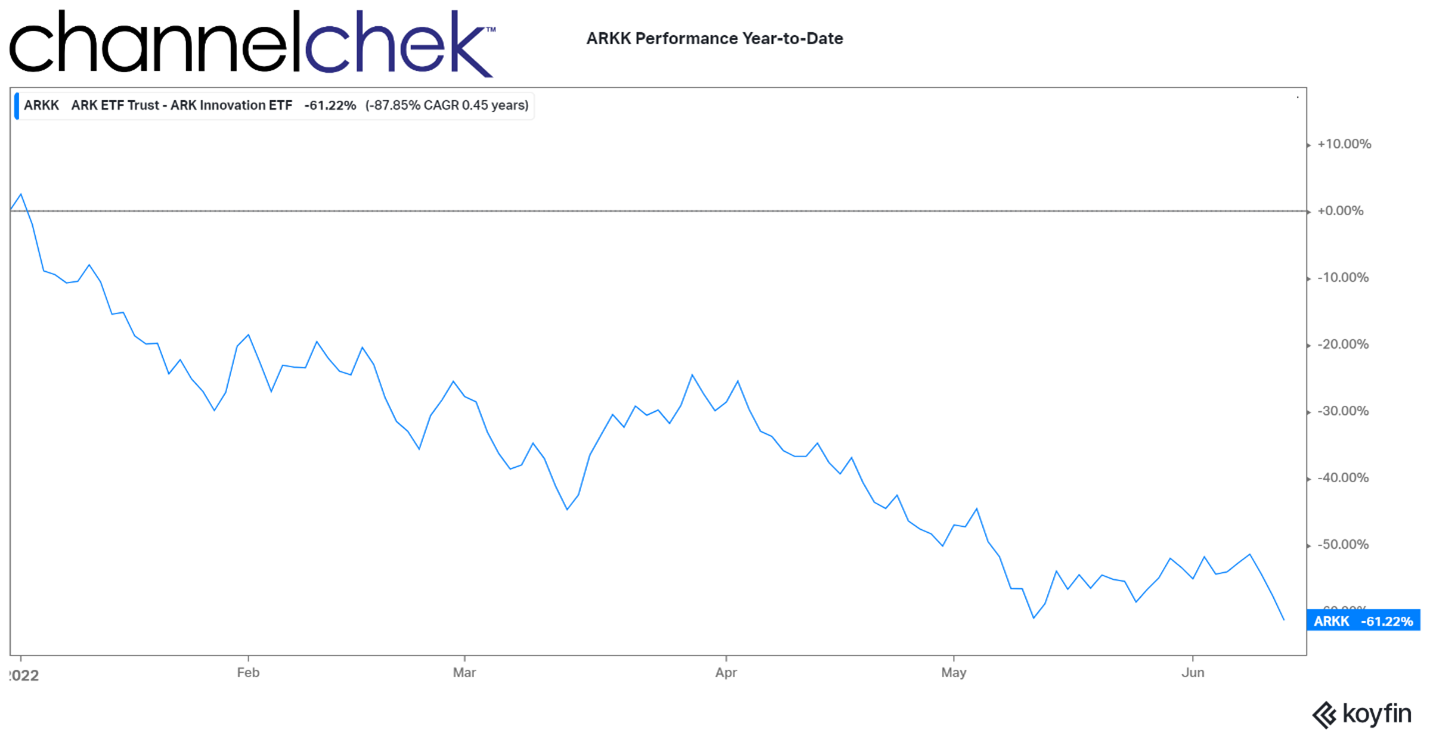 Source: Koyfin


A couple of months ago, Ms.Wood was the keynote speaker at an investment conference in South Florida. Her company's flagship fund (ARK Innovation) was down about 50%, and some of her better-known aggressive positions in future-looking tech companies like Coinbase and Robinhood had been proving themselves to be disappointments. Despite ARKKs huge fall-off in performance, she was greeted with the kind of awe and adoration bestowed on rock stars. At the event, she doubled down on her support for her holdings. Wood had previously been forecasting that ARK Invest funds would deliver annualized returns of 15%; in April, from the podium, she told investors, "Now we think 50 percent."
If you get in the car with a driver that insists on driving 110 mph regardless of the road conditions, you may get to where you're going faster than driving with anyone else, you may also not ever make it.
Since her prediction of a 50% return by year's-end, ARK Innovation is down another 34 percent.
The firm still has substantial assets under management (AUM), more than $16 billion. Her aggressive optimism and success, especially during the pandemic, had caused her AUM to have once grown to $60 billion. Almost all of her funds are full speed ahead in the riskiest investments on the market, including cryptocurrency and other new tech. Last fall, she put a $500,000 price target on bitcoin, a few months later, as bitcoin's price sank, she raised her forecast to $1 million. In fairness, she could still be right, but her funds have lost ground over those that have been more cautious.
Wood still keeps her head down and continues pushing through any adversity, be it criticism or a market sell-off, as though she believes she's fighting a righteous battle. "Truth will win out," she repeatedly said on her firm's monthly webinar in May.

For individual and even institutional investors, when investing in a fund, it's important to recognize if driving responsibility is on you, or on the manager. That is to say, don't count on the manager taking risk off in volatile markets, or putting risk on during bullish conditions. There are funds that hold completely true to their style and funds that try to create the best performance within the guidelines of their prospectus. The managed funds at ARK Invest would seem to be all in, all the time.
Take-Away
The benefit of placing money in a managed fund is you have a professional fund manager. One of the benefits of being active in selecting individual stock positions yourself is you can refine your portfolio more toward your own risk tolerance and adjusted it at any time.
If you do place some of your funds with an asset manager, make sure you know what you're buying. There are people who have watched the stock market take off only to realize their manager had been maxed out in cash and missed the move, and others that presume that their portfolio manager knew when the market was stormy and sidelined some riskier positions. It's your money, know the driver, or be the driver.
Managing Editor, Channelchek
Suggested Content
Source
Stay up to date. Follow us: