Companies by Sector
More than 6000 listed
Communication Services
Telecommunication Services
Consumer Cyclical
Advertising & Marketing Services
Furnishings, Fixtures & Appliances
Homebuilding & Construction
Manufacturing - Apparel & Accessories
Manufacturing - Apparel & Furniture
Retail - Apparel & Specialty
Consumer Defensive
Beverages - Non-Alcoholic
Financial Services
Diversified Financial Services
Healthcare
Healthcare Providers & Services
Medical Devices & Instruments
Medical Diagnostics & Research
Medical Instruments & Equipment
Industrials
Farm & Heavy Construction Machinery
Transportation & Logistics
Utilities
Utilities - Independent Power Producers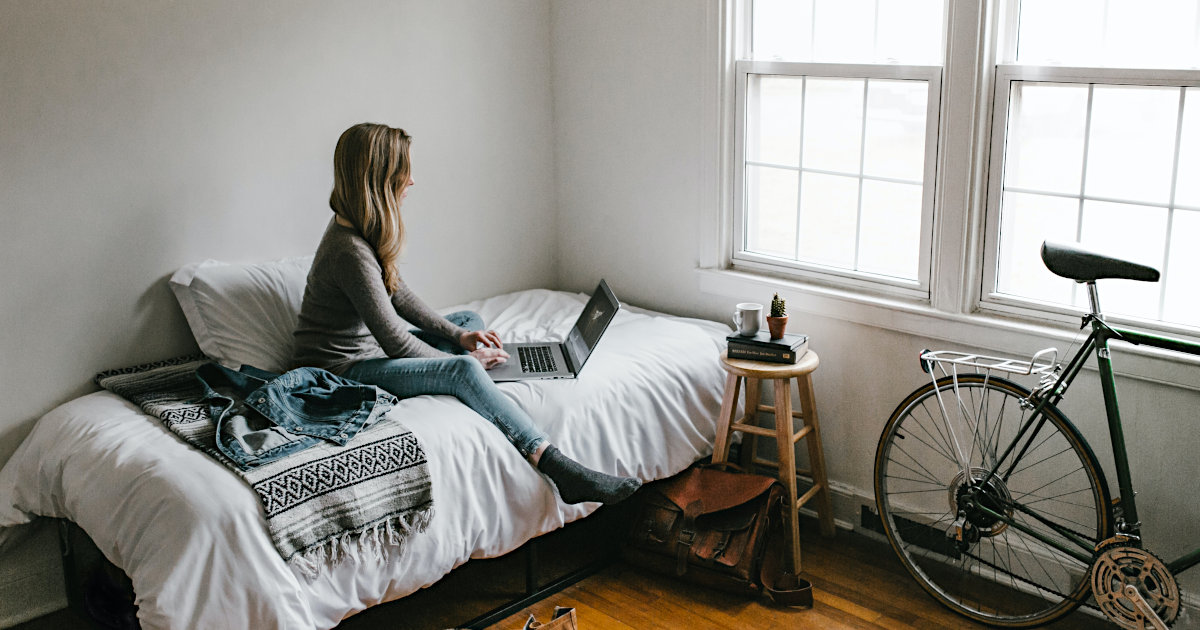 Channelchek Again Kicks off the Giving Season Helping Students With a Research Contest – What You Should Know
A lot in 2020 has been canceled or postponed because of the pandemic; travel, weddings, even Mardis Gras celebrations in New Orleans. But the spirit of helping others has not been postponed, and thankfully not canceled. As we approach the year-end holiday season, Thanksgiving into the New Year 2021, the idea of helping others has not been put-off and is more important than ever.
A perfect example of this is an event I had the pleasure of being a part of before COVID-19, one year ago. And despite some logistical pivoting, it's an experience that is right on schedule this year— Only better! I'll explain; as a reader, you know Channelchek is a platform for no-nonsense information on small and microcap stocks. This includes insightful and unbiased equity research from Noble Capital Markets, industry outlooks, articles on markets, economics, and business news you won't find elsewhere. Channelchek also has a growing video library of discussions with management about their current operations and outlook, along with a deep resource of data to help you search for "the next AAPL."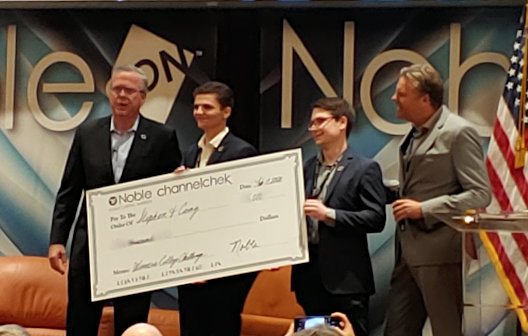 During NobleCon on February 17, 2020, in Miami, Noble Capital Markets, Inc. arranged for conference keynote speaker former Florida Governor Jeb Bush to present to the College Contest winners. The contest was won by a two-person student team from The University of Tennessee at Chatanooga. Pictured here from right to left, Nico Pronk, CEO/President, Noble Capital Markets, Stephen Zurlo, College Challenge winner, Casey Szatkowski, College Challenge winner, and far-left Governor Jeb Bush.
Currently, Casey Szatkowski is an investment Analyst in the Private Credit Dept. at Unum. Stephen Zurlo is an Associate with Alliance Bernstein; he has passed his Series 7 and will sit for the series 66 before year-end.
Channelchek is a sponsor of the annual research report College Challenge. Last year this contest put thousands of dollars in the hands of two students, helping to offset their education costs. The prize also provided a large donation directly to their school, The University of Tennessee at Chattanooga. As part of the total award, these students were offered a paid internship at Noble Capital Markets and had their award ceremony shown on the Nasdaq Tower in NYC. They were flown to Miami, where former Florida Governor Jeb Bush presented them with the cash portion of their prize in front of over 600 small and microcap investors at NobleCon16. NobleCon is the leading small and microcap investor conference hosted by Noble Capital Markets each year.
This year, with the help of Mike Kupinski, Director of Equity Research at Noble Capital Markets, the Channelchek College Challenge will again increase the visibility of equity research as an indispensable discipline benefitting both investors and public companies. Mr. Kupinski describes the current state of company research this way, "For a variety of reasons, we've seen a dramatic decrease in the number of graduates seeking employment as equity analysts. This field is critical to investors and companies, particularly small companies, with great ideas that struggle to be recognized and understood. We hope to incent more students to consider equity research and analysis as a career choice. "
The College Challenge, which kicks off just before Thanksgiving, asks students to register and submit entries by December 31st, (prizes awarded at NobleCon17 virtually the third week in January). Participants will all benefit from better understanding the role and components of equity research. The winning student(s) will additionally benefit from a large cash prize and paid internship offer. The winner's college will be awarded cash as well (see prize information). Students, and faculty encouraging their students to participate, will receive additional help via two Zoom meetings with Director Mike Kupinski. On December 3rd, the meeting will primarily cover the contest and ingredients of a winning equity research report. The meeting on December 8th will be a more detailed session guiding what should be in the report and answer any questions contestants or assisting faculty may have.
This time of year is the helping and giving season. If you aren't a college student but know of one that would be thankful you shared this with them, I encourage you to use the sharing tool above to tag or address them on social media or email. A student, particularly one with a business or finance concentration, may be particularly interested and grateful. If you have a relationship with a college, ask them to share the College Challenge to help their students and possibly bring a cash prize to the school itself.
2021 will arrive whether a ball drops to a cheering crowd in Times Square or not. The College Contest is determined to again help students, colleges, and the very noble profession of equity analysis. We look forward to awarding a stand-out student and their school. The past 12 months have made looking out for others and helping when we're able more fashionable than ever before. All of the Channelchek sponsors are proud of our contributions.
Everyone at Channelchek wishes you a productive start to the holiday season. Links to the College Challenge and Zoom Meetings are found below.
Paul Hoffman
Managing Editor, Channelchek
Learn More:
Information and rules for Channelchek's College Challenge
Register now for the College Challenge
Informational Meetings for the College Challenge:
Channelchek Premium access at no cost