Companies by Sector
More than 6000 listed
Communication Services
Telecommunication Services
Consumer Cyclical
Advertising & Marketing Services
Furnishings, Fixtures & Appliances
Homebuilding & Construction
Manufacturing - Apparel & Accessories
Manufacturing - Apparel & Furniture
Retail - Apparel & Specialty
Consumer Defensive
Beverages - Non-Alcoholic
Financial Services
Diversified Financial Services
Healthcare
Healthcare Providers & Services
Medical Devices & Instruments
Medical Diagnostics & Research
Medical Instruments & Equipment
Industrials
Farm & Heavy Construction Machinery
Transportation & Logistics
Utilities
Utilities - Independent Power Producers


	
Tesla's CEO Surprises Reporters with Views on Robots, Subsidies, and Longevity
The Wall Street Journal CEO Summit is billed as an opportunity for CEOs to exchange best practices along with honest and candid insight. Elon Musk, who spoke Monday at the summit, had previously been sharing his thoughts on Twitter leading up to the event, at times his talk surprised reporters and peers. Among his concerns for the future are low birth rates, longevity, and excessive EV subsidies.
Robots and Birthrates
The forward-looking Tesla CEO was giving an update on the Tesla Bot project and issued this dire warning, "If people don't start to have more children, civilization is going to crumble. Mark my words," Musk said. Within the context of the current labor shortage, Musk believes the Tesla Bot could be a solution. "It has the potential to be a general substitute for human labor over time. The foundation of the economy is labor. Capital equipment is essentially distilled labor. I asked a friend of mine what should we optimize for, and he said, "gross profit per employee" – fully considered so you've got to include the supply chain in that," said Musk. He was also candid about their robotics saying that he doesn't know when they will get the Bot trouble-free, but building a useful humanoid robot is already a Tesla division they are hiring for.
Musk who is the father of six children said, "I think one of the biggest risks to civilization is the low birth rate and the rapidly declining birthrate."
Longevity
At the Summit Elon Musk also shared his thoughts on humans living much longer and some older workers. He said he doesn't think people should "try to live for a super long time." This idea is more important to him when it comes to semi-immortality, and those that make their living in politics. "I think it is important for us to die because most of the time, people don't change their mind, they just die. If they live forever, then we might become a very ossified society where new ideas cannot succeed," Musk said.
In recent Tweets, Musk has been vocal about age caps for holding public national office positions.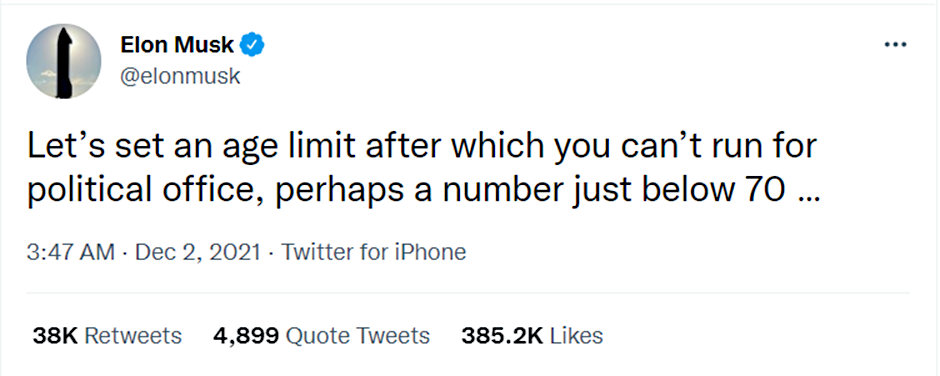 "I'm not poking fun at aging. I just am saying if we've got people in very important positions that have to make decisions that are critical to the security of the country, then they need to have sufficient presence of mind and cognitive ability to make those decisions well — because the whole country is depending on them," Musk said Monday.
Spending Bill and EV Subsidies
About two-thirds of all battery-electric vehicles in the U.S. are Teslas. Over the past two years, these sales have been without the $7,500 federal tax credit. New tax federal tax credits can be as high as $12,500 on some cars. Musk said the Senate should not pass the $2 trillion Build Back Better Act. It removes the limit of 200,000 EV deliveries per manufacturer and increases the incentives but that only applies if the electric vehicles are coming from US factories that are unionized. During his response, his concerns seemed more about the high federal expenditures than anything specifically related to the treatment of his car company versus the treatment of others. "Honestly, it might be better if the bill doesn't pass. We've spent so much money, the federal budget deficit is insane. It's like $3 trillion. Federal expenditures are $7 trillion. Federal revenues are $3 trillion. If it was a company, it would be a $3 trillion dollar loss. I don't know we should be adding to that loss. Somethings gotta give. You can't just spend $3 trillion more than you own every year and don't expect something bad to happen," Musk said.
Take-Away
One doesn't become a self-made billionaire and then achieve richest person-in-the-world status by thinking like everyone else. Open forums of thought like the Wall Street Journal CEO Summit help, and even short Tweets help better understand the mindsets of those in positions that are helping to shape tomorrow's world.
Managing Editor, Channelchek
Suggested Reading:
Sources:
https://ceocouncil.wsj.com/videos/
https://www.yahoo.com/news/elon-musk-says-not-enough-070626755.html
Stay up to date. Follow us: