Exploration and Production Review and Outlook - Noble Capital Markets Energy Sector Review - Q2 2021

Energy Industry - Exploration and Production: 2021 2Q Review and Outlook
Noble Capital Markets Energy Sector Review - August 2021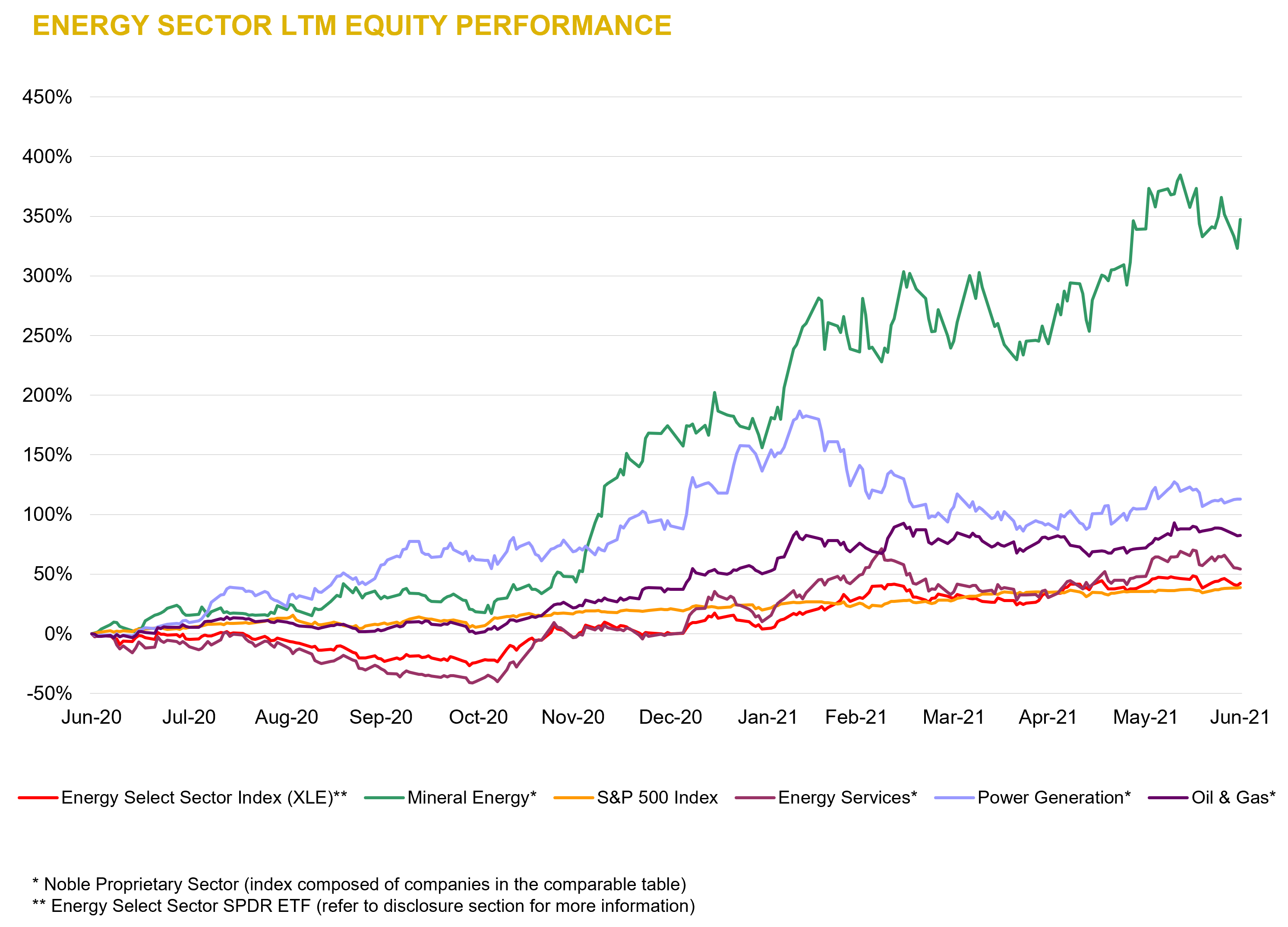 Source: Capital IQ as of 06/30/2021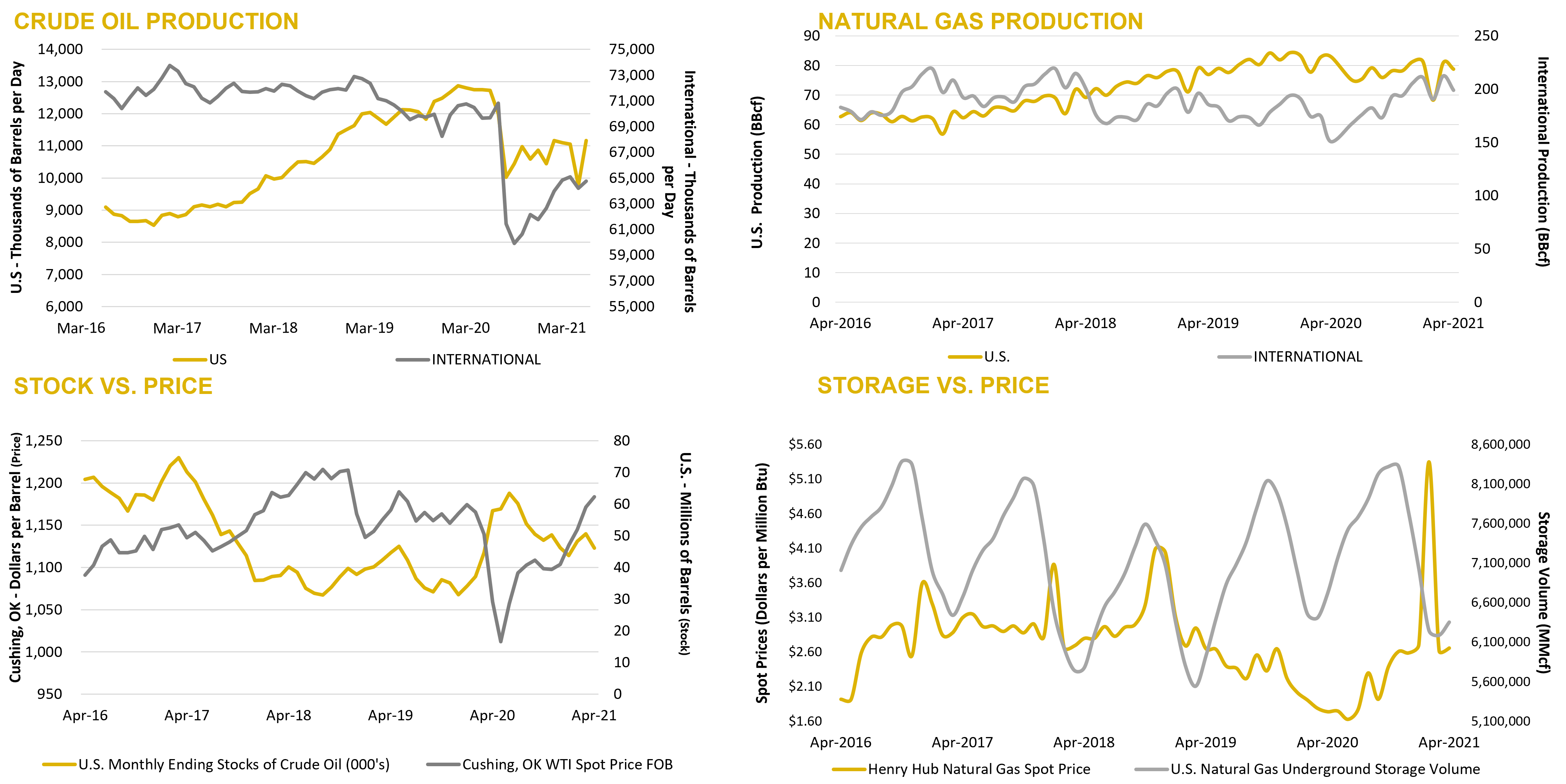 Source: Energy Information Administration as of 06/30/2021
ENERGY INDUSTRY OUTLOOK
Exploration and Production: 2021-2Q Review and Outlook
Oil Prices
Oil prices continued their upward trend in the first quarter with WTI prices crossing $75/bbl. at the end of the quarter. Oil prices have reached levels not seen since 2018 and show no signs of letting up. Brent prices are trading closer to $76/bbl. The spread between WTI and Brent prices has narrowed as U.S. producers have been slower to accelerate drilling than other parts of the world. We would attribute the delays to transmission issues in the Permian Basin during extremely cold temperatures in Texas in February. The delay also reflects the impact that low oil prices in 2020 have had upon the health of smaller domestic producers.
OPEC, which initiated supply reductions last year, has maintained those reductions through the first half of 2021 despite the improved demand outlook. A tentative agreement between Saudi Arabia and Russia will gradually increase production by 2 million barrels/day over the rest of the year. We believe the increase will offset growing demand associated with post-pandemic global economic expansion and that it will not have an adverse impact on oil prices. The oil futures curve shows oil prices declining on the out months but staying above $70/bbl. through December.
Meanwhile, domestic producers have been slow to react to higher oil prices but have begun to accelerate drilling in recent months. There are 77% more than half the number of active oil rigs in the United States versus this time last year (470 verses 265). That said, there are only half the number of active rigs in the United States as compared to pre-pandemic levels. The figure below shows the contrast in rig count and oil prices over the last three years. The lack of a supply response to higher prices has meant, and will most likely continue to mean, that oil prices could stay at levels above what we consider to be the long-term normalized price for quite some time.
High oil prices, combined with improved operating efficiencies mean that production companies are facing very favorable returns on their investment. We look for companies to start reporting strong positive cash flow and to use cash flow to increase drilling and improve balance sheets. We do not expect companies to raise dividend payments given the cyclical nature of recent oil price trends but would not rule out share repurchases if stock prices do not rebound further.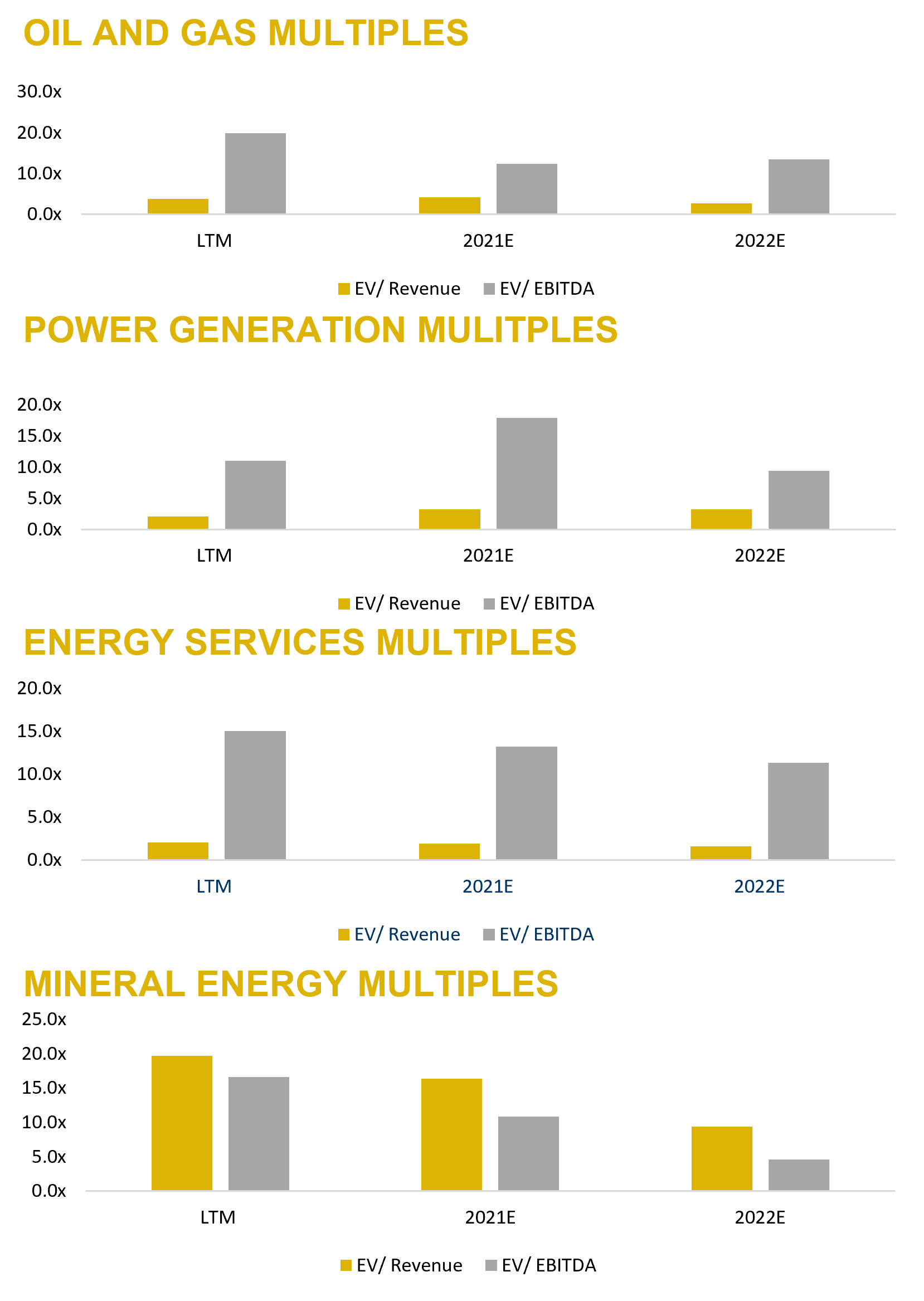 Source: Capital IQ as of 06/30/2021
Natural Gas Prices
Natural Gas prices have also been exceptionally strong in recent months climbing above $3.60/mcf. Recent heat waves across much of the country has meant that gas-fired turbines are running at full speed. Storage levels, which exited the winter heating season below historical averages, have returned to normal levels. Drilling activity has started to pick up but remains well below pre-pandemic levels. There were 98 natural gas rigs drilling in the United States, up 30% from a year ago. As is the case with oil, we believe the lack of a supply response could mean that natural gas prices remain at elevated levels for several quarters. The gas futures curve is flat, dipping only a few cents into the fall months but then rising back above $3.60/mcf. during the winter months.
Longer-term Energy Trends
Energy sources in the United States are undergoing a significant transformation away from carbon-based fuels. While this should not be a surprise to anyone, it is worth taking a long-term view of energy consumption to highlight how the transformation has acerated in recent years. The chart below energy sources over the last 250 years. As one might expect, coal consumption has fallen sharply in the last ten years. Coal consumption has been replaced by renewable, nuclear, and natural gas. Worth noting, petroleum consumption, which grew dramatically in the last 50 years, has maintained the levels reached at the end of the century. We believe this trend will continue with petroleum providing a smaller portion of the overall energy picture, but not necessarily declining in absolute value.
Outlook
The rebound in oil and natural prices came faster than expected and is staying higher than we would have expected. We have been adjusting our models to reflect higher prices but are maintaining our long-term oil price forecast of $50 per barrel and $2.50 per mcf. Energy companies should start reporting positive cash flow at these prices and increasing drilling budgets. Our near-term outlook for energy stocks remains positive. We expect companies to report favorable results for the next few quarters. Longer-term, we have concern that oil demand will be constrained by power generation competition from renewable energy and decreased demand for gasoline and diesel due to a growth in electric vehicles. At the same time, increased supply from OPEC and continued drilling productivity will mean lower energy prices. We recommend investors stay focused on energy companies with solid balance sheets, low operating costs and protected prices.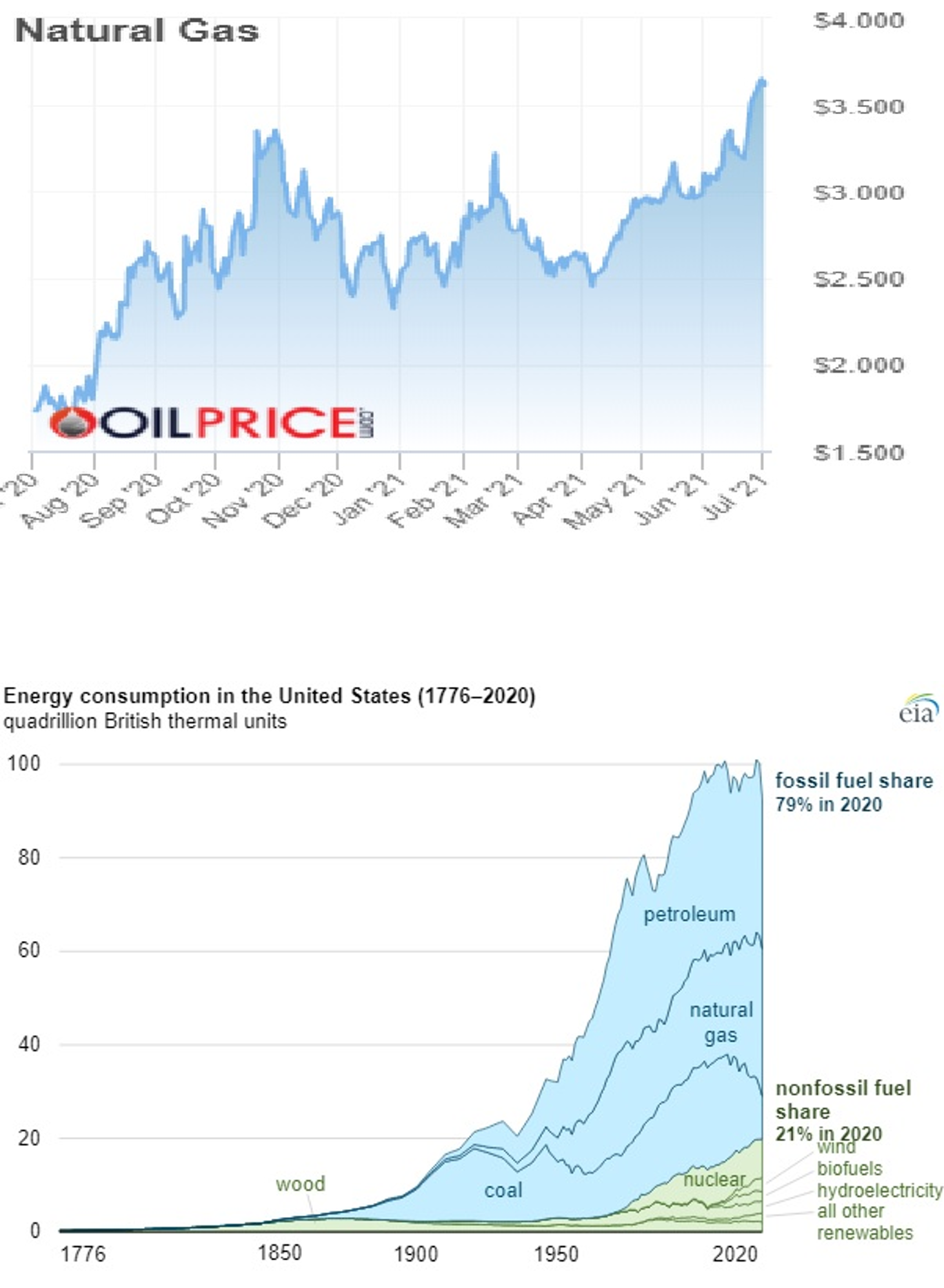 Source: Michael Heim 07/02/2021; Energy Information Agency (EIA)
Oil & Gas - Comparable Tables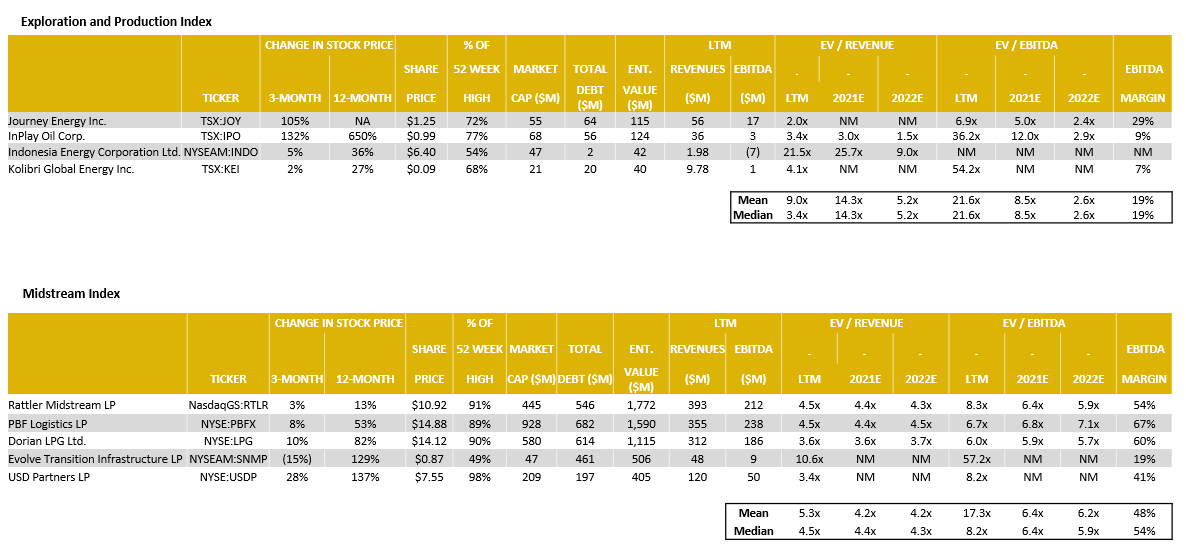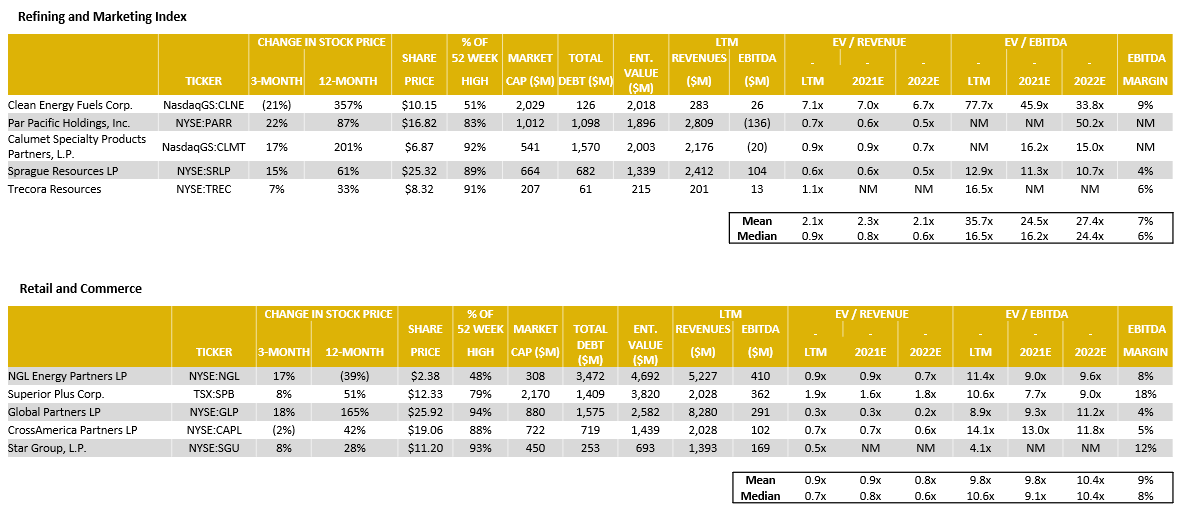 Source: Capital IQ as of 06/30/2021
Oil & Gas - LTM Equity Performance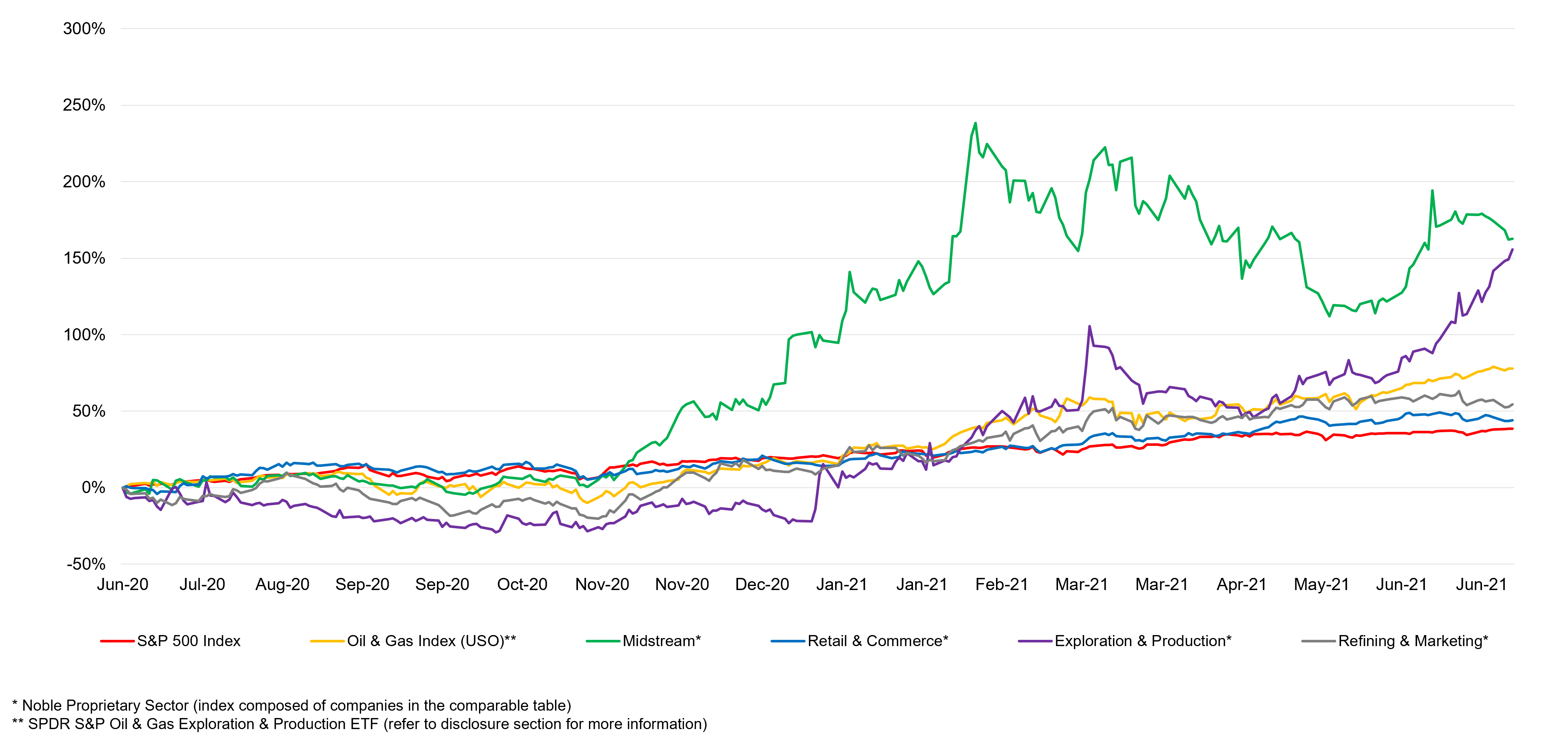 Source: Capital IQ as of 06/30/2021
Oil & Gas - YTD Global M&A Activity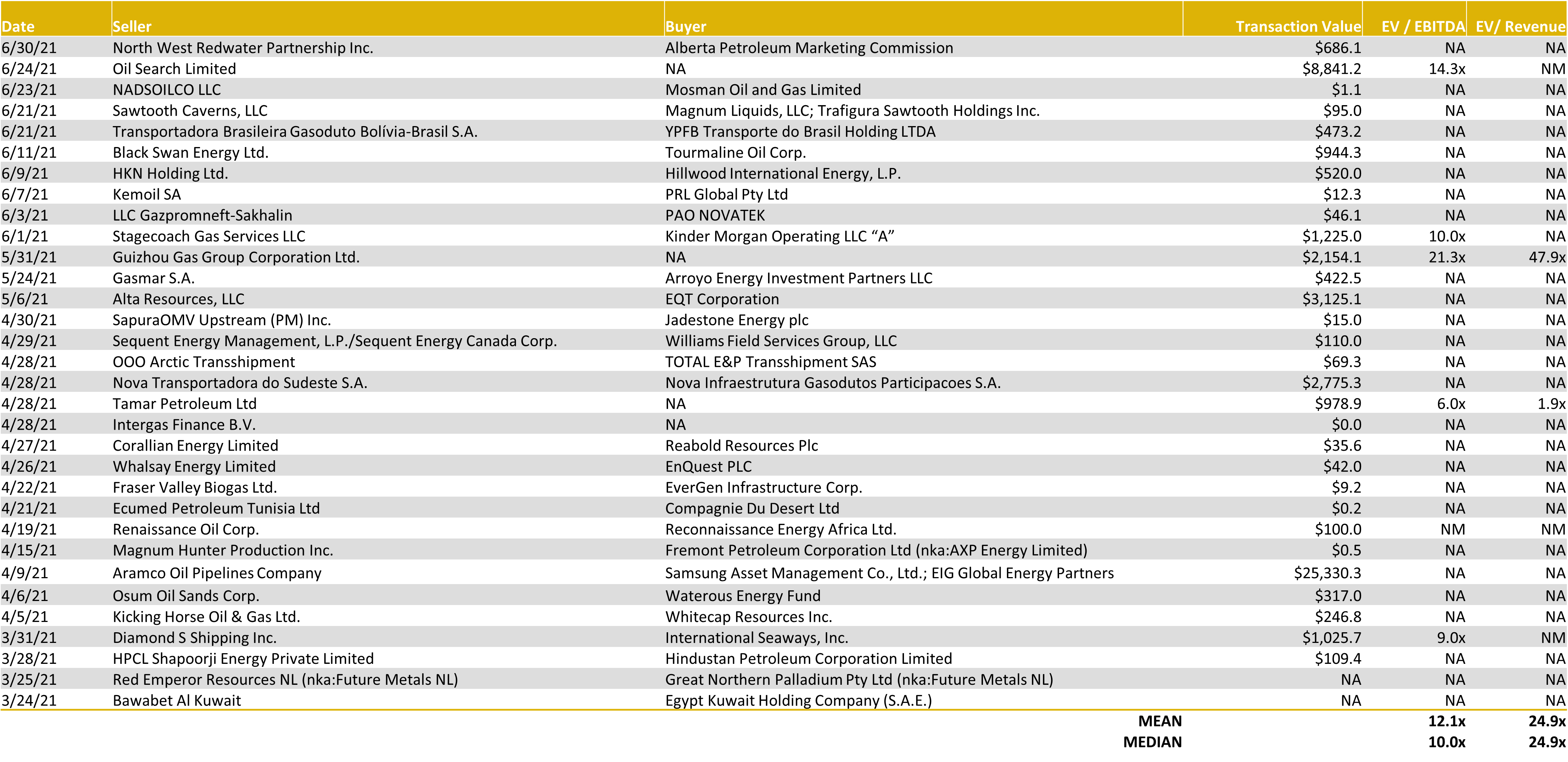 Source: Capital IQ as of 06/30/2021
Power Generation - Comparable Tables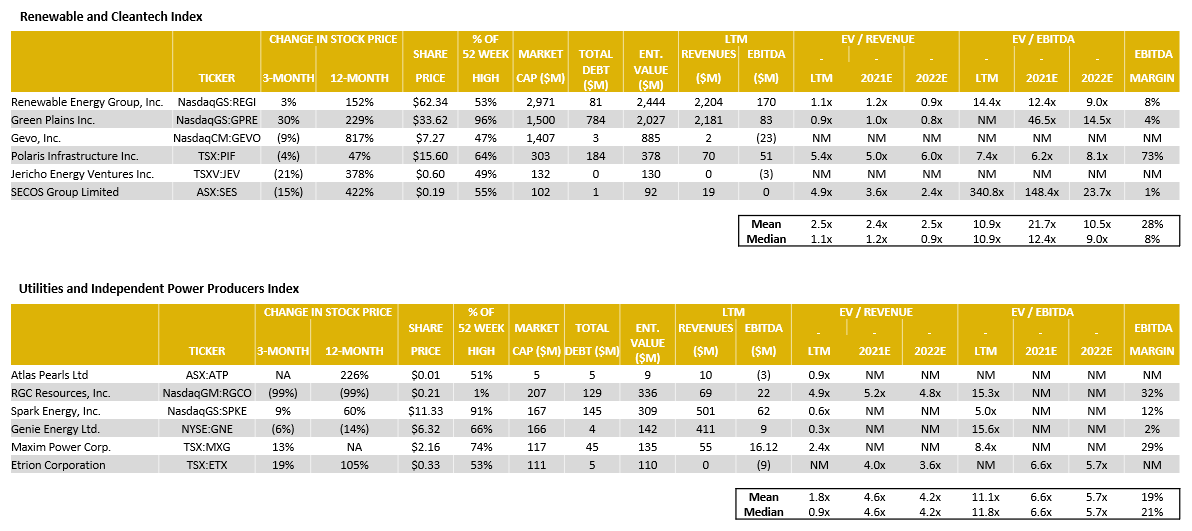 Source: Capital IQ as of 06/30/2021
Power Generation - LTM Equity Performance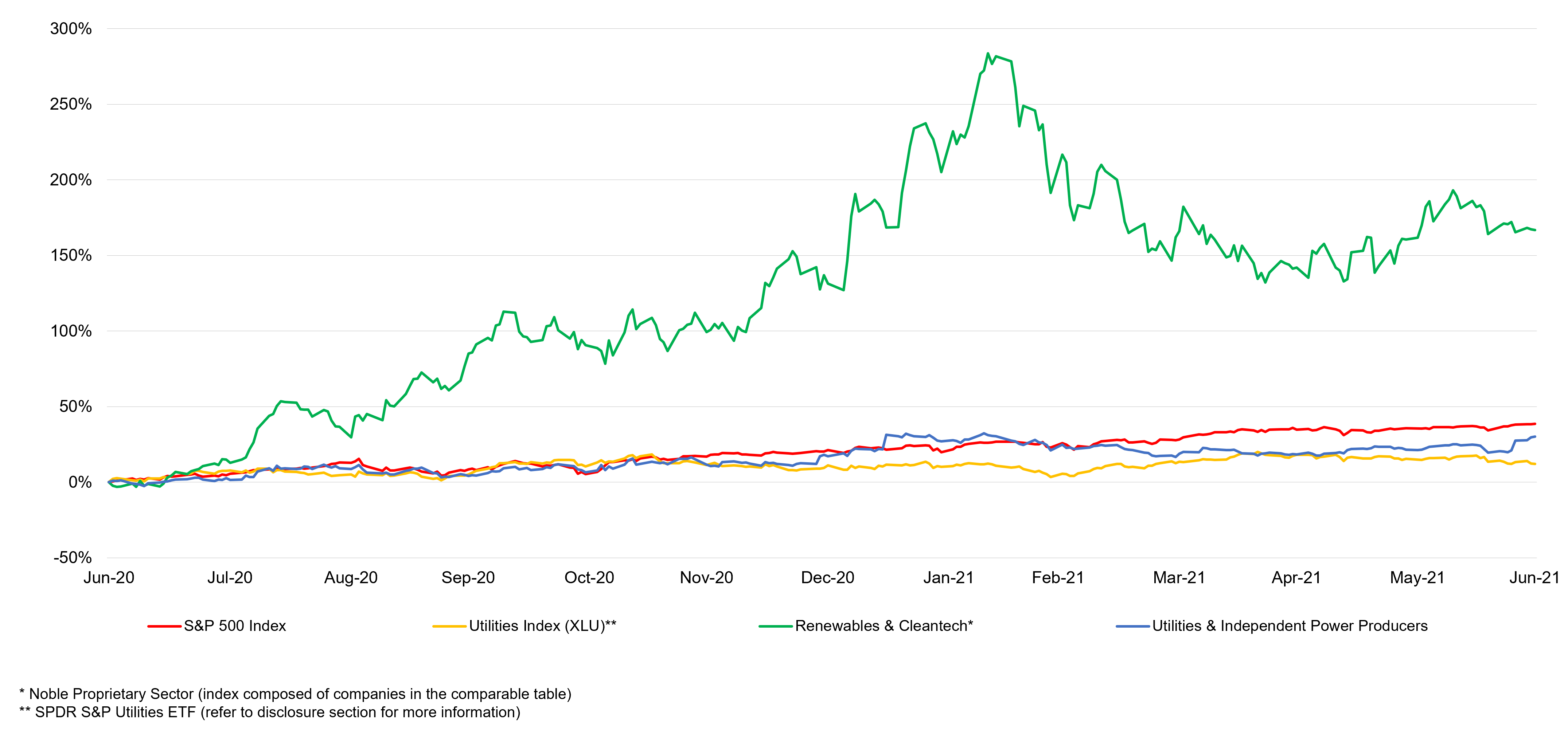 Source: Capital IQ as of 06/30/2021
Power Generation - YTD Global M&A Activity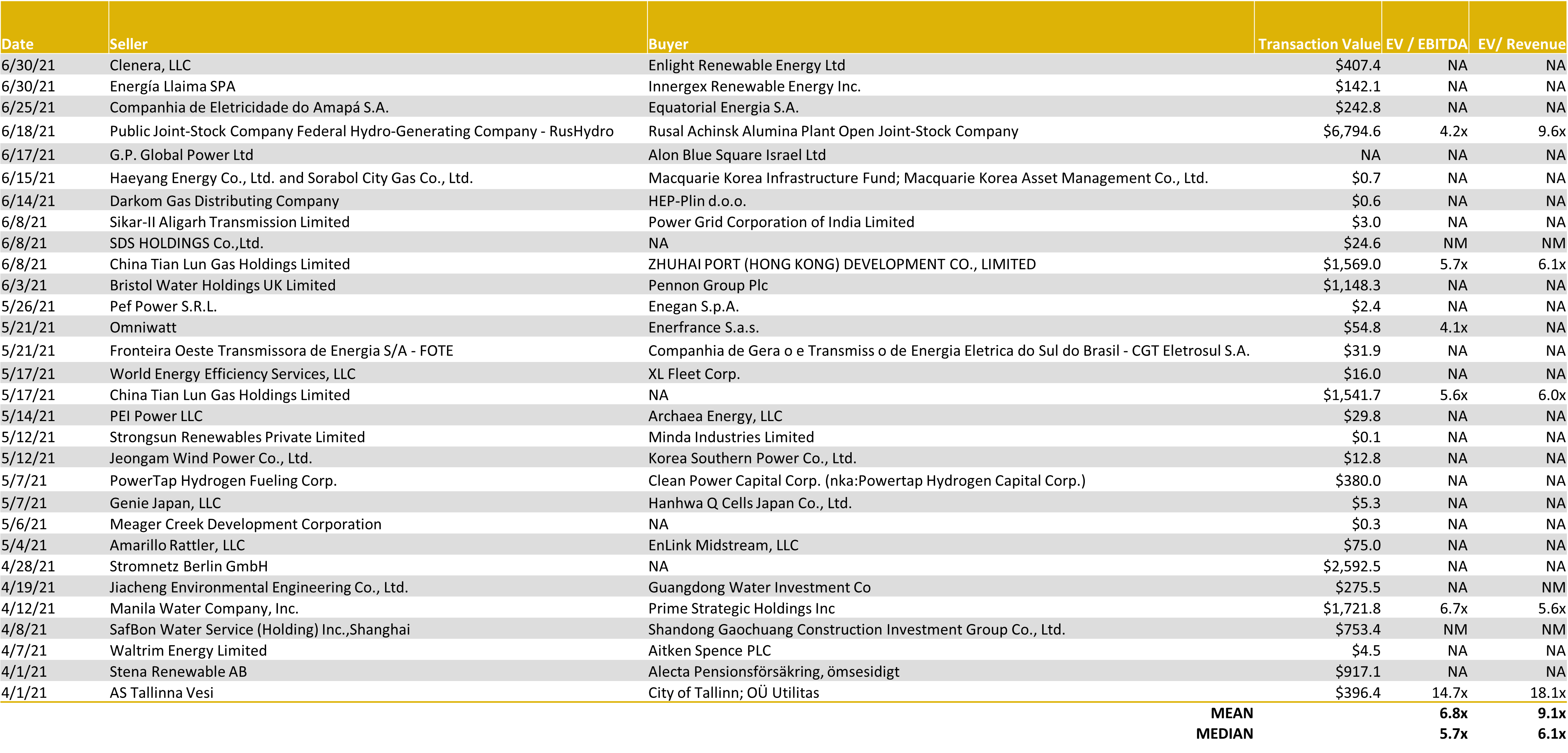 Source: Capital IQ as of 06/30/2021
Energy Services - Comparable Tables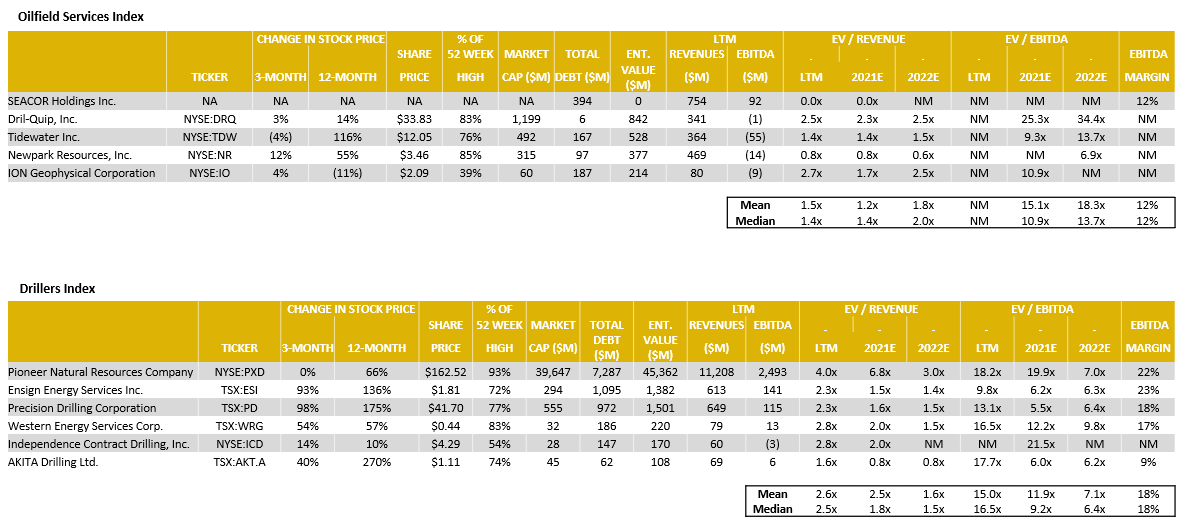 Source: Capital IQ as of 06/30/2021
Energy Services - LTM Equity Performance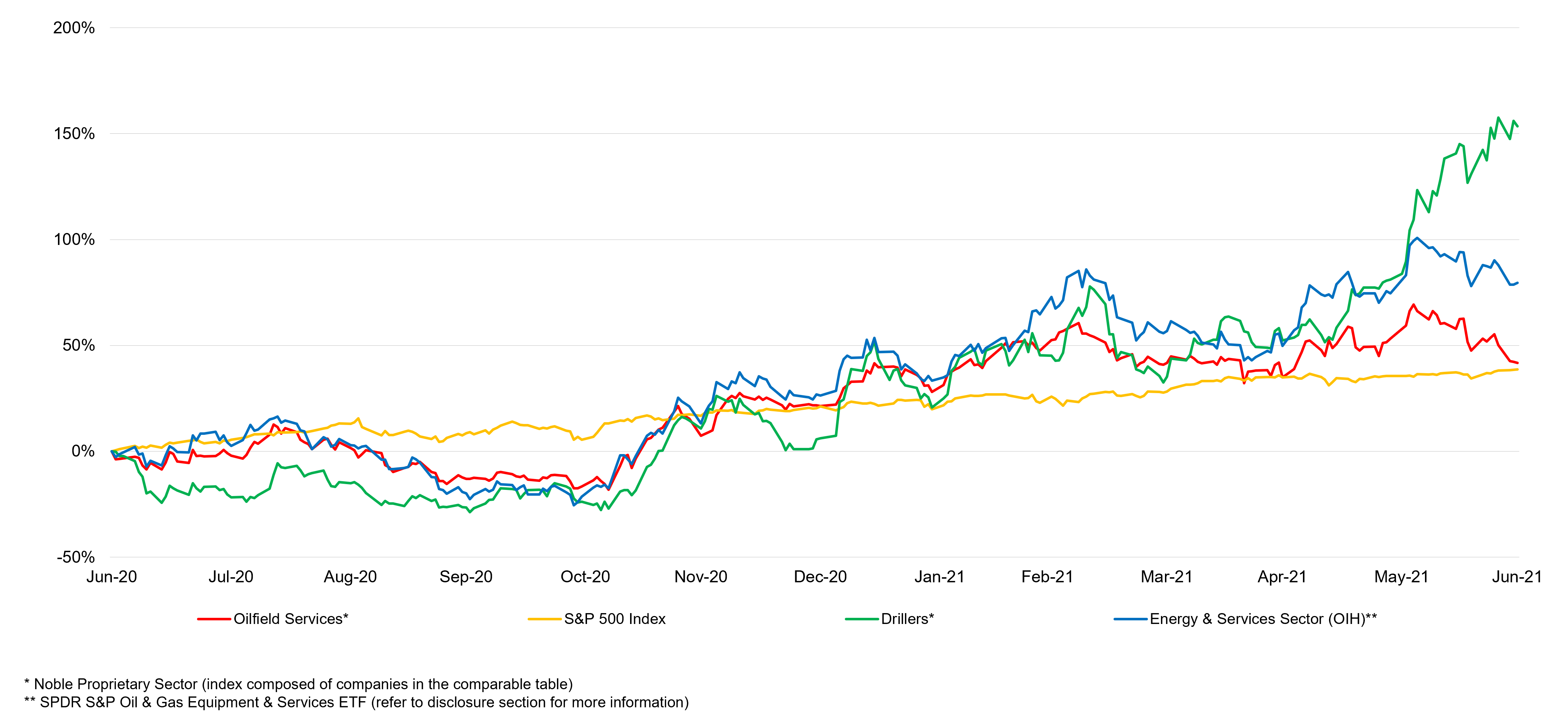 Source: Capital IQ as of 06/30/2021
Energy Services - YTD Global M&A Activity

Source: Capital IQ as of 06/30/2021
Mineral Energy - Comparable Tables

Source: Capital IQ as of 06/30/2021
Mineral Energy - YTD Global LTM Equity Performance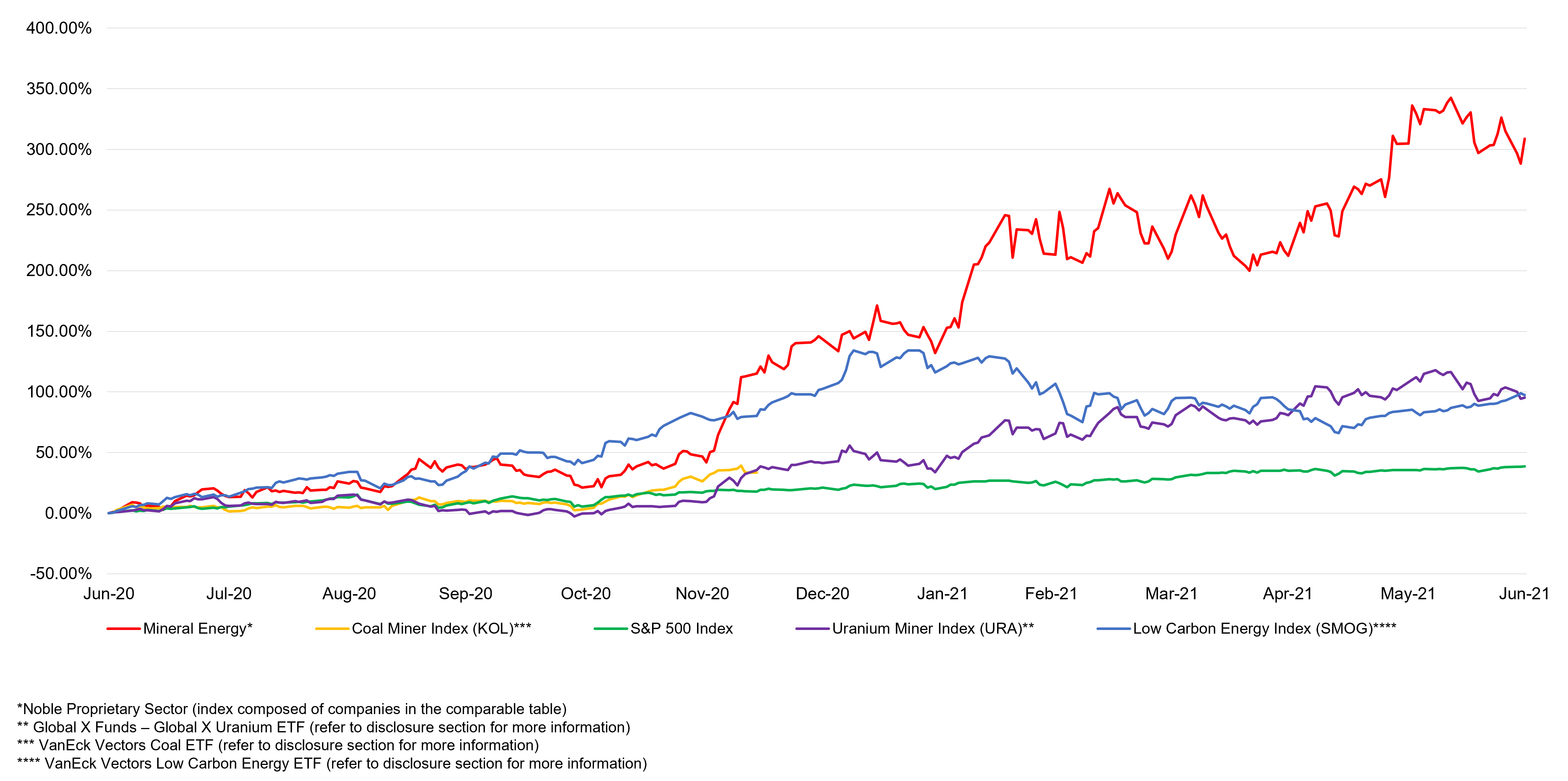 Source: Capital IQ as of 06/30/2021
Mineral Energy - YTD Global M&A Activity

Source: Capital IQ as of 06/30/2021
Mineral Energy - YTD Energy Industry M&A Summary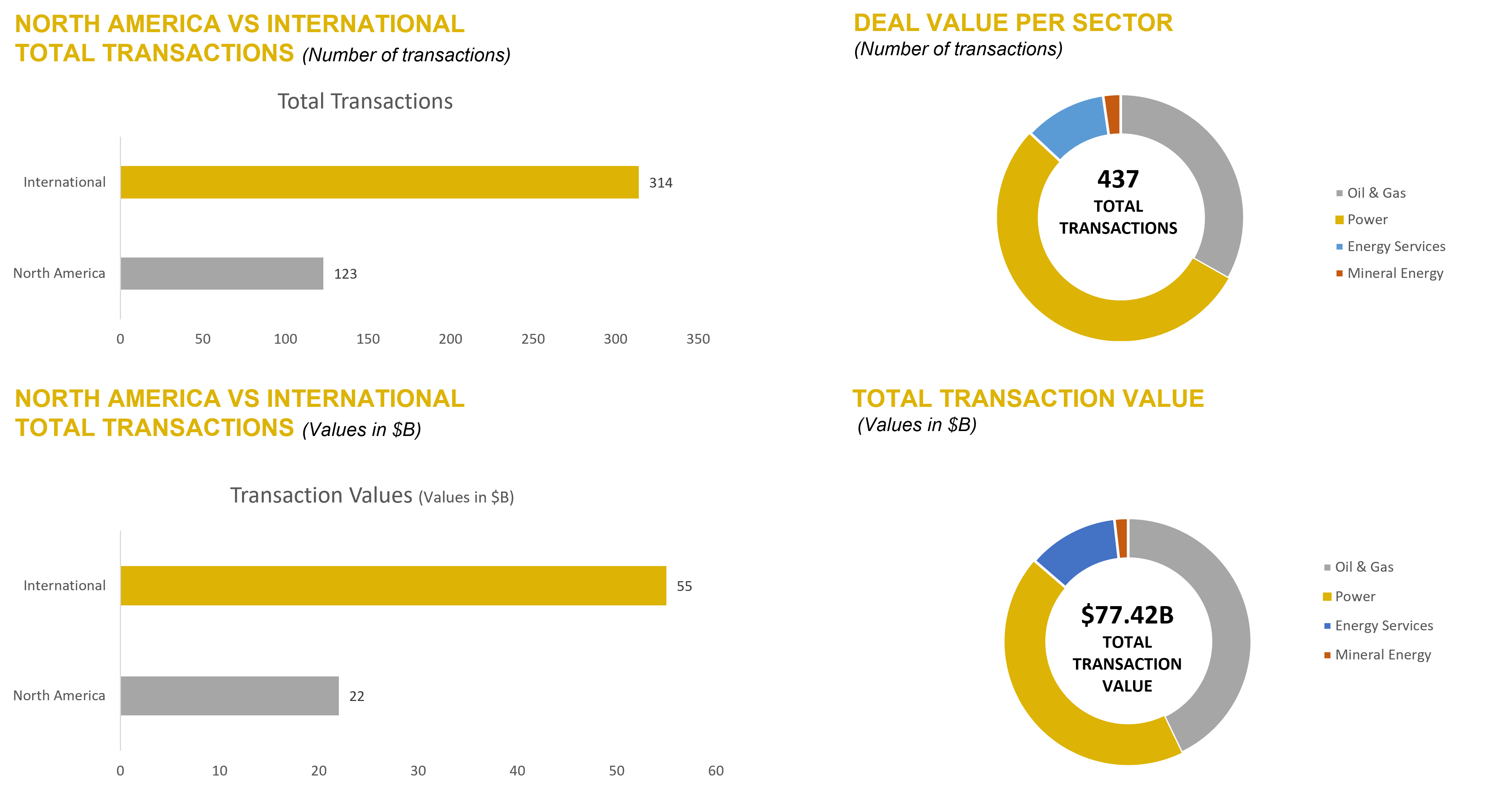 Source: Capital IQ as of 06/30/2021
NOBLE QUARTERLY HIGHLIGHTS
Industry: Energy – Green energy
CGevo's mission is to transform renewable energy and carbon into energy-dense liquid hydrocarbons. These liquid hydrocarbons can be used for drop-in transportation fuels such as gasoline, jet fuel and diesel fuel, that when burned have potential to yield net-zero greenhouse gas emissions when measured across the full life cycle of the products. Gevo uses low-carbon renewable resource-based carbohydrates as raw materials, and is in an advanced state of developing renewable electricity and renewable natural gas for use in production processes, resulting in low-carbon fuels with substantially reduced carbon intensity (the level of greenhouse gas emissions compared to standard petroleum fossil-based fuels across their life cycle).
2nd Quarter News Highlights:
June 8, 2021: Gevo announced that it expects to join the broad-market Russell 3000 Index at the conclusion of the 2021 Russell indexes annual reconstitution, effective after the US market opens on June 28, 2021, according to a preliminary list of additions posted June 4, 2021, by FTSE Russell.
encore Energy Corp. - OTCQB: ENCUF
Industry: Energy – Mineral energy; Uranium; Rare earth minerals and metals
enCore Energy Corp. is a U.S. domestic uranium developer focused on becoming a leading in-situ recovery (ISR) uranium producer. The Company is led by a team of industry experts with extensive knowledge and experience in the development and operations of in situ recovery uranium operations. enCore Energy's opportunities are created from the Company's transformational acquisition of its two South Texas production facilities, the changing global uranium supply/demand outlook and opportunities for industry consolidation.
2nd Quarter News Highlights:
April 6, 2021: The company announced a strategic acquisition of physical uranium with the objective of de-risking future uranium deliveries. The purchase consisted of 200,000 pounds at a spot market price of $29.65 per pound of U3O8.
Indonesia Energy Corporation - NYSE: INDO
Industry: Energy – Oil and gas; Exploration and production
Indonesia Energy Corporation Limited (NYSE American:INDO) is a publicly traded energy company engaged in the acquisition and development of strategic, high growth energy projects in Indonesia. IEC's principal assets are its Kruh Block (63,000 acres) located onshore on the Island of Sumatra in Indonesia and its Citarum Block (1,000,000 acres) located onshore on the Island of Java in Indonesia. IEC is headquartered in Jakarta, Indonesia and has a representative office in Danville, California.
2nd Quarter News Highlights:
June 4, 2021: Indonesia Energy announced the successful completion of drilling at its first new well "Kruh Block" (also known as "Kruh 25") to its absolute depth. Frank Ingriselli, President, commented on their positive outlook for shareholder value and cash flow growth after reaching this important milestone.
Source: Company Press Releases
DOWNLOAD THE FULL REPORT (PDF)
Noble Capital Markets Energy Newsletter Q2 2021

This newsletter was prepared and provided by Noble Capital Markets, Inc. For any questions and/or requests regarding this newsletter, please contact >Francisco Penafiel
DISCLAIMER
All statements or opinions contained herein that include the words " we"," or " are solely the responsibility of NOBLE Capital Markets, Inc and do not necessarily reflect statements or opinions expressed by any person or party affiliated with companies mentioned in this report Any opinions expressed herein are subject to change without notice All information provided herein is based on public and non public information believed to be accurate and reliable, but is not necessarily complete and cannot be guaranteed No judgment is hereby expressed or should be implied as to the suitability of any security described herein for any specific investor or any specific investment portfolio The decision to undertake any investment regarding the security mentioned herein should be made by each reader of this publication based on their own appraisal of the implications and risks of such decision This publication is intended for information purposes only and shall not constitute an offer to buy/ sell or the solicitation of an offer to buy/sell any security mentioned in this report, nor shall there be any sale of the security herein in any state or domicile in which said offer, solicitation or sale would be unlawful prior to registration or qualification under the securities laws of any such state or domicile This publication and all information, comments, statements or opinions contained or expressed herein are applicable only as of the date of this publication and subject to change without prior notice Past performance is not indicative of future results.
Please refer to the above PDF for a complete list of disclaimers pertaining to this newsletter