Companies by Sector
More than 6000 listed
Communication Services
Telecommunication Services
Consumer Cyclical
Advertising & Marketing Services
Furnishings, Fixtures & Appliances
Homebuilding & Construction
Manufacturing - Apparel & Accessories
Manufacturing - Apparel & Furniture
Retail - Apparel & Specialty
Consumer Defensive
Beverages - Non-Alcoholic
Financial Services
Diversified Financial Services
Healthcare
Healthcare Providers & Services
Medical Devices & Instruments
Medical Diagnostics & Research
Medical Instruments & Equipment
Industrials
Farm & Heavy Construction Machinery
Transportation & Logistics
Utilities
Utilities - Independent Power Producers

image credit: Charis Tsevis (Flickr)
How Investors can "Bring Home the Gold" from the Mainstreaming of Esports
When businesses or new industry sectors become mainstream, it often feels as though it occurred overnight. Esports may experience this tipping point as we move toward the rescheduled Tokyo 2020 Olympics this summer. Although esports fans are well aware of the explosive growth of "their" sport, millions more will be introduced to it for the first time. The increased attention paid to the games and companies that provide platforms, games, venues, and even betting should add to related companies' attractiveness for investors.
Background
Leading up to the Tokyo Olympics, the International Olympic Committee (IOC) partnered with esports federations to provide world-class-athlete level esports competition. These events will consist of sports competitions traditionally found in the Olympics – it was specifically spelled out "no killing." Together they came up with five Olympic Virtual Series (OVS) games which are auto racing, baseball, cycling, rowing, and sailing. Each OVS game will coordinate with its related international federation; for example: "eBaseball Powerful Pro Baseball 2020, will operate under the World Baseball Softball Confederation. Other guiding federations include the International Cycling Union, World Rowing Federation, International Automobile Federation, and World Sailing.
Support from Established Institutions
The reasons for the Olympics embracing esports with an eye on much more involvement in the future is spelled out in their agenda, (pages 21, 22 Olympic Agenda). They wish to "Encourage the development of virtual sports and further engage with video gaming communities." They also recognize the growth of the sport in the agenda, saying, "Throughout the impacts of COVID-19, the gaming industry has continued to grow, highlighted by a 30% growth in gamers, 75% growth in gaming usage, and the industry being worth an estimated USD 159 billion in 2020." These are numbers that are not a surprise to Channelchek subscribers, but these are not numbers known far outside of certain circles. The strong embrace of the iconic Olympics this year and its commitment to the future should further add to the demand for all the professional games' products and services. The Olympics continued support is shown in a number of places in the agenda, with the spirit of their intentions captured in this line," The IOC aims to build on this [growth] by assisting IFs to develop virtual and simulated forms of their sport."
Other support comes from the live streaming platform Twitch, which will become part of NBC's Olympic coverage and content in a partnership announced earlier this month. Part of this programming will include the creation of several interactive features. For example, in the week prior to the opening ceremony, Twitch streamers and their audiences will keep a virtual torch running through their engagement.
The NBC Olympics channel on Twitch will host several content series throughout the games, including highlights, streamer competitions, and live interviews with Olympic athletes.
Where to Find Opportunities
Just as traditional sports business include those that own and run venues (stadiums, race tracks, etc.), various leagues, media, Athletic endorsements, and sponsorships, esports has a similar ecosystem. At its core, there are publishers (game makers), advertising sales, media rights, merchandise, and ticket sales.
The "Quick Search" search bar on Channelchek is a good way to begin to look for companies in this industry and are involved in the various layers of esports. Remember, smaller companies are, more likely to be pure plays.

By typing in a search term on Channelchek.com and clicking the magnifying glass icon, you can search for related small and microcap companies in this industry or any other.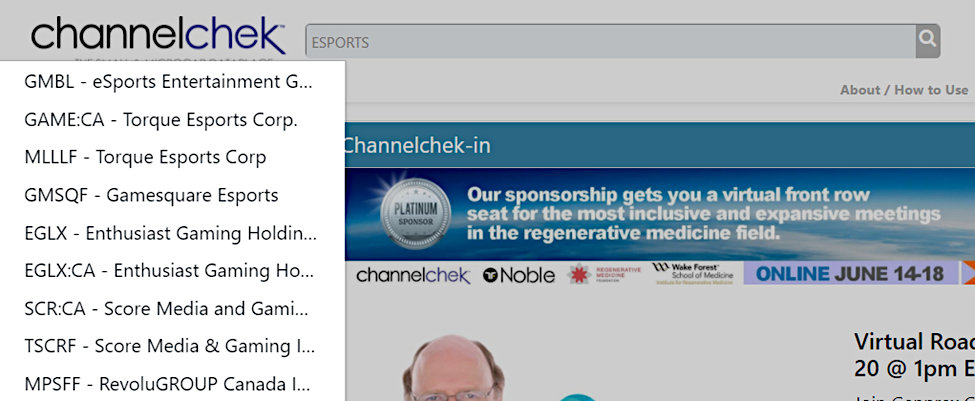 Once you have a list of companies and tickers, click on the company name to uncover data, news stories, and in "Discover companies," in-depth research from analysts at Noble Capital Markets.
Take-Away
Esports received a big boost from the 2020 conditions, which halted live spectator sports. Despite esports current magnitude, the potential to grow to a multiple of its current size is quickly being realized. The esports games that are being aired pre-Olympics and the collaboration with the various sports federations will go a long way toward bringing much more attention to esports. This attention will help mainstream the games. From this, investors can find opportunities now.
Suggested Reading:
Sources:
https://esportsobserver.com/twitch-partners-nbc-olympics/
https://stillmedab.olympic.org/media/Document%20Library/OlympicOrg/IOC/What-We-Do/Olympic-agenda/Olympic-Agenda-2020-5-15-recommendations.pdf#_ga=2.109055877.1262524182.1617693851-616753925.1575537379
Stay up to date. Follow us:
Company
Ticker
Price
Previous
Mkt Cap
Volume
52wk Range
Fansunite Entertainment Inc
FUNFF (OTCQB)
$0.67
$123.10M
0
$0.14 - $1.89
Advanced Market Data
()
Detailed Quote
Charts
Statistics
Financials
Historical Quotes
Insider Activity
Key Ratios