Companies by Sector
More than 6000 listed
Communication Services
Telecommunication Services
Consumer Cyclical
Advertising & Marketing Services
Furnishings, Fixtures & Appliances
Homebuilding & Construction
Manufacturing - Apparel & Accessories
Manufacturing - Apparel & Furniture
Retail - Apparel & Specialty
Consumer Defensive
Beverages - Non-Alcoholic
Financial Services
Diversified Financial Services
Healthcare
Healthcare Providers & Services
Medical Devices & Instruments
Medical Diagnostics & Research
Medical Instruments & Equipment
Industrials
Farm & Heavy Construction Machinery
Transportation & Logistics
Utilities
Utilities - Independent Power Producers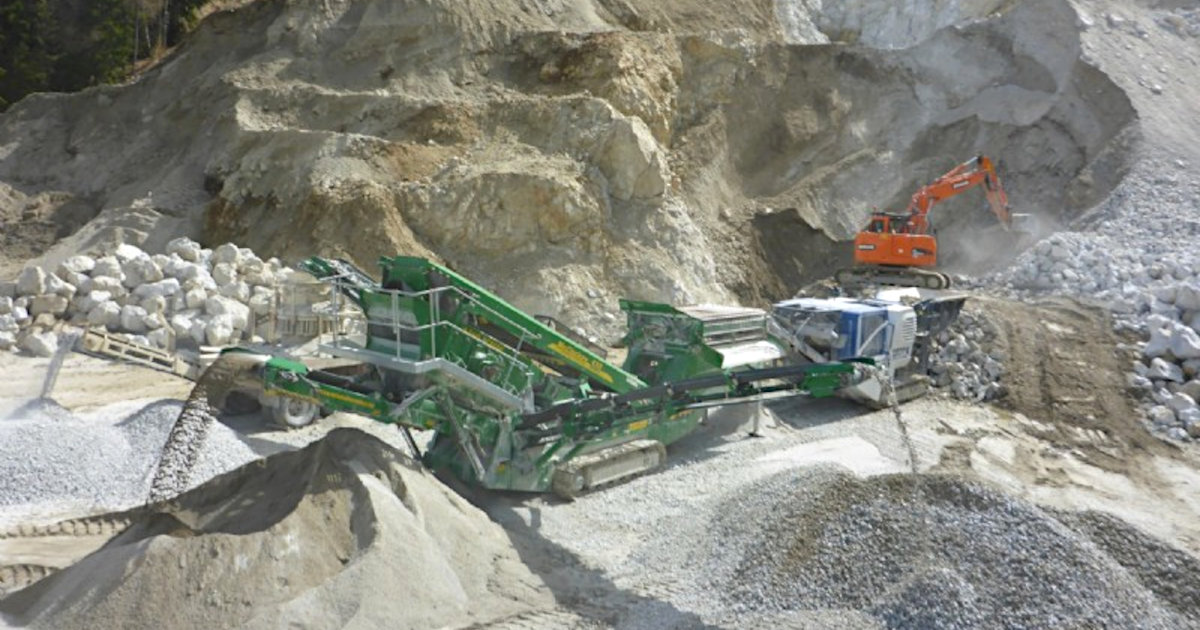 Palladium Is the Most Valuable of the Four Precious Metals
The global transportation market is undergoing rapid change. Efforts to reduce global warming are resulting in more stringent emissions standards to reduce near-term greenhouse gas emissions, coupled with a longer-dated push toward electric vehicle adoption. Beneficiaries include mining companies that produce clean-air metals, including platinum and palladium for catalytic converters, and producers of battery metals, including copper, lithium, nickel, and cobalt. While the increasing need for metals used for EV batteries has been well-chronicled, investors may be unaware of the severe palladium supply deficit that has been driving high palladium prices. As a result, palladium is the most expensive of the four precious metals (gold, silver, palladium, and platinum).
What are Platinum Group Metals?
Palladium is one of six platinum-group metals, along with ruthenium, rhodium, osmium, iridium, and platinum. About 84%, or 9.6 million ounces of palladium ends up in the exhaust systems in cars to reduce toxic pollutants. The metal is mined primarily in Russia and South Africa, and mostly extracted as a by-product from mining other metals, including platinum and nickel. As a result, producers have not been able to quickly respond to higher prices due to limited dedicated production. Demand has increased due to stricter auto emissions standards and a move away from diesel power vehicles which use platinum for the auto catalysts. As a result, new sources of palladium supply are needed to meet demand and help achieve stricter air quality standards.
The figure below summarizes palladium supply and demand during the period 2009 through 2019.
Palladium Supply and Demand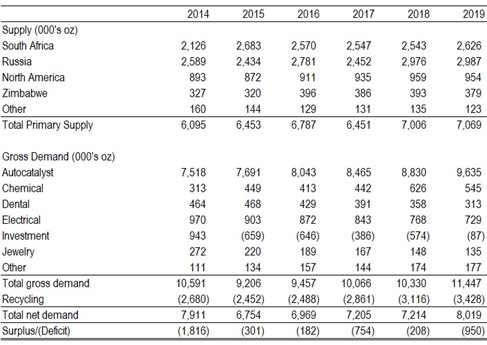 Source: Johnson Matthey Market Report, May 2020
Will Automakers Switch to Platinum?
Most notably, palladium prices have benefited from a multi-year supply deficit driven by limited new supply sources and increasing environmental regulations that has increased demand. As a result, the price of palladium surpassed gold in 2019. Year-to-date through December 4, 2020, palladium futures prices increased 23.2% to $2,355 per ounce, compared with gold's rise of 18.7% to $1,840 per ounce. While platinum is a substitute metal in catalytic converters, its price increased only 10.2% to $1,071 per ounce during the same period. While automakers originally switched from platinum to palladium in the 2000s to take advantage of palladium's lower price, they have been reluctant to switch back due to potential disruptions to existing supply and manufacturing configurations, compliance with existing standards, the limited impact such a change would have on overall vehicle cost, and automakers' focus on next generation technologies. According to the Financial Times, Nornickel, one of the largest producers of palladium, believes automakers have little appetite for changes in the catalyst chemistry as their engineering resources are focused on meeting new tighter emission legislation and carmakers are too busy transitioning to EV technologies and do not want to devote resources to new auto catalyst technologies. Most platinum group element mining companies produce both platinum and palladium so partial substitution, while not fully eliminating the palladium supply deficit, would likely provide a lift for platinum prices.
What about Electric Vehicles?
While widespread adoption of electric vehicles could meaningfully impact the supply and demand fundamentals for both platinum and palladium, it will likely take many years for electric vehicles to have a significant impact. First, auto catalyst demand for palladium is significant and supplies have been in a multi-year deficit that will take time to correct. Second, hybrid vehicles are expected to bridge the transition from internal combustion engines to battery powered vehicles. Hybrid electric vehicles also require palladium to reduce emissions and support growth in palladium demand. Perhaps the holy grail for investors is to identify mining companies that can capitalize on trends in both the clean air and battery metals markets with a diversified base of resources.
Suggested Reading:
Tyko Nickel Project Drilling Program Yields Success
When Does OPEC Expect Oil Demand to Plateau?
Exploration and Production: 2020-3Q Review and Outlook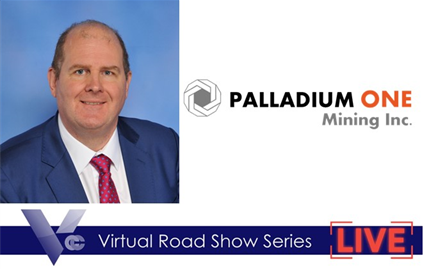 Virtual Road Show Series - Thursday December 10 @ 1pm EST
Join Palladium One Mining President & CEO, Derrick Weyrauch for this exclusive corporate presentation, followed by a Q & A session moderated by Mark Reichman, Noble's senior research analyst, featuring questions taken from the audience. Registration is free, but attendance is limited to 100. Register Now | View All Upcoming Road Shows
Sources:
Why Palladium is Suddenly a More Precious Metal: QuickTake, Bloomberg, Eddie van der Walt and Ranjeetha Pakiam, January 20, 2021
PGM Market Report, Johnson Matthey, Alison Cowley, May 2020.
Palladium Surges Again but the Focus Will Soon Shift to Platinum, Forbes, Tim Treadgold, January 19, 2020.
Platinum, Palladium Prices Diverge as Car Makers See Uneven Recovery, Wall Street Journal, Will Horner, September 18, 2020.
BASF Aims to Cut Cost of Gasoline Catalysts with Switch from Palladium to Platinum, Automotive News Europe, Elena Mazneva and Justina Vasquez, March 11, 2020.
Russia's Norilsk Says Carmakers Will Not Switch from Palladium, Financial Times, Henry Sanderson, February 26, 2020.
Another Reason to be Bullish on Palladium: The Hybrid Car Boom, Bloomberg, Yuliya Fedorina and Rupert Rowling, December 28, 2018

Company
Ticker
Price
Previous
Mkt Cap
Volume
52wk Range
Wellgreen Platinum Ltd
NCPCF (OTCQB)
$0.10
$34.26M
0
$0.03 - $0.25
Platinum Group Metals Ltd. (Canada)
PLG (AMERA)
$4.12
$304.18M
0
$1.26 - $6.27
Advanced Market Data
()
Detailed Quote
Charts
Statistics
Financials
Historical Quotes
Insider Activity
Key Ratios