Companies by Sector
More than 6000 listed
Communication Services
Telecommunication Services
Consumer Cyclical
Advertising & Marketing Services
Furnishings, Fixtures & Appliances
Homebuilding & Construction
Manufacturing - Apparel & Accessories
Manufacturing - Apparel & Furniture
Retail - Apparel & Specialty
Consumer Defensive
Beverages - Non-Alcoholic
Financial Services
Diversified Financial Services
Healthcare
Healthcare Providers & Services
Medical Devices & Instruments
Medical Diagnostics & Research
Medical Instruments & Equipment
Industrials
Farm & Heavy Construction Machinery
Transportation & Logistics
Utilities
Utilities - Independent Power Producers


	
What's Going on With Chartered Financial Analysts (CFAs)?
The CFA Institute released its pass rate for the Chartered Financial Analyst (CFA) Level 1 exams taken in May 2021. One doesn't need a CFA level of understanding data to realize the 25% pass rate is an outlier.
Here are some additional data points for reference, the pass rate for the Level 1 exam (there are three levels) had never previously fallen below 34%. The exams have a 58 year history, and the last time it was as low as 34% was in 2005. During February of this year, the pass rate was 44% and in December 2020 it was 49%.
Is there a Covid Connection?
The CFA Institute says the exam difficulty was consistent with past years. So, has there been a surge in interest in the test from newfound budding financial analysts? Did the pandemic cause a high level of distraction from exam prep? Did the move to computer-based testing play a role? The CFA Institute seems to suggest the low pass rate was in large part due to poorly prepared candidates. Each of the CFA exam levels require at least 300 hours of study time. Candidates taking exams this year have had their studies disrupted by repeated exam postponements and cancellations due to COVID 19 preventative measures.
According to the CFA, "Some Level I candidates had been deferred twice prior to the May administration due to restrictions caused by the global pandemic. While some impacted candidates were able to pass, we believe the stop-start nature of the deferred candidates' studies is reflected in the overall passing rate,"
Some CFA candidates had a different outlook. Many who failed said they'd put in more than the prescribed 300 hours. Other suggestions as to the reason for the abnormally low pass rate include: CFA Institute is trying to raise the prestige of the CFA charter following complaints it had been watered down — CFA Institute has recalibrated passing scores are changing the format and moving to online exams — now that exams are offered four times a year, CFA Institute knows that people will pay $1k to enter again and can therefore make more money from poor scores. These are just a few pulled from various sources.
While the final point would seem particularly cynical, it's unlikely to have worked out anyway if true. Many of the 75% of candidates who today found out that they've failed Level I seem disinclined to give it another go. "Who in their right mind is going to pay $1000 for an exam knowing only 25% of people will pass. It's a shocking decision," said one.
The CFA Institute's Analysis
Matthew Hickerson of the CFA Institute said the recent exams had the same level of difficulty as previous exams. "All examinations are constructed using industry best-practice psychometric data and detailed examination blueprints," said the spokesperson. "The degree of difficulty of the May Level I exam was consistent with previous Level I exam administrations, and this is the case whether we look back to paper-based testing or computer-based testing, which we introduced in February this year."
Ten Year Pass Rate for CFA Part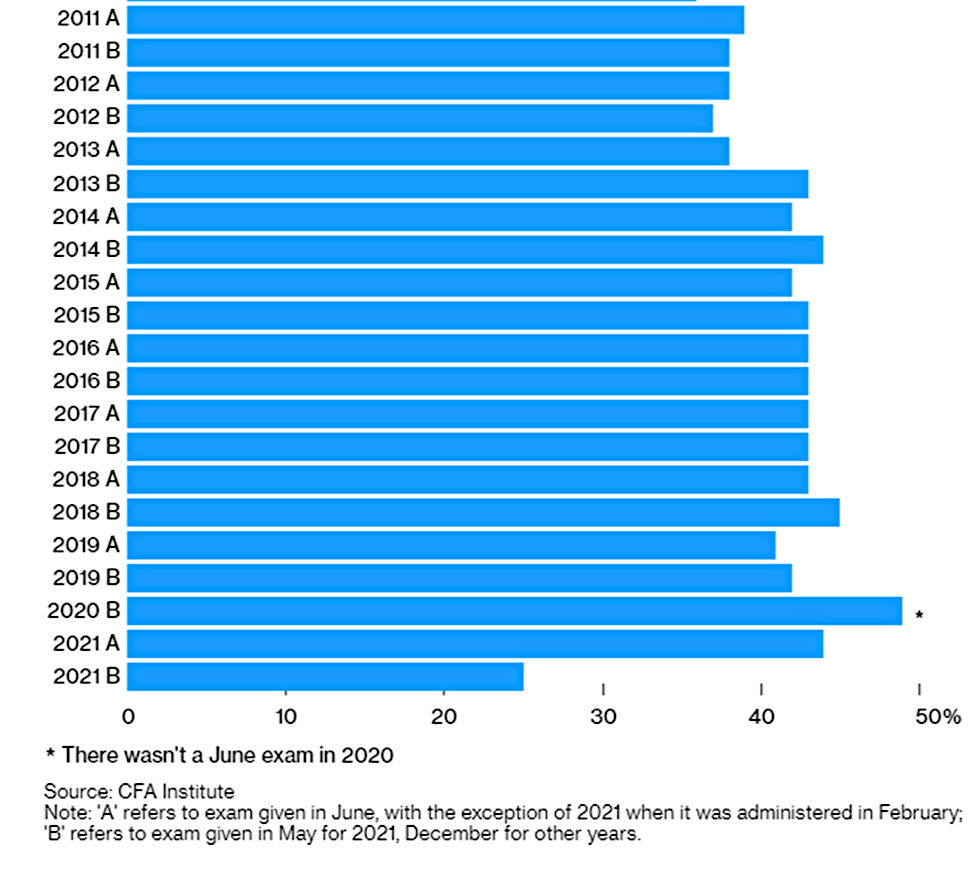 Background
Nearly 26,000 candidates sat for the Level I exam, which was administered at test centers around the world, according to the CFA Institute. The CFA designation is highly prized as it denotes an understanding and accomplishment that a holder can be considered among the elite.
The CFA Program is a three-part exam taken at different times, often a year apart. It tests the fundamentals of investment tools, valuing assets, portfolio management, and wealth planning. The CFA Program is typically completed by those with backgrounds in finance, accounting, economics, or business. CFA charterholders earn the right to use the CFA designation after program completion, application, and acceptance by the CFA Institute. CFA charterholders are considered well qualified in the fields of investment management, risk management, asset management, and equity analysis.
Suggested Reading:
Sources:
www.bloomberg.co/news/articles/2021-07-27/cfa-pass-rate-plummets-to-record-low-of-25-for-level-1-exam
https://www.efinancialcareers.co.uk/news/2020/10/cfa-charter-is-being-degraded
https://www.cfainstitute.org/-/media/documents/support/programs/cfa/cfa-exam-results-since-1963.ashx
Stay up to date. Follow us: