Companies by Sector
More than 6000 listed
Communication Services
Telecommunication Services
Consumer Cyclical
Advertising & Marketing Services
Furnishings, Fixtures & Appliances
Homebuilding & Construction
Manufacturing - Apparel & Accessories
Manufacturing - Apparel & Furniture
Retail - Apparel & Specialty
Consumer Defensive
Beverages - Non-Alcoholic
Financial Services
Diversified Financial Services
Healthcare
Healthcare Providers & Services
Medical Devices & Instruments
Medical Diagnostics & Research
Medical Instruments & Equipment
Industrials
Farm & Heavy Construction Machinery
Transportation & Logistics
Utilities
Utilities - Independent Power Producers


	
Some DiDi Chuxing Stockholders Take an Unplanned Detour
DiDi Chuxing (DIDI) is back in the news and confusing investors once again. The ridesharing giant that announced plans to delist its shares on the NYSE in early December, after their IPO in June, just made another surprising announcement. According to an article in the Financial Times, December 27th was the date marking the end of the lockout period for employees to be able to sell their shares; this ban on liquidating employee-owned stock has now been extended.
For DiDi employees there was a scheduled 180-day window after the June 30, 2021, IPO during which they were not permitted to sell their holdings. The company that went public at $14 per share, announced on December 2 nd that it planned to delist from the NYSE to catch another ride on the Hong Kong Exchange. Investors theorized the abrupt turn may have resulted from pressure from China's cybersecurity "watchdog." The employee ban is now ongoing without an end date indicating when this class of stockholders may cash out of the sinking stock.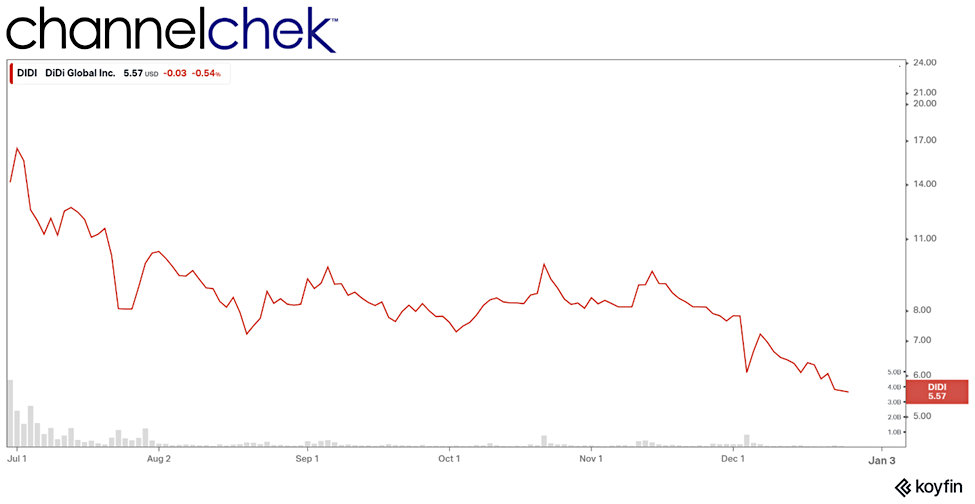 This new set of rules marks another change of direction for the ride-hailing company. Employees have to date lost 56% of their value, or about $ 37 billion in market capitalization, since their initial public offering in New York last summer.
The company has also been prohibited from registering new users, while at the same time, Chinese cyberspace regulators ordered the app stores to remove 25 other related apps, including apps that register new drivers.
According to the Financial Times article, DiDi's current and former employees will not be permitted to sell their shares until the listing on the Hong Kong Exchange is successful; there was nothing mentioned about when this might be.
Suggested Reading:
Sources:
https://www.reuters.com/markets/us/didi-bars-employees-selling-shares-indefinitely-ft-2021-12-27/
https://www.ft.com/content/695b5519-983f-4e44-a9c0-7e1cf1eca525
https://www.youtube.com/watch?v=qx1io0VIYxw
Stay up to date. Follow us: