Companies by Sector
More than 6000 listed
Communication Services
Telecommunication Services
Consumer Cyclical
Advertising & Marketing Services
Furnishings, Fixtures & Appliances
Homebuilding & Construction
Manufacturing - Apparel & Accessories
Manufacturing - Apparel & Furniture
Retail - Apparel & Specialty
Consumer Defensive
Beverages - Non-Alcoholic
Financial Services
Diversified Financial Services
Healthcare
Healthcare Providers & Services
Medical Devices & Instruments
Medical Diagnostics & Research
Medical Instruments & Equipment
Industrials
Farm & Heavy Construction Machinery
Transportation & Logistics
Utilities
Utilities - Independent Power Producers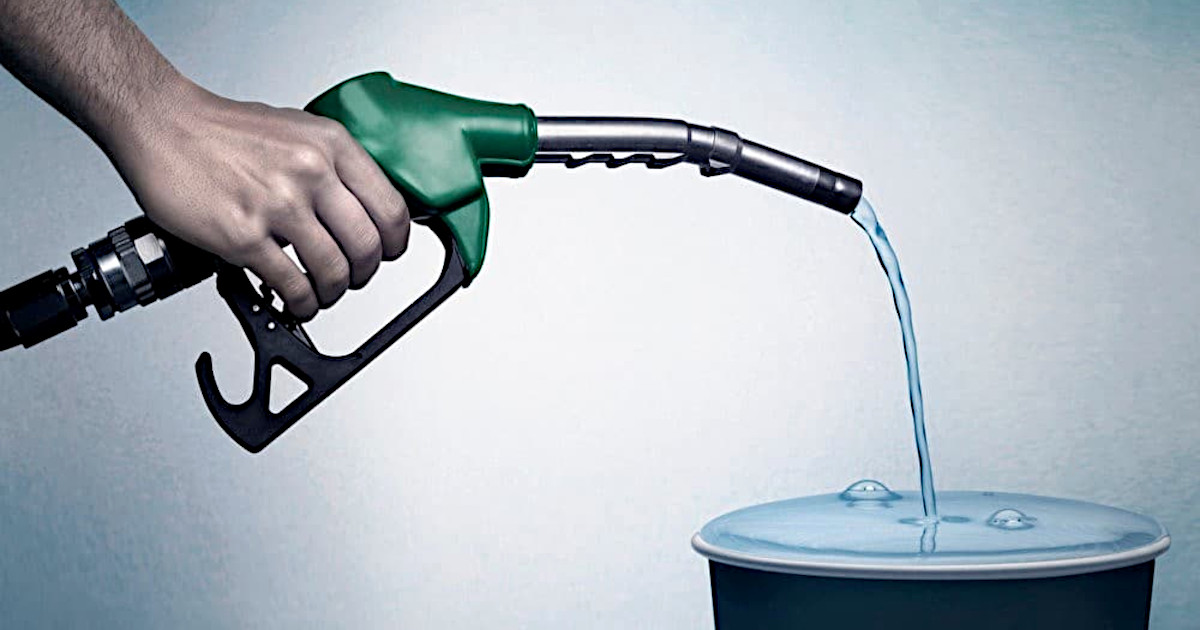 Small-Cap Energy Underperformance During the Drop in Oil is Unwinding
It is no surprise that energy stocks are highly correlated to energy prices, mainly oil prices. The chart below shows the correlation between oil prices and the relative performance of energy stocks (XLE Index) as compared to the S&P 500 Index. This relationship has been true through up markets and down markets. That is, until recent quarters. Note how energy stocks continued to fall relative to the overall market in 2018-2019 even as oil prices stabilized.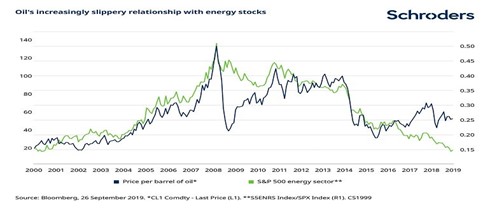 Price per barrel vs. S&P 500 energy sector
A similar story can be told by looking at the performance of energy stocks over the last six months. Energy stocks were flat even as the WTI oil prices (using near month future contract as a proxy) began to stabilize and rise.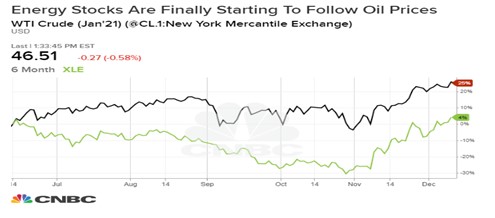 There are many reasons for this. Energy stocks are a function of investors' viewpoints about the long-term performance of a company, while oil future contracts reflect a shorter time span. Or perhaps the high yield of energy stocks help to smooth out stock price performance during energy price cycles. The energy stock underperformance may reflect a growing understanding that renewable energy and electric vehicles may mean less demand for oil in the long term. Or it may reflect concerns that the pandemic-induced global slowdown has negatively impacted demand. Such a theory would explain why energy stocks have rebounded in recent weeks with the development of vaccines.
Either way, it would appear that energy stocks are gaining favor after several years of being in the doghouse. So, if you are an investor and ready to get your feet wet by adding to energy stock positions, what is the best way to do it? We believe a strong argument can be made for focusing on small-cap energy companies. As the chart below shows, small-cap energy stocks (PSCE index) have underperformed the broader energy stocks market (XLE) through the down cycle. This is not surprising as larger cap stocks are more likely to be the first to react to changes in industry fundamentals given their liquidity.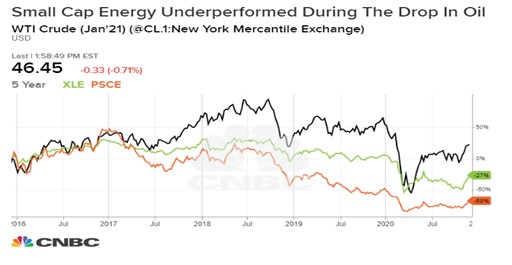 Of course, this trend works the opposite way as well. When energy prices rise, we would expect larger energy stocks to react first, but smaller energy stocks to eventually follow. We may have hit that inflection point in early November when oil price started rising. WTI and Brent oil prices have both risen about $10/bbls since the beginning of November and energy stocks are starting to rebound.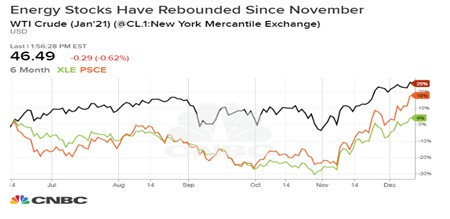 Note the strength in the PSCE small cap energy index since stocks have started to rise. Small cap energy stocks still have a long way to go to recover several years of underperformance, but the performance of the last few weeks may be a sign that the gap is starting to close.
Suggested Reading:
Are we headed to Another Oil Collapse?
Contango and the Known Risk to ETFs
Do You Know a Student Who Could Use $7,500 for College?
Tell them about the College Challenge!


Company
Ticker
Price
Previous
Mkt Cap
Volume
52wk Range
Advanced Market Data
()
Detailed Quote
Charts
Statistics
Financials
Historical Quotes
Insider Activity
Key Ratios