Companies by Sector
More than 6000 listed
Communication Services
Telecommunication Services
Consumer Cyclical
Advertising & Marketing Services
Furnishings, Fixtures & Appliances
Homebuilding & Construction
Manufacturing - Apparel & Accessories
Manufacturing - Apparel & Furniture
Retail - Apparel & Specialty
Consumer Defensive
Beverages - Non-Alcoholic
Financial Services
Diversified Financial Services
Healthcare
Healthcare Providers & Services
Medical Devices & Instruments
Medical Diagnostics & Research
Medical Instruments & Equipment
Industrials
Farm & Heavy Construction Machinery
Transportation & Logistics
Utilities
Utilities - Independent Power Producers


	
Short Squeeze Mania Continues as Camber Stock Increases 733.33% in a Month
The first three quarters of 2021 have been full of unexpected trends, changes, and surprises. At this point, some "oddities" have occurred so frequently that they now could be the new "stock market normal." One of these trends that investors and traders come across most days is short squeezed stocks. GameStop (GME), AMC (AMC), Bed Bath and Beyond (BBBY), and even silver stocks have had their day. Social media platforms have been serving as meeting places for investors who share ideas armed with their online trading apps. Often these ideas are in the form of memes. The actions that follow have at times been rough coordinated action to purchase stocks with high short market interest. When the purchasers have enough wherewithal and conviction, they can cause the short sellers to give in. Some hedge funds have taken substantial losses, while some ailing companies have had new life breathed into them with their escalated market cap. The stakes are high.
One new candidate in this "chess game" that takes place between large and small players is Camber Energy (CEI). Over the past month, Camber is up 733%.
About Camber Energy
Camber is an energy company that, like many is transitioning itself to meet the worlds changing energy needs. According to Finviz, $CEI has a short float of nearly 25%. Investors have been betting against the industry and this company through last year. In the case of Camber, many retail investors are now piling into this heavily shorted company. The buying has moved the price from $0.48 a month ago to $4.08 today (September 29).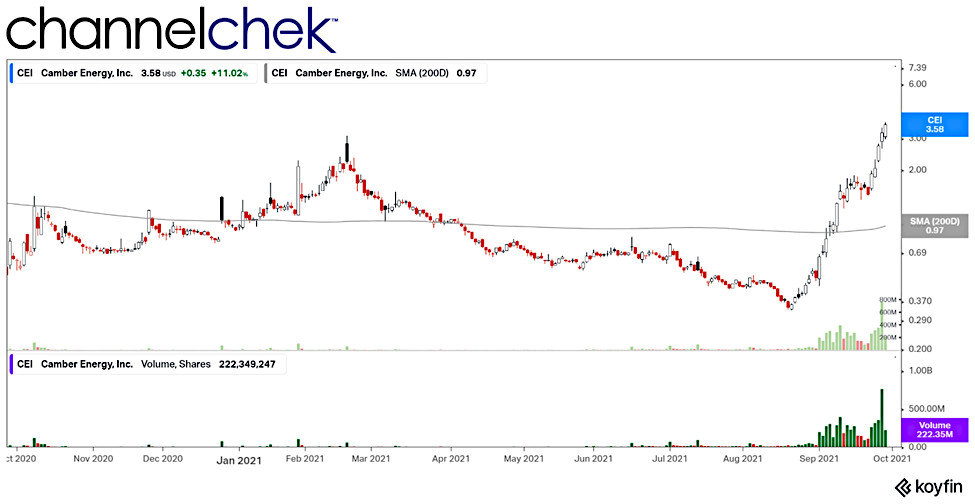 The question at this point with this meme short squeeze is can Camber Energy succeed to cause short sellers to fold? Many meme stock runups rapidly gained then later faded.
Take-Away
The new stock market normal is that ever since social media forums like r/WallStreetBets discovered they can meet online and crush large short interest stocks, any high short interest could become a target.
As an investor, it's important to be aware of all the influential groups in the companies on your watch list. In this way you can either navigate around the activity that can disrupt your portfolio, or even follow should your personal evaluation cause you to decide the risk-reward profile fits your tolerance.
Channelchek houses a wealth of information, including detailed research reports on companies that have uncommon upside potential because of their size or stage of growth. Searching a ticker within our database is a practice that could help reinforce your decisions.
Suggested Reading:
Sources:
https://ir.camber.energy/quote
https://finviz.com/quote.ashx?t=CEI
https://investmentu.com/camber-energy-stock/
https://markets.businessinsider.com/news/stocks/5-short-squeeze-candidates-to-watch-vinco-ventures-camber-energy-katapult-and-more-1030825931
Stay up to date. Follow us:
Company
Ticker
Price
Previous
Mkt Cap
Volume
52wk Range
GameStop Corporation
GME (NYSE)
$213.90
$16.36B
0
$12.14 - $483.00
Camber Energy Inc.
CEI (AMERA)
$1.34
$334.42M
0
$0.33 - $4.85
Advanced Market Data
()
Detailed Quote
Charts
Statistics
Financials
Historical Quotes
Insider Activity
Key Ratios