Companies by Sector
More than 6000 listed
Communication Services
Telecommunication Services
Consumer Cyclical
Advertising & Marketing Services
Furnishings, Fixtures & Appliances
Homebuilding & Construction
Manufacturing - Apparel & Accessories
Manufacturing - Apparel & Furniture
Retail - Apparel & Specialty
Consumer Defensive
Beverages - Non-Alcoholic
Financial Services
Diversified Financial Services
Healthcare
Healthcare Providers & Services
Medical Devices & Instruments
Medical Diagnostics & Research
Medical Instruments & Equipment
Industrials
Farm & Heavy Construction Machinery
Transportation & Logistics
Utilities
Utilities - Independent Power Producers


	Image Credit: Chema Muñoz Rosa (Flickr)
Details of Square's Bitcoin-based DeFi Platform Announcements
Square Inc. (SQ) CEO Jack Dorsey has made it known that Square is building a new division to focus on adding a DeFi service (decentralized finance) that will use the Bitcoin network. The Twitter announcement on Friday (July 16) revealed Square's plans for a new division to build an "open developer platform with the sole goal of making it easy to create non-custodial, permissionless, and decentralized financial services. Our primary focus is Bitcoin."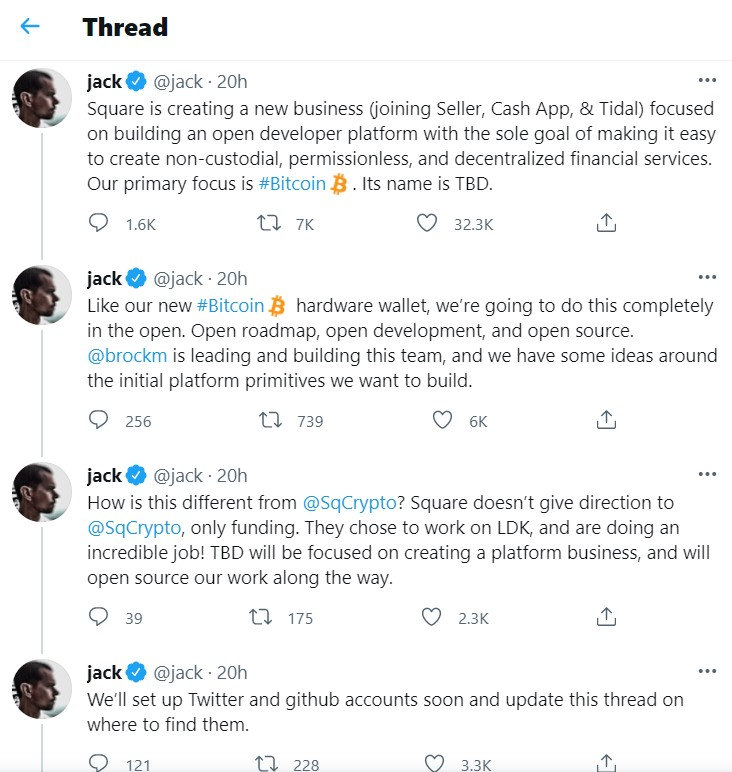 Square Inc. and DeFi
Square Inc. was created just after the 2008-2009 financial crisis by entrepreneurs Jack Dorsey and Jim McKelvey. The technology company provides state-of-the-art merchant services including payment methods. Their platform is used by millions of small businesses to accept credit card payments, track sales and inventory, and secure financing. Defi or decentralized finance is a system for financial products to be made available on a public decentralized blockchain network. This allows them to be open for anyone to use, rather than needing an intermediary such as a bank. Unlike a bank or brokerage account, government-issued ID, Social Security number, or proof of address are not necessary for access. Succinctly, DeFi refers to a system by which software written on blockchains makes it possible for buyers, sellers, lenders, and borrowers to interact peer to peer or with a strictly software-based middleman.
Details
Dorsey made the announcement via his other company, Twitter. As head the division, Dorsey chose Mike Brock, who previously led a development team to integrate Bitcoin features for the Square cash app a few years back. Brock has open source experience through his work with enterprise open-source solutions provider Red Hat Inc. The new product is expected to heighten competition for Ethereum and their DeFi service.
Competition for Ethereum and Others
According to data from Defi Llama, Ethereum dominates the top 100 DeFi platforms in terms of locked value (TVL), with Aave topping the list with $9.09 billion in TVL. Binance also provides competition with platforms such as the eighth-ranked PancakeSwap, which has $3.76 billion in TVL. As for Bitcoin-based DeFi projects ranked on DeFi Llama is the Lightning Network, ranked at 103 with a TVL of $58.7 million. DeFi, especially DeFi based on Ethereum, shot up in 2021. Dune Analytics shows the total DeFi user base (measured by unique addresses) has grown from 1.1 million on January 1st to around 3 million in July.
Take-Away
The Bitcoin DeFi announcement follows up an earlier Tweet this month when Dorsey announced that Square Inc. will launch its own Bitcoin hardware wallet to provide assisted custody making the process easier for mainstream users. It remains to be seen whether this bolsters demand for Bitcoin-based DeFi and pulls from Ethereum's momentum, or if this expanding market helps build usage, acceptance, and reliance on both Bitcoin and Ethereum based services while providing Square with a decentralized finance service for their customers.
Suggested Reading:
Sources:
https://defillama.com/chain/Ethereum
https://duneanalytics.com/hagaetc/eth2-0-deposits
https://cointelegraph.com/news/jack-dorsey-confirms-square-is-building-an-assisted-custody-btc-hardware-wallet
https://cointelegraph.com/news/defi-on-bitcoin-jack-dorsey-launches-new-square-division-to-make-it-easy
https://decrypt.co/76086/jack-dorsey-crypto-platform
Stay up to date. Follow us:
Company
Ticker
Price
Previous
Mkt Cap
Volume
52wk Range
Taal Distributed Information Technologies Inc
TAALF (OTCQX)
$1.76
$63.90M
0
$1.43 - $5.72
Fundamental Analysis
RocketFuel Blockchain Inc
RKFL (OTCQB)
$0.25
$7.99M
0
$0.17 - $5.75
Hive Blockchain Technologies Ltd.
HIVE:CA (CDX)
$2.34
$959.04M
0
$1.91 - $6.57
HIVE Blockchain Technologies Ltd
HVBTF (OTCQX)
0
0
0
0 - 0
Fatfish Blockchain Ltd
FFTTF (OTO)
$0.04
$41.45M
0
$0.02 - $0.25
Cobalt Blockchain Inc. - Ordinary Shares
COBCF (OTO)
0
0
0
0 - 0
Advanced Market Data
()
Detailed Quote
Charts
Statistics
Financials
Historical Quotes
Insider Activity
Key Ratios