Companies by Sector
More than 6000 listed
Communication Services
Telecommunication Services
Consumer Cyclical
Advertising & Marketing Services
Furnishings, Fixtures & Appliances
Homebuilding & Construction
Manufacturing - Apparel & Accessories
Manufacturing - Apparel & Furniture
Retail - Apparel & Specialty
Consumer Defensive
Beverages - Non-Alcoholic
Financial Services
Diversified Financial Services
Healthcare
Healthcare Providers & Services
Medical Devices & Instruments
Medical Diagnostics & Research
Medical Instruments & Equipment
Industrials
Farm & Heavy Construction Machinery
Transportation & Logistics
Utilities
Utilities - Independent Power Producers


	
The Case for Copper May Have Just Become Stronger
Fed Chairman Jerome Powell's dovish announcement concerning Fed monetary policy after the July meeting, combined with a version of the infrastructure bill moving forward in the Senate, had an uplifting effect on copper prices. Copper has advanced since the announcements in part because the dollar has declined (vs. the DXY). The Added impetus for copper's rise is the senate version of a $1 trillion infrastructure bill passing with bipartisan support.
The Fed
Chairman Powell said in a press conference following a two-day FOMC meeting that although the economy is making progress towards its goals, it has a way to go before the Fed will scale back its easy policies. The overnight Fed Funds rate was left unchanged as per unanimous vote. On the subject of inflation, which also could impact commodity prices, Powell said, "Inflation has increased notably and will likely remain elevated in the coming months," He blamed these price increases on supply chain disruptions related to temporary reduced economic activity in response to Covid. The dollar declined, this causes copper that's produced and sold in U.S. dollars cheaper against those produced under richer currencies.
Infrastructure Spending
A roughly $1 trillion infrastructure bill advanced in a senate vote Wednesday (July 28). The bill is a scaled-down version of one introduced by the House and would still need House approval. The bill that was voted on includes $110 billion for roads, $73 billion for power grid spending, $66 billion for railways, $65 to expand broadband access, $55 billion for clean drinking water, $39 billion for public transit, and $25 billion for airports. There is also $50 billion in the bill for environmental resiliency, defined as the capacity of an ecosystem to respond to disturbances by resisting damage, recovering quickly while retaining the same function and identity.
If put in place, it's expected many of these infrastructure projects would create an increase in demand, perhaps even stress the supply of copper and other raw materials.
Other Drivers of Copper's Price in the U.S.
In a virtual roadshow presented last week through Channelchek, David Kelly, President, and CEO of Chakana Copper Corp. (CHKKF) had this to say, "Copper itself is a great commodity to be investing in. Even before all the clean energy initiatives and electric vehicle proliferation, there was a looming supply gap." (Chakana Virtual Roadshow replay).
The visual below is a slide from David Kelly's presentation highlighting the various drivers working to produce the mismatch between copper demand and supply.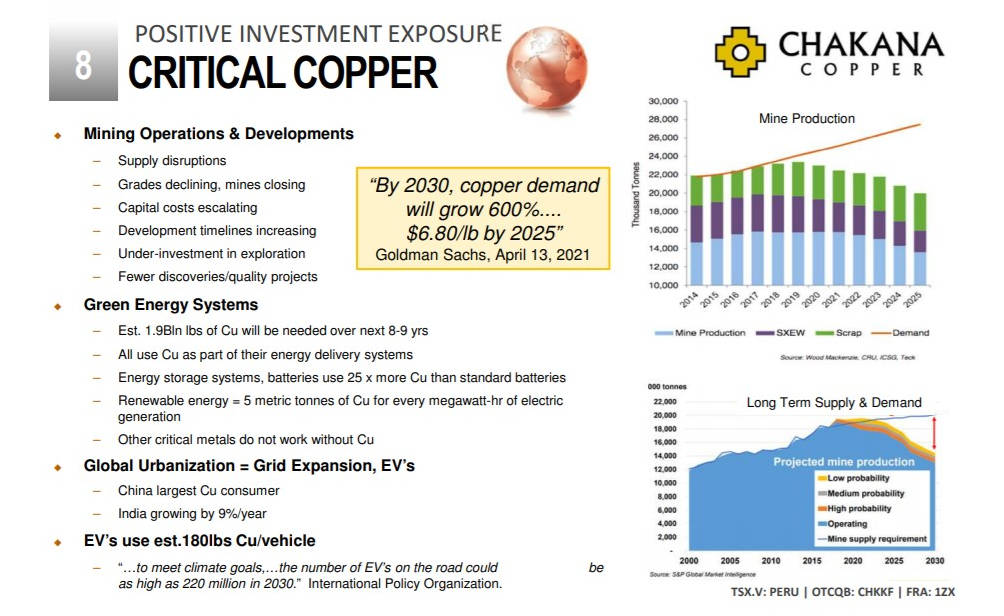 Source: Chakana Copper Website
Supply disruptions were touched on above - copper prices are also experiencing upward pressure from global urbanization, renewable energy needs, EV production growth, electrical storage, distribution systems, and mines closing. These factors would suggest positive price pressure for the commodity and producers such as mining companies.
Take-Away
During the last week of July 2021, investors in copper, copper mining companies, and other related production companies were handed two news pieces that create further upward price pressure on the commodity. This is on top of an environment that already keeps adding to strength to the argument to add exposure to copper investments.
Suggested Reading:
Sources:
https://www.youtube.com/watch?v=ajbPE0i0eOA&t=509s
https://www.chakanacopper.com/site/assets/files/3853/chakana_corporate_presentation_june_17_2021_noble_roads-compressed.pdf
https://www.cnbc.com/quotes/@HG.1
https://www.nytimes.com/2021/07/28/us/politics/senate-infrastructure-deal.html
https://www.federalreserve.gov/newsevents/pressreleases/monetary20210728a.htm
Stay up to date. Follow us:
Company
Ticker
Price
Previous
Mkt Cap
Volume
52wk Range
Chakana Copper Corp.
PERU:CA (CDX)
$0.18
$20.61M
0
$0.18 - $0.56
Fundamental Analysis
Chakana Copper Corp - Ordinary Shares
CHKKF (OTCQB)
$0.15
$16.99M
0
$0.14 - $0.44
Fundamental Analysis
Phoenix Copper Limited
PXCLF (OTCQX)
$0.84
$101.63M
0
$0.40 - $1.29
Nevada Copper Corp Ord
NEVDF (GREY)
$0.52
$229.64M
0
$0.39 - $0.99
Los Andes Copper Ltd.
LA:CA (CDX)
$15.46
$420.16M
0
$6.63 - $17.73
Kingboard Copper Foil Holdings Ltd
KNBDF (GREY)
$0.34
$245.65M
0
0 - 0
Advanced Market Data
()
Detailed Quote
Charts
Statistics
Financials
Historical Quotes
Insider Activity
Key Ratios