Companies by Sector
More than 6000 listed
Communication Services
Telecommunication Services
Consumer Cyclical
Advertising & Marketing Services
Furnishings, Fixtures & Appliances
Homebuilding & Construction
Manufacturing - Apparel & Accessories
Manufacturing - Apparel & Furniture
Retail - Apparel & Specialty
Consumer Defensive
Beverages - Non-Alcoholic
Financial Services
Diversified Financial Services
Healthcare
Healthcare Providers & Services
Medical Devices & Instruments
Medical Diagnostics & Research
Medical Instruments & Equipment
Industrials
Farm & Heavy Construction Machinery
Transportation & Logistics
Utilities
Utilities - Independent Power Producers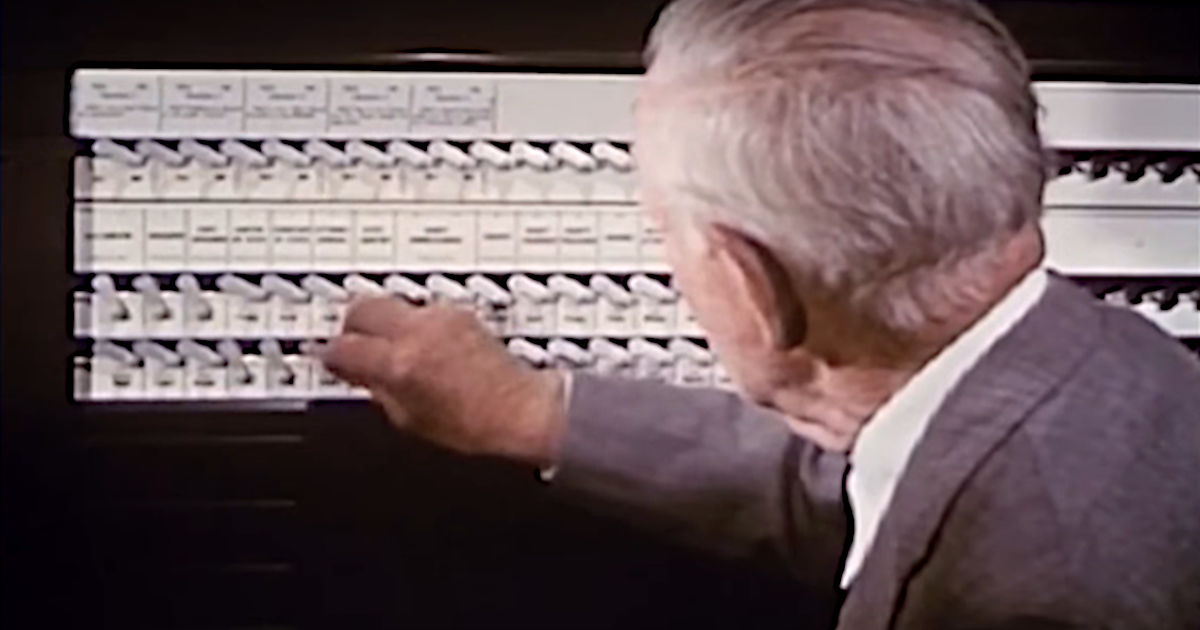 The Industry that Benefits from a Close Election
Front-running the market by predicting election results and then further speculating on the industries that would benefit from those results, is valid. However, this strategy has many moving parts, and there is much uncertainty. Investors may want to alternatively look at what is going on right now and instead ask: Is there an industry that benefits more from an election that is too-close-to-call? Is there an industry prospering from the election contest itself?
Throwing Money Around
Over $7 billion has been spent on political advertising so far this cycle. This is equivalent to handing $21.50 to every man, woman, and child in the United States. Relative to past elections, $7 billion represents an 80% increase over the previous record-breaking cycle of 2018. Most of the spending is on local TV spots (60%). The data company Advertising Analytics provides real-time media intelligence in the advertising space. They've broken down where and how the campaigns are spending their money throughout the country.
Markets With the Most Political Ad Spending 2019-2020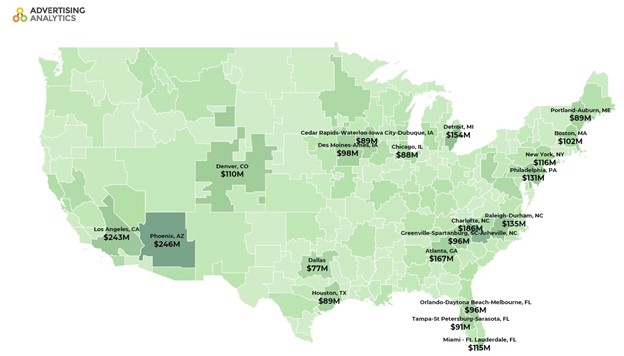 It's no surprise that a bulk of the spending is in the so-called battleground or swing states where the race outcomes are more difficult to predict as political leanings are relatively balanced.
These are some of the most noteworthy statistics that have been reported:
Political TV advertisement spending is primarily local. Currently, there has been $247 million spent on national TV ads (including cable). This is a drop in the bucket of the $5.1 billion spent locally ($4.1b broadcast and $1b cable).
Presidential advertising this cycle, as compared to other offices, is three times what it had been. $2.63B compared to $855M in the previous cycle.
Senate advertising this cycle tallies to $1.67B as compared to $989M in the previous cycle.
House seat election advertising is a bit lower than the previous cycle at $950M as compared to $1.03B.
Local broadcast TV still makes up most of the political advertising. Including other mediums, it is at 60%.
The second and third largest categories are digital and cable at a combined 18%.
As far as Digital spending, direct response advertising (fundraising and list-building) made up 73%, television-style digital persuasion ads made up 23%
The stakes are high. Between a very emotional presidential race, an effort by the Democrats to win a majority in the Senate along with the Presidency, and the Republicans' desire for more seats in the House, it seems likely the pace of spending will remain well above average.
Is There Opportunity?
There is an enormous amount of money being spent on these contests. The stakes are high. And perhaps should be paid attention to. Many investors are closing out 2020, looking to see which pharmaceutical company will come through with a viable entrant in the battle against COVID, and others are benefitting from positions in tech companies. Other investors are placing their bets with infrastructure stocks, green energy, and other so-called "Biden-stocks." On the "Trump-stock" side, investors may be looking at finance companies or industries that compete directly with China. However, the entire contest itself may be worth consideration. In an industry report dated October 12, 2020, Noble Capital Markets Senior Media Analyst Michael Kupinski wrote: "Some companies have provided positive updated revenues/guidance, but the stocks have had little reaction. We ponder if investors are focused on the outcome of the upcoming elections and not on the positive, current fundamental developments." With so much distracting investors, it may be that the media and broadcast stocks have been largely overlooked.
Using conjecture on what the future will bring to a sector is risky and can provide more rewards than going with the known. Investing in media companies that had a rough time at the beginning of 2020 is not as "sexy" as buying a breakthrough drug company or owning high flying tech stocks, but we already know that we have a gangbuster election cycle. Those companies with markets concentrated in swing states and hotly contested House and Senate races have done well and may bring in much more revenue in the coming week leading to election day.
Take-Away
For most media companies, additional revenue is very impactful to the bottom line; compared to other industries, the variable costs to earn an extra dollar is minimal. It has been an exceedingly long election cycle. Early voting may have caused campaigns to turn up the spending early; they are likely to stay turned up all the way. By the time the last vote is cast, almost $8 billion dollars will have been spent trying to buy a single pull of the lever from each of us.
Paul Hoffman
Managing Editor, Channelchek
Suggested Reading:
Quarterly Review: Has The Market Already Factored In The Elections?
Is the TV Rollup Strategy Over?
Do Analysts Price Targets Matter?


Each event in our popular Virtual Road Shows Series has a maximum capacity of 100 investors online. To take part, listen to and perhaps get your questions answered, see which virtual investor meeting intrigues you here.
Sources:
Kantar Estimates 2020 Election Ads Will Cost $7 Billion
https://www.mediapost.com/publications/article/357135/us-ad-spending-lags-gdp-heading-in-coming-out-o.html
https://www.kiplinger.com/investing/stocks/stocks-to-buy/601170/best-stocks-to-buy-president-donald-trump
https://www.forbes.com/sites/kenrapoza/2020/07/29/where-to-invest-ahead-of-a-trump-2020-win-or-a-biden-victory/#6673d47e19b0
Financials, industrials, and oil and gas all outperformed the S&P 500 after Trump won in November 2016.
Company
Ticker
Price
Previous
Mkt Cap
Volume
52wk Range
Advanced Market Data
()
Detailed Quote
Charts
Statistics
Financials
Historical Quotes
Insider Activity
Key Ratios