Companies by Sector
More than 6000 listed
Communication Services
Telecommunication Services
Consumer Cyclical
Advertising & Marketing Services
Furnishings, Fixtures & Appliances
Homebuilding & Construction
Manufacturing - Apparel & Accessories
Manufacturing - Apparel & Furniture
Retail - Apparel & Specialty
Consumer Defensive
Beverages - Non-Alcoholic
Financial Services
Diversified Financial Services
Healthcare
Healthcare Providers & Services
Medical Devices & Instruments
Medical Diagnostics & Research
Medical Instruments & Equipment
Industrials
Farm & Heavy Construction Machinery
Transportation & Logistics
Utilities
Utilities - Independent Power Producers


	Image Credit: Bill Word (Flickr)
Oil Prices Are Up - What's Behind It - Is It Sustainable?
Oil prices are up 89.9% year-over-year with the price of Brent near $76 per barrel. What's more, conditions suggest prices can keep marching higher. What are the factors influencing the rally in crude oil? Which are temporary and which are more systemic? We explore these questions with the idea of determining which will be short-lived, and which will continue.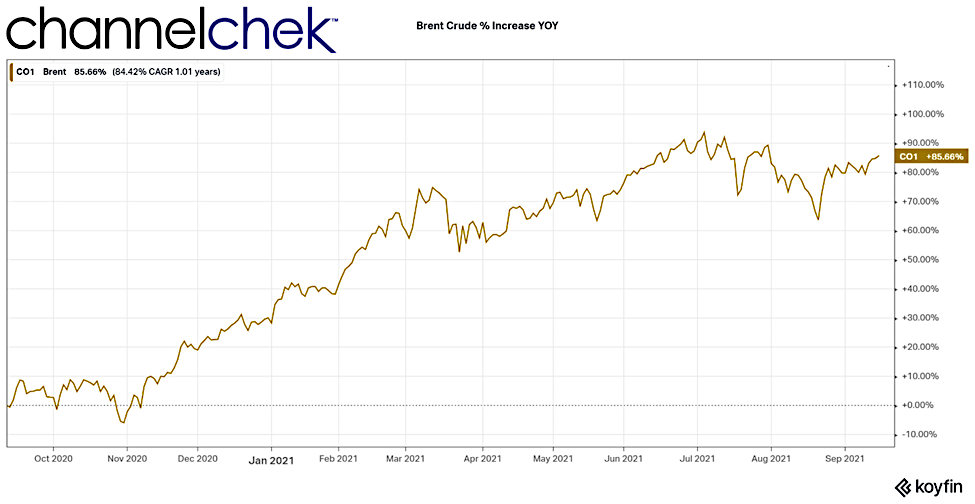 Supply and Demand Issues
U.S. supply concerns seem to be the largest impetus behind the global move higher. This is in large part the result of hurricane Ida's impact on production and longer-term damages. There are also reports that Russia is struggling to meet its OPEC+ quotas. European inventories have also shown signs of unexpected depletion as it heads into the winter heating season. Chinese refinery runs have also sunk during August leading to less product.
In actual measurement, crude stocks fell by 5.4 million barrels last week, compared to a forecast 3.5 million barrel drop for the period.
Expectations are demand will rise as the world's economies grow as we look past the pandemic toward more economic activity. Analysts at Goldman Sachs have issued this forecast: "Going into the autumn we believe oil is the market that is poised to rally significantly," they said in a note Monday, reiterating an $80 per barrel target for the fourth quarter with upside risks into the beginning of 2022. They noted growing scarcity across physical markets, with the risks being a supply disruption or demand increase. Bank of America analysts have issued a $100 target for Brent crude for mid-2022 but said a colder than normal winter could roll that forward by six months.
These forecasts may be put at risk by OPEC increasing its monthly output, and with China which is expected to release its national reserves for the first time to alleviate price pressures. There is also the possibility that a resurgence in Covid-related fears reduces economic activity.
Also, price pressure may be reduced long and short-term as The U.S. government agreed to sell crude oil from the nation's emergency reserve to eight companies including Exxon Mobil, Chevron, and Valero, under a scheduled auction to raise money for the federal budget.
Take-Away
The price of Brent Crude has risen almost 90% since last year at this time. Supply/Demand pressures suggest that the direction is not likely to change as the Northern Hemisphere approaches the heating season. Predictions by analysts from Goldman Sachs and Bank of America see rising petroleum prices through mid-2022. Unexpected outside shocks aside, the upward pressure appears likely not to subside.
Suggested Reading:
Sources:
https://www.barrons.com/articles/oil-outlook-prices-crude-51631555973
https://www.barrons.com/articles/stock-market-today-51631525007?mod=hp_LEAD_1_B_1&mod=article_inline
https://www.barrons.com/articles/things-to-know-today-51631526105?mod=article_inline
Stay up to date. Follow us:
Company
Ticker
Price
Previous
Mkt Cap
Volume
52wk Range
Oil-Dri Corporation Of America
ODC (NYSE)
$27.97
$205.09M
0
$27.00 - $38.05
Advanced Market Data
()
Detailed Quote
Charts
Statistics
Financials
Historical Quotes
Insider Activity
Key Ratios