Companies by Sector
More than 6000 listed
Communication Services
Telecommunication Services
Consumer Cyclical
Advertising & Marketing Services
Furnishings, Fixtures & Appliances
Homebuilding & Construction
Manufacturing - Apparel & Accessories
Manufacturing - Apparel & Furniture
Retail - Apparel & Specialty
Consumer Defensive
Beverages - Non-Alcoholic
Financial Services
Diversified Financial Services
Healthcare
Healthcare Providers & Services
Medical Devices & Instruments
Medical Diagnostics & Research
Medical Instruments & Equipment
Industrials
Farm & Heavy Construction Machinery
Transportation & Logistics
Utilities
Utilities - Independent Power Producers


	Image Credit: Frankieleon (Flickr)
The Beginning of the Road for Gold?
With the return of inflation and expected deceleration of economic growth, as measured by gross domestic product (GDP), a growing chorus of commentators are highlighting the risk of stagflation which was last prevalent in the 1970s. Stagflation is generally characterized as a period of declining economic growth, high unemployment, and inflationary pressure. While high unemployment is arguably not present in the current environment, most economists expect a deceleration in GDP growth rates, while inflation has been fueled by accommodative monetary policies and increased fiscal spending to combat the negative economic impacts of COVID-19. Longer-term Treasury yields appear to signal easing inflation, while inflation-adjusted yields are consistent with low economic growth expectations. The jury is still out on whether inflation will prove transitory or whether it will prove more sustainable than the U.S. Treasury Secretary and Federal Reserve Chairman predict.
Building a Stagflation Portfolio
Gold shined as a defensive asset during the stagflationary 1970s, a period characterized by inflation, high unemployment, and poor economic growth. While the current macroeconomic environment differs in many respects from the 1970s, there are similarities, including 1) transitory inflation is proving more persistent than many expected, 2) real economic growth is expected to decelerate, and 3) the labor participation continues to be negatively impacted by COVID concerns, federal unemployment benefits, and mortgage and rental forbearance programs that have been cited as reasons some choose not to enter or re-enter the workforce. The emergence of the delta variant of the coronavirus leads some to think that the economy could move into a stagflation-like period that could limit the Federal Reserve's options for tightening monetary policy to combat the recent increase in inflation.
The information below was sourced from the U.S. Gold Bureau's website, which summarizes historical asset class performance during stagflationary periods.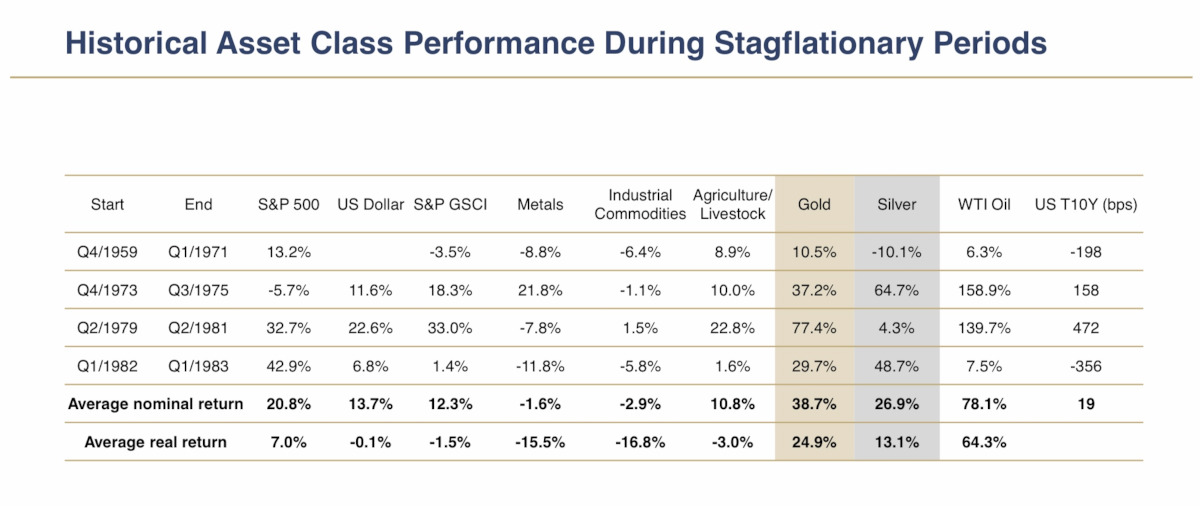 Sources: Bloomberg, Haver Analytics, Rosenberg Research, Incrementum AG
What is notable is gold's average outperformance during these periods relative to the broader market. While metals underperformed, mining stocks linked to gold and silver could be expected to benefit from gold and silver outperformance. While oil outperformed gold and silver, the transition to alternative energy and lesser reliance by the United States on foreign sources of oil may impact oil's sensitivity to stagflation.
Take-Away
While stagflation does not appear to be the base case for most economists, investors would be wise to consider how they might position their portfolio if its probability increases. In addition to gold, a stagflationary environment could benefit sectors with pricing power, including energy and materials or sectors that can pass on higher costs to consumers.
Suggested Reading:
Sources:
Analysis: Stagflation? Recession? Bond Market Messages Puzzle Investors, Reuters, Yoruk Bahceli, August 6, 2021.
Stagflation Portfolio Luring Managers Who Say Time to Act is Now, Reuters, Katherine Greifeld and Vildana Hajric, August 11,2021.
Stagflation is 'A Legitimate Risk' that Would be Painful for U.S. Markets, MarketWatch, Christine Idzelis, July 26, 2021.
New Coronavirus Wave is Giving Credence to the Risks of a U.S. Stagflation-Like Scenario, Market Watch, Vivien Lou Chen, August 3, 2021.
Disco Inferno: The U.S. Could Be Headed Back to '70s-Style Stagflation, Barron's, Randall W. Forsyth, July 16, 2021.
Gold, Stagflation and a Word About Basel III, United States Gold Bureau, Bill Stack, July 14, 2021.
Stay up to date. Follow us:
Company
Ticker
Price
Previous
Mkt Cap
Volume
52wk Range
Advanced Market Data
()
Detailed Quote
Charts
Statistics
Financials
Historical Quotes
Insider Activity
Key Ratios